PEBA – Sovereign League Farming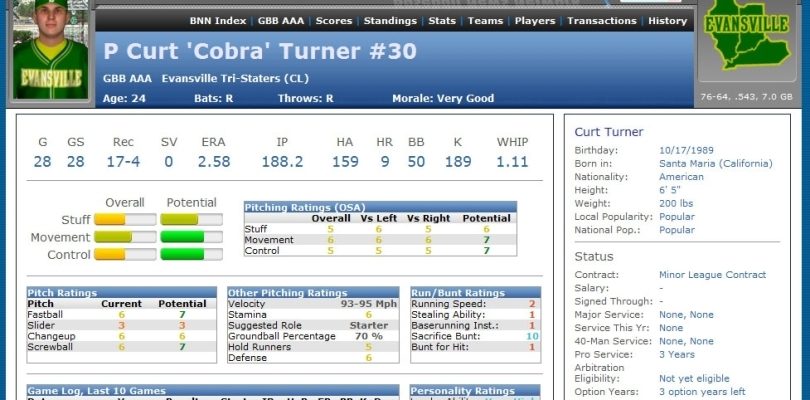 With the minor league seasons coming to a close, I thought I'd take a look at each of the teams in the PEBA's Sovereign League and comment on one minor league player who we might be seeing in the "bigs" soon. This doesn't necessarily mean I think they'll be September call-ups; I just think their performance may be worthy of a shot sometime soon. We'll tackle the Great Lakes division's affiliates first.
Crystal Lake Sandgnats
With a 2.5-game division lead heading into the homestretch and a 3.16 team ERA that is the second-lowest in the SL to Bakersfield's 2.75, Crystal Lakecan afford to be patient with their pitchers down on the farm. Still, there is at least one player in the Sandgnats' system that will be mighty disappointed if he isn't on the big league club in 2015. That's 24-year-old Evansville Tri-Staters starter Curt "Cobra" Turner. Yuma's first pick in the 2011 draft was traded to Crystal Lake just six months after he was drafted. Three years later, he sits near the top of all of the important AAA leaderboards, with a 16-3 record, a 2.38 ERA, 178 K, and a miniscule 1.08 WHIP.
The trouble for Cobra is that Crystal Lake doesn't have a single starter in the big leagues with an ERA under 3.60 this season, and all five of their starters are under contract for 2015, so amazing as it may seem, Turner may have trouble making the team next year, too. Given the comparatively lackluster performance of Booker Stewart this season (11-10, 3.60 ERA, 1.43 WHIP), the Sandgnats may wish they could pitch Turner in 2015 instead of paying Stewart $10 million for that sort of performance. Really, the best-case scenario for Turner, apart from a trade, would be an injury to another starter. Regardless, the Sandgnats are in a very strong position to sit tight or to deal a pitcher to a desperate team heading into the 2015 season.
Fargo Dinosaurs
The Dinosaurstrail Crystal Lake by just a few games, and they have a number of players in the minors who pack some offensive punch and could see time in the majors soon. RF Bailey Potts is one candidate, but he's spent parts of two seasons in the bigs now, so we'll look elsewhere in the outfield. LF Nick Kinghas been a big reason that the Sioux Falls Lakotaare leading their division heading into the last week of the season. He has 9 HR, 62 RBI, and a solid batting line of .302/.374/.431.
The 2010 3rd round pick is a strong fielder and would bring a right-handed bat to a Fargo outfield that is full of lefties. He loves to get on the pitchers, too, batting .373 on the first pitch. It seems a pretty safe bet Fargo won't be picking up Pedro Silva's $19 million team option for next year, after his .234/.291/.434 line this season. No one else in the Fargo outfield has stood out, except for perhaps Orlando García. Fargo doesn't have a single outfielder in the bigs with over 300 AB this season, so they will definitely be looking for someone who is going to play 150 games for them next season. At age 26 and with five straight minor league seasons batting .300 or better, King is mature and consistent enough to get a shot.
Omaha Cyclones
With a 46-87 record in the Global Baseball Brotherhood, the Lincoln Emancipationaren't giving Omaha fans a whole lot to look forward to in the coming year. Certainly, Omaha's staff isn't likely to be bolstered by anyone on the farm, which is a shame considering their major league staff is in the middle- or bottom-tier in just about every pitching category (save for their excellent control; Omaha has given up the fewest walks in the SL). In fact, the good pitchers in their farm system haven't been emancipated yet, since the leading ERA on the Emancipation is 5.33. Yes, you read that right.
One player with a shot to make a difference next season is 3B Mike Linker. The 26-year-old New Yawker has toiled in AAA for the past four seasons without making the bigs, but with Theo Boyd's performance really tailing off, Linker has a shot at a spot in the infield next season. Although he hasn't been terribly consistent in his six years in the minors, he has always been a slick fielder who can turn a smooth double play. This season, his bat has come around to the tune of .296/.358/.409. He provides some speed on the base paths, as well, with 22 stolen bases. He's not the second coming of, well, just about anyone, but he certainly could fill a role as a utility infielder, and once he's up on the big club, all bets are off.
Duluth Warriors
The Madison Cheeseheads had an outside shot at the playoffs, but now sitting six games out with a week to play, it seems unlikely there will be post-season play for the Duluth farm club this season. If they don't make it, it won't be from any lack of effort from right-handed starter Tom Carter. The 26-year-old Jersey native has put up a 12-6 record this year, with a 2.83 ERA and a 1.10 WHIP. Carter has a reputation as a workhorse and a fiery competitor, although he has clearly tired down the stretch. During a string of eight starts in July and August, however, Carter didn't give up more than two earned runs. Righties have batted just .182 against him this season and his BABIP is an absurdly low .218. This year's performance marks the third straight year Carter has posted solid numbers, advancing from Hi-A to AA to AAA during that time after an earlier attempt to rush him through the system met with unfortunate results.
Duluth has a particularly inexpensive major league rotation, with only Jesús González on a post-arbitration salary. Duluth's other four starters are all making the league minimum. While this may mean Duluth is stocked with young pitching talent, it could also mean that if one of those four falters, a spot may open up for Carter. However, of the five in the rotation, only González's performance is worthy of replacement at this time.
Kalamazoo Badgers
Kalamazoo is well out of contention, so they'll have to start worrying about what 2015 might bring. Their AAA farm club, the Grand Rapids Rafters, have fared better, however. They won't make the playoffs, but at least their team is five
games over .500 in the tough Central Division, even if it's only just good enough to keep them out of the cellar. The obvious difference-maker on this club is the big southpaw from Managua, Nicaragua, Luis Montoya. He doesn't have overpowering stuff, but his 10-6 curveball is bordering on devastating. With two two-hit shutouts to his name this season, he has burned up the Central Division to a tune of a 2.32 ERA with a 1.02 WHIP. In four starts in August, he gave up just six combined runs. Kalamazoo has a pitcher with an expiring contract in Arturo García sporting an ERA north of 6.50 and a WHIP around 2.00 – not a likely candidate to be resigned. Montoya will be in camp in the spring and should make the rotation.
Canton Longshoremen
The Longshoremen are suffering through a miserable season in the cellar, but the Allentown Falcons are just a game off the division league with a week to play. 1B José Martínez might just get them there. He tore up Joplin in the last two games, going 5-for-8 with 2 HR, 6 RBI, and 6 runs scored. The man they call "Vapor Lock" might not be the most graceful first baseman ever, but at close to 250 lbs., he certainly hasn't gotten his .330 batting average from infield hits. He packs quite some pop with 17 HR and a .960 OPS. He has been clutch, too, with close to a 1.000 OPS in close/late situations. After a rough start to his SS-A career, Martínez has torn the cover off the ball since, batting well over .300 in each season from 2012-2014. The only problem is that in the bigs, 1B Raymond White is one of the few Canton players that is making a difference. Canton has another power prospect at 1B as well in Ryosei Kichikawa. Martínez is 25, Kichikawa 24, and White just 27, so Canton may find themselves in a place where they can deal one the three for some help in another area… such as, well, just about anywhere.
Continuing our look at AAA affiliates of Sovereign League teams, let's examine the minors of the Desert Hills division.
Bakersfield Bears
The West Valley City Grizzlies have had a solid season, with their record sitting at 77-56. Much of that is due to the peculiar case of starter Ralph Dean. Ralph is a 35-year-old right-handed starter from Oak Ridge, Florida. He has a middling fastball that tops out at 88 MPH, a decent changeup, and a screwball, as well. He works hard, by all accounts, and he certainly has perseverance. After compiling a 32-31 record for Charleston, West Virginia, and Reno from 2007-2009, Dean has toiled in a variety of minor leagues for the past five years, never giving up. He signed a contract with the Bakersfield Bears just before spring training this season and he has been dominant ever since, starting 27 games and compiling a 15-8 record with a 2.51 ERA and a 1.02 WHIP. He has walked a mere 19 batters in 189.2 innings. Yeah, Bakersfield is pretty loaded. They probably don't need a 36-year-old starter in their rotation next season, but it makes a durned good story, don't it?
Aurora Borealis
As if to add insult to injury for the struggling teams in the SL, not only is Aurora within striking distance of Bakersfield, but their AAA affiliate, the Thornton FasTrax, is loaded with talent and destroying all competition with a nearly .700 winning percentage. From their plethora of riches, who might be headed for the PEBA soon? On a AAA team loaded with solid hitters, my bet is on right-handed MR Mark Newton. In 51 innings this season, Mark has struck out a hitter per inning. Opposing batters are hitting just .174 against him, and lefties just .116. He hasn't given up a home run all season. On top of this, Aurora is stocked with talent at the big league level, but the contracts of several of the bullpen members are expiring this year: Ángel Lara, Francisco Garza, and closer Juan Suárez. Sure, Aurora has money to burn, but why spend big bucks on a middle reliever when you have young, homegrown talent available?
Palm Springs Codgers
Palm Springs' pitching is below average in nearly every category save for strikeouts (where they rank 4th). Three of their five starters have expiring contracts, so it doesn't take a genius to see that the performance of SP Miguel Canó with the Provo Missionaries could get him a chance to pitch in a Codgers' uniform in 2015. Canó hasn't been lights-out by any stretch, but he's thinking pitcher who mixes five different pitches. This year, he has compiled a 12-8 record with a 3.50 ERA and a 1.36 WHIP. After recovering from a ruptured bicep tendon in 2009, he has battled back to post two consecutive solid seasons at Provo. The big lefty won't dominate, but he has a chance to be an effective, low-cost addition to the Codgers' staff next season.
Tempe Knights
The Chandler Waxers have struggled all season and find themselves a healthy 39 games out of the division lead, so they don't have a ton to play for right now. One player who is definitely playing for a shot at the big leagues is closer Estaban Cuevas. Picked up in a 2013 trade with Fargo, the big 22-year-old southpaw has been fairly solid all year, with 23 saves, a 3.26 ERA, and a 1.22 WHIP. Oddly, despite being a lefty, he has struggled against left-handed hitters, who have hit .303 against him this season. Perhaps not earth-shattering numbers, but when you consider that veteran closer Ricardo Díaz has announced his intention to test free agency and add to that Tempe's perilous financial situation, it seems likely that Cuevas could get a shot in the bigs next season. Cuevas gets by primarily on his sinker and fastball, but he has been working with pitching coach Joe Gillespie to develop a curveball and improve on his changeup.
Reno Tenpinners
Reno has gotten decent performances this season from a trio of young outfielders, with Ernesto Salazar, Domingo Rojas, and António Morales all posting fine numbers. But Salazar has struggled with injuries, and the other two certainly aren't world-beaters. Reno is full of relatively young outfielders, so Glendale Skyelanders CF Dale Griffith has as good a shot as any to compete for a spot. The speedy Massachusetts native has been solid all year, batting .295 with 13 HR and 46 RBI. As a 2010 1st-round pick, he might bring some excitement to the park. Certainly, having several young center fielders can't be a bad thing for a Reno team that is battling Yuma for the coveted Desert Hills cellar. If nothing else, they could consider moving one of the three for someone else that fills a position of need.
Yuma Bulldozers
Ahh, Yuma. Adjectives fail us. I expected I might find a bevy of high performers in the farm system, but… not so much, at least not on the Henderson Fighting Scotts. LF Brad Howell has performed consistently this year, and given that no outfielder on the Bulldozers is hitting over .231 for the season, the bar is set fairly low for a shot at the big leagues. Actually, Howell got a cup of coffee in 2013 and really didn't fare that poorly, batting .267 in 30 games. This year in AAA, Howell is batting .281 with a .352 OBP, and showing more pop than expected with 13 HR this season. He's a hard worker and has a good mix of skills for small ball, which is good since Yuma has little power to knock runners around the bases. So perhaps Brad Howell gets a shot. It's not like he could make things worse, right?