Our Review of Out of the Park Baseball 14
It's all-encompassing and comprehensive.
"It's not too often you hang an 8 on somebody," said Terry Ryan earlier this week. Ryan was of course referring to the 2-8 scale scouts use to determine a player's future impact.
Well, Mr. Ryan hasn't yet played OOTP 14.
From the beginning it's easy to see that this is an exhaustive, almost all-inclusive simulation that will appeal to the most hardcore of baseball gamers. I'm not a firm believer in comparing games to each other, whether it's previous incarnations of the same game or a different game altogether, so don't expect to see comparisons to OOTP 13 or OOTP 6.5, for what it's worth.
I mention OOTP 6.5 because I'm an old-schooler who is still playing it, and quite frankly it is hard to believe the game has come this far. Right away you're tasked with choosing unemployment, or from 17 different leagues ranging from Rookie ball to the major leagues. Just input a name, age (no limit, so you can be your own Billy Heywood if you want!), and you're ready to go.
In fact, the menus could be a bit daunting for a newbie, which certainly can make 'cannot be fired' mode a preferable option until one finds themselves up-to-speed with the game.
From the main screen, click on your name and an utter cavalcade of options come up, as you navigate through your personal email, player and staffing shortlists, and an edit screen where you can — at this risk of sacrilege — play God and act as a manager of any other team (as long as you're in commissioner mode). [blockquote cite="Brandon Warne"]Stop me if you've heard this before, but it's all-encompassing and comprehensive.[/blockquote]
Roll over to opening day, and the rosters are almost perfect. The Twins, for instance, come preloaded with injuries to Tim Wood, Scott Diamond, and Anthony Swarzak. All three players started the season on the DL. In fact, if it weren't for Eric Farris, Anthony Slama and Chris Herrmann, OOTP would have nailed the Twins opening day 25-man roster.
And honestly, it's pretty difficult to expect perfection in this regard. Another incredible similarity is a game-listed payroll of $81,650,000. The Twins opening day payroll, via Baseball Prospectus, was $82,010,000. That is downright amazing. So too is the finances page, which lists the owner's name, age, patience, and fiscal personality. For instance, Twins owner Jim Pohlad is listed as patient, and a penny-pincher. That seems to fit what the public feels about him.
All of this is customizable, too. If you prefer a less realistic experience, you can change the budget with which you're afforded, your owners name, and even your home ballpark (complete with park factors!). Another neat function is that you can see player ratings based on your scout — in the Twins case, real-life scouting director Deron Johnson — or OSA, which is the OOTP Scouting Association. Like real-life, it is interesting to see how two different sides look at a player.
But now it's time to hit the play button.
Single games can be simulated, or played through by using command keys to dictate how you want to work your strategy. This includes pitching around a guy, pitching to contact, hitting the batter intentionally, and pretty much anything else you can think of. And if you get tired of going batter by batter, you can skip to specific innings with one simple click. At the end of the game, you can even write a postgame recap if you have any sportswriter tendencies (which shows up in your email the next day, with all kinds of news and computer-generated press releases).
This isn't a game for someone who wants to blow through it quickly, however. Indeed, one can simulate a day, week, month, or year at a time, but the game will frequently update the player on injury updates, such as activating a pitcher from the DL in Double-A, or something of the like. It could almost come across as annoying to someone trying to simulate to a specific day, like 5/7 when the draft list is published, or 7/1 when the international free agency period begins. In fact, in the first month I played, I had 15 players go on the DL in my organization, and had something like 10 or 12 email interruptions. Again, details details details!
In terms of in-game stuff, almost nothing seems off. The first trade proposal was from the Mariners, and featured Dustin Ackley for Byron Buxton and an organizational arm. Not a trade which would happen in real life, but a much more realistic jumping off point than I've seen in many other simulations (such as Scott Baker for Stephen Strasburg). The second was an odd one, as the A's offered Hiroyuki Nakajima — in the midst of a 56 OPS+ season — for closer Glen Perkins (95 ERA+ at the time) and Buxton (108 OPS+ at Cedar Rapids, but a top prospect). The toughest part of determining the realism to me when it comes to trade offers is that nobody really knows what those look like in real life. Obviously they aren't sent as jokes, and that last one sort of comes across that way, but all-told one weird trade offer doesn't take away from the overall gaming experience for me.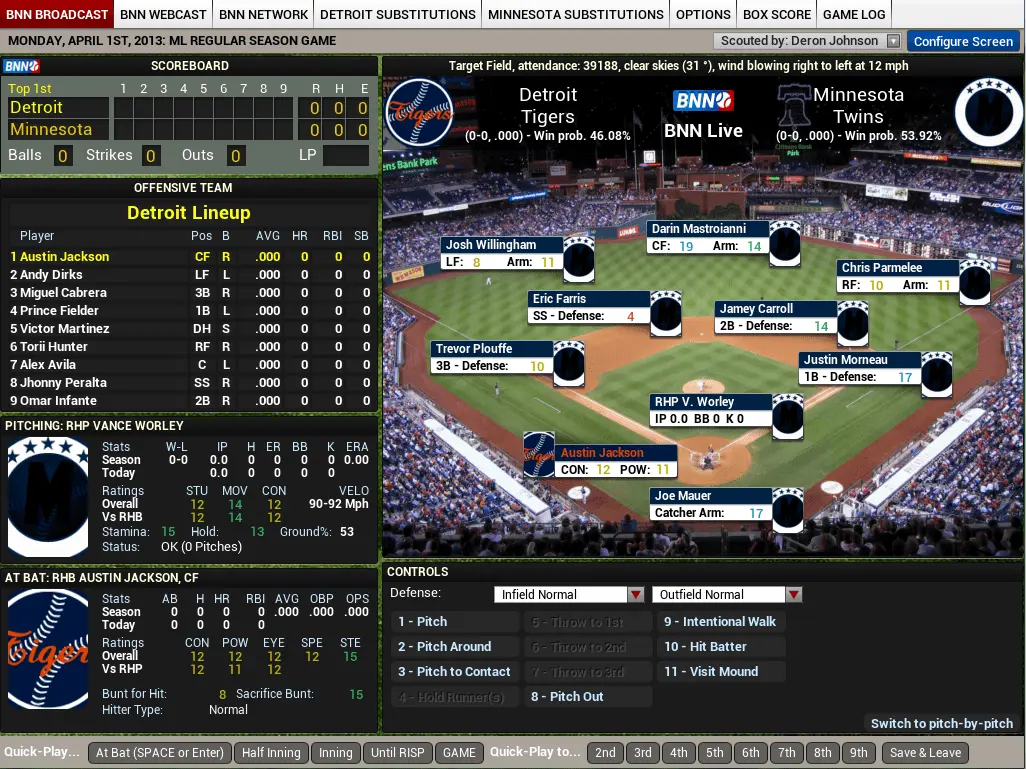 OOTP14 In Game View
The draft is a tremendously detailed part of the game, diving into slot bonus baselines — to make sure you don't spend too much on your top picks — as well the ability to negotiate bonuses, with compensation picks coming in for unsigned players just like in the big leagues. The international signing period — like how the Twins signed Miguel Sano — also has a cash cap in place, like real life, to keep you from overspending. If you do that, you will be penalized, ranging from less money available to fewer contracts you can offer.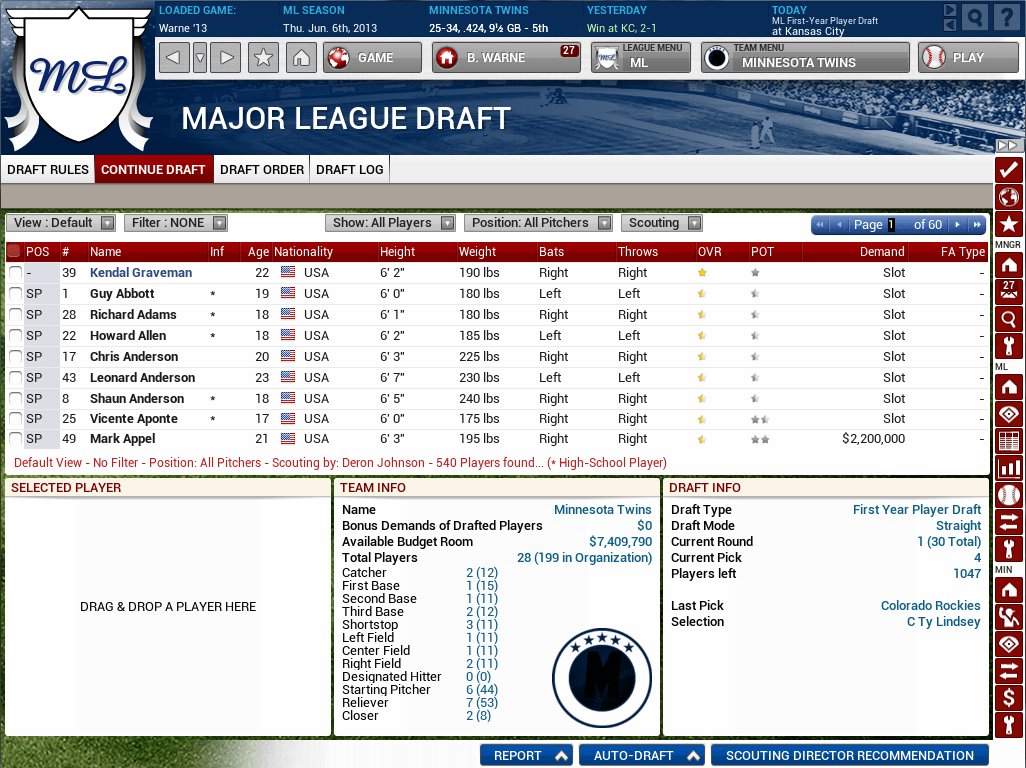 Welcome to Draft Day
In essence, one would do well to bone up on the rule book before cracking open the game!
The rest of the game experience is as you'd expect. All-encompassing from the beginning, to the midsummer classic, to expanded rosters, to the postseason. And then it all starts again.
Good luck putting this one down.
Pros:
*The customization up front (name, birth date, modes [commish mode, gm only, can't be fired, start w/ team or unemployed])
*17 different leagues (4 Rookie Leagues, 2 short season A, 5 High-A, 3 AA, 2 AAA, ML)
*Velocity readings on individual pitches.
*The statistical interface is pretty much all-encompassing.
*The email system (scouting reports, news, and more)
*The financial system (complete with international spending limits, etc.)
* Intricacies (owners can pass away, international scouting and leagues, an incredible number of statistics including WAR, wOBA, and OPS+)
Cons:
*Menus do run a *little* on the slow side.
*The interfacing is a little overwhelming/complicated.
* Trade proposals can — at times — be a little weird.
Overall, there's almost a cautionary tale to be had here: Buy it, you'll like it. But you might like it too much.
[section label="Images"]