The NBA has come calling, but you aren't one of the freak-of-nature athletes that make a roster. It's your brains they want. You're here to run a franchise. Draft Day Sports Pro Basketball 4, the newest entry in a franchise developed by Wolverine Studios aims to give you a platform to help build the next great dynasty in sports—to let you become the next Red Auerbach, Phil Jackson, Pat Riley, or Greg Popovic.
In this genre of GM games, many titles feel like little more than glorified spreadsheets. Their user interfaces feel clunky, only really functioning as a way to interact with the databases that run them. DDS has built up a reputation for being among the best in the business at creating an immersive UI. Granted, it's not yet Out of the Park Baseball, or Football Manager, but it looks great, and has continued to make strides in every new version.
GM Dashboard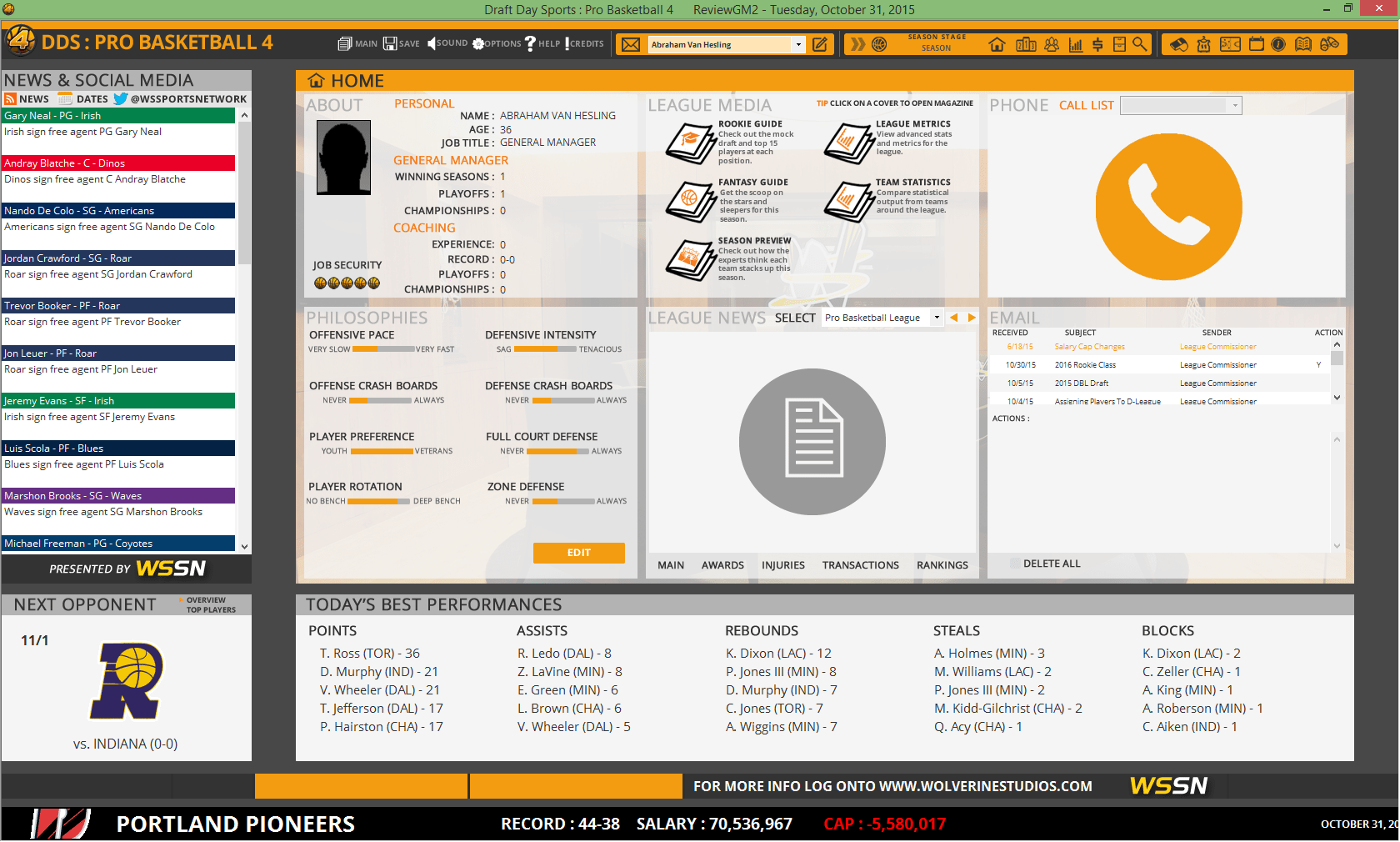 Even when simulating a game, as the game goes through, the game manages to set itself apart. Again, it isn't quite at the level as Sports Interactive's 3d view for Football Manager, but it gets the job done. Watching the player icons move around the court suggests at enough to allow the imagination take hold and visualize the rest.
Simulation Engine
So, it's a nice looking game, but that just is the interface. It wouldn't help being nice-looking, if the engine behind it made everything feel wrong. It wouldn't matter if it was the best looking game in the world if players like Kwame Brown averaged 100 points a game, and Kevin Durant shot 30% (or 98%) on a season. It's got to feel accurate. And DDS PB4 does just that. I played through a model of the 2014-2015 season (of course, players who were injured during the season were not actually the same as real life) and of the stat leaders, I felt justified in every single one. The conference standings seemed alright—at least when mapped to preseason expectations—and watching Chicago finish off LA in the finals even seemed plausible. Shots might fall a little too regularly, and some parameters in the game simulation could feel a little off, but in all, everything seems to run as one would expect it.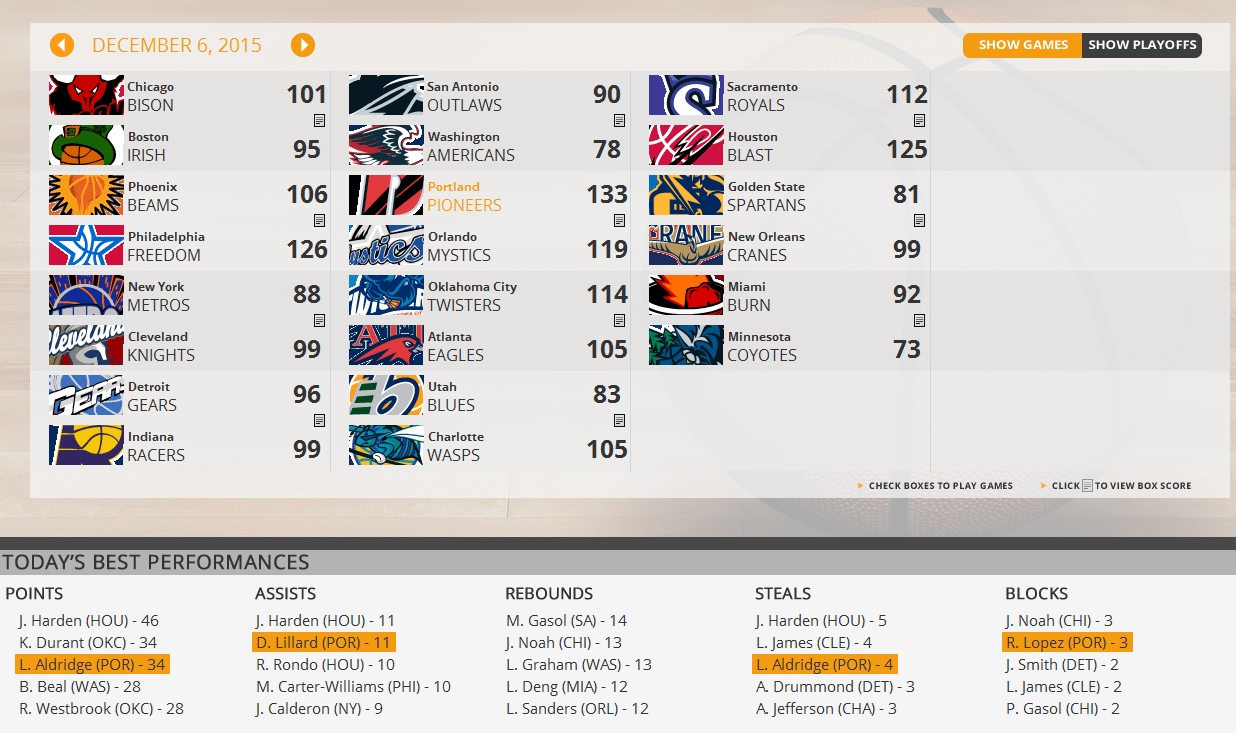 Roster Management
When it comes to roster management, you've got everything presented to you in a sensible manner. Ratings, stats, contracts, injuries, your depth chart, and your rotation plan is all laid out in neat tabs. There is a button for trading and for signing new free agents. And that gets us into how the other GM's will play. In general, trading with other GM's will be a difficult proposition—they know how much players are worth, and will not give their stars up easily. Young players with potential are considered ridiculously valuable, and sometimes it will often be hard to find a way to make a trade work. During the season, free agent signing is simple, and players will just accept and join your team for a minimum contract, but in the offseason, it gets quite deep.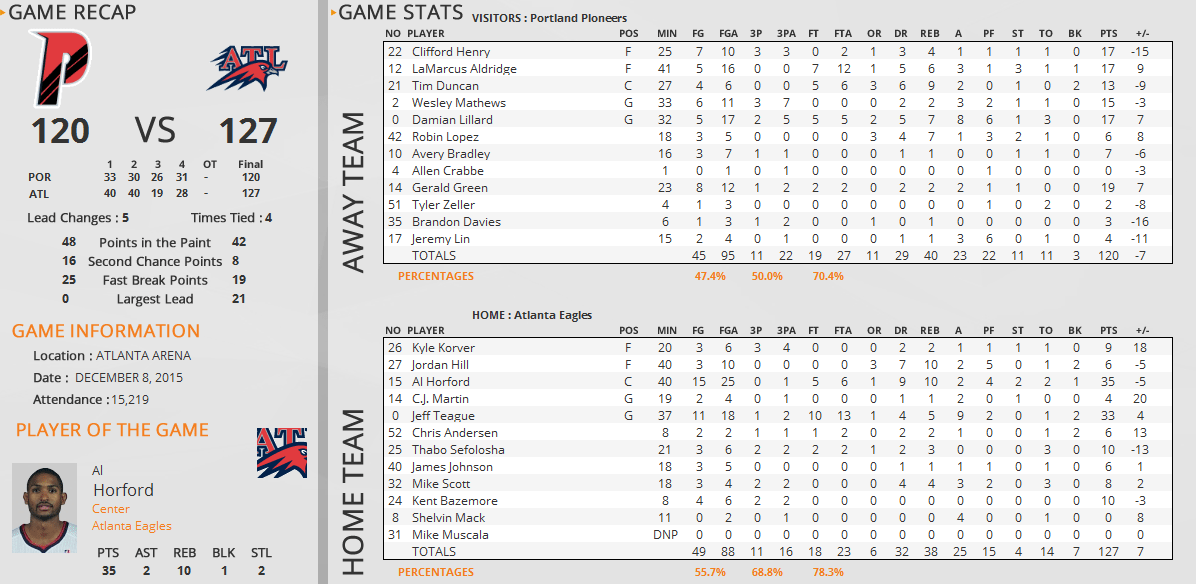 You have to decide to renounce rights to free agents who are eligible for the Larry Bird clause else your cap space may be adversely affected—and you have to outperform competing offers from other teams (which you don't really know about, except in the case of media reporting). It even takes into account team performance, and GM personality and reputation. I don't think, however, that the coach is a big draw to free agents, which it may be in real life (I bet people might clamber to play for Pop, even if he joined another team). But at this point, we're just getting nit-picky over how much ludicrous depth we want in contract decision-making.
Of course, one also has the option to extend contracts before they expire, and there is a similar set of factors with the salary that would be accepted. However, sometimes, those who are trying to get an extension will not settle for one that is possible to offer—i.e. they want too many years or more money than allowed, or even higher than allowed wage increases. But, for the most part the system seems to work.
When the regular season ends, the top teams in each conference enter the playoffs. That's how it works, but there are some nuances that don't seem to be part of it. For example, it doesn't seem to respect the requirement that a Division winner must be part of the upper 4 seeds. But, so what? Most people think that that's a relatively worthless part of the rulebook. Then comes the series. The best of 7 format is non-negotiable, but follows the right pattern.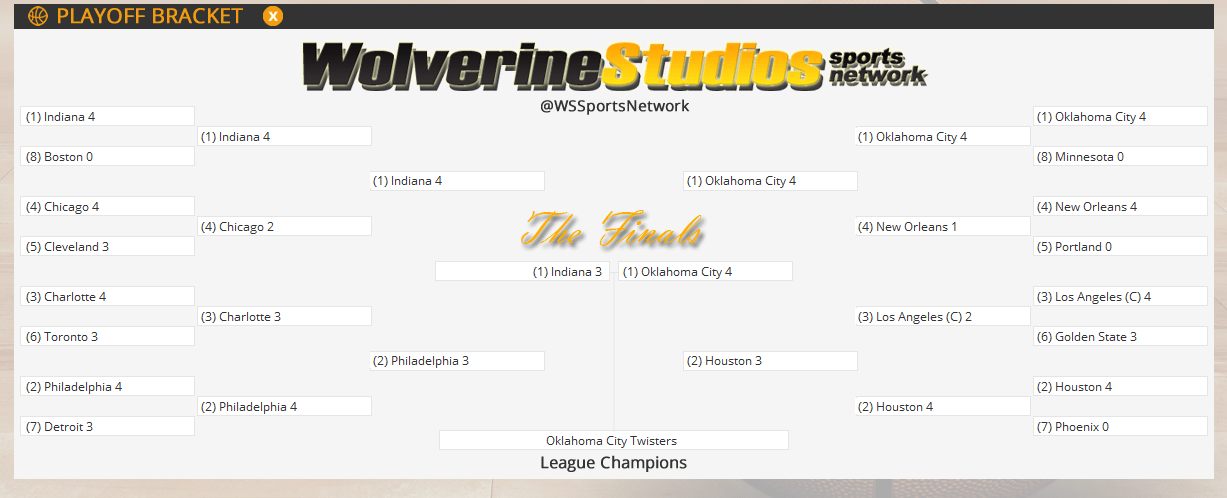 For European Leagues, the simulations don't quite seem to match up with the real world's stats. Scores seem to be higher than I'd expect, and the interaction with the NBA doesn't seem to feel right. Foreign players entering the draft don't seem to ever be a player on an international team, which happens more often than not (another common path to the league for internationals is to enter college in the US, then declare for the draft).
Play with the D-League
As much as I applauded the interface earlier, when it comes to finding players to add to your team, either through the draft or free agency, it is sometimes hard to find what you're looking for. This is especially hard if you are managing a D-League team. All of your players will be rated with either two or one stars, so it's your responsibility to sift through their attributes and find out whether or not they fit your needs—or can even be a viable player.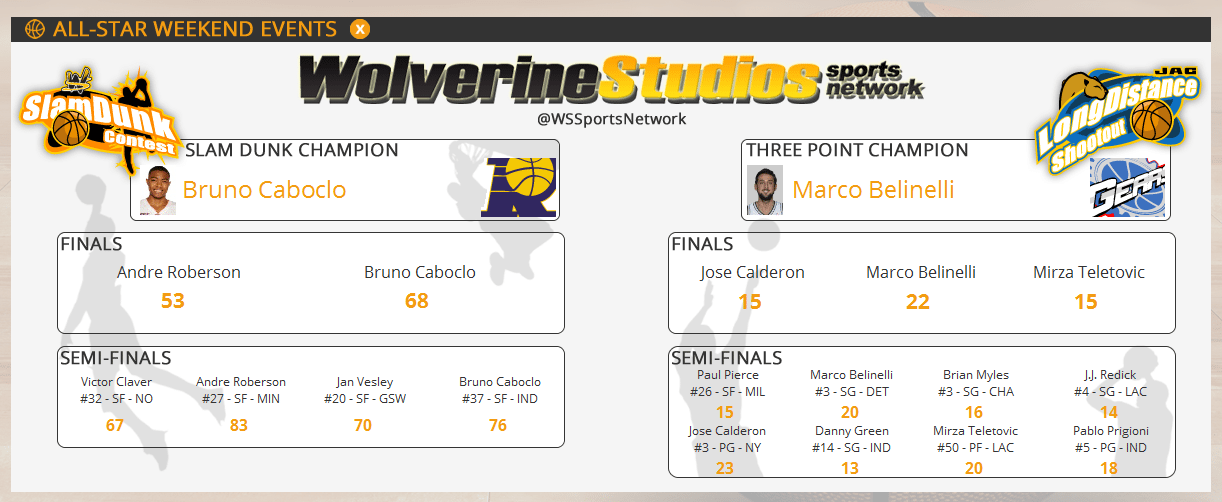 Since I am now adding caveats to my earlier praise, I should reconsider game simulation. When watching a game simulate live there are a number of things that make the experience seem clunky. Despite a nice looking interface, the game's sounds in this mode do not seem to line up with what is going on. Beyond the occasional thunk of a missed shot and constant squeaking of shoes on hardwood, the sounds are really dull. Additionally, it seems as if simulation only has a few set locations where any player can be, and they move discretely between them–similarly the play-by-play log seems to only be filled with a small set of basketball plays that don't seem to make perfect sense. So while the overall simulation of the game, and the behavior of coaches, players and refs within the game are all great, there are still things that make the experience imperfect.
When it comes to draft class creation and season setup, making changes from merely selecting the default settings can be difficult. One has to create database files in the correct format and populate them fully, before saving it to the correct folder and importing it. If there were an in-game method of doing these modifications, like to a players' abilities, through the Commissioner mode, then the experience could probably feel better, and more unified.
But after all that, you need to just play the game. Sit back and revel in the glory of leading your team to a historic 74-win season. Gnaw your teeth as you overcome an injured star to nab a championship. Fend off discontented players, staff, and owners as you try to rebuild a franchise down on its luck. The possibilities are endless, and they're tantalizing.
The Verdict
Draft Day Sports: Pro Basketball 4, by Wolverine Studios, is a great successor to DDS:PB3, and continues to up the ante in the world of basketball management games. Despite a few unintuitive elements, a slightly clunky game simulation engine, only a nitpicker can really find too much fault with the game.