It may be November, but if you're anything like me, baseball is never far from your mind. And while console games like MLB The Show, and for many of you, the old MVP series, there are a great many players who are looking for something to fill more of the fantasy void. As a fantasy owner of eight teams, I feel your pain.
Insert PureSim5, a baseball simulation modeled after the OOTP series that most people are aware of. If you're not an OOTP fiend like I am, here's the link to one of my leagues: www.netsportssimm.com. From there, you can get a feel for what simulation leagues look like. I'm in two of these — unfortunately, the archaic OOTP 6.5, which is fun but can't hold a candle to the newer versions — and basically the gist of it is that you start a league in whatever season you want, and progress from there. As you can see, we are in the midst of the 2042 offseason. I'm the Minnesota Twins, and am trying to spend additional money because the way finances work in the game dictates that I can't pocket any more 'cash'. Sounds weird to associate that with the Twins, but it's where I'm at.
Actually, we did the exact same league and it crashed about 40-45 years in — essentially where we're at now — so that tells you a. how long we've kept these two leagues together and b. that I've essentially played about 150-200 sim seasons (including defunct leagues). Indeed, I've been around the block a time or two on sim games.
So let's get down to the nitty gritty on PureSim5. At the open screen, you get five choices and 'quit'. You can do the following: New Game, Load Game, Quick Load, Mod Files, and Options. Most of those are self-explanatory, though I think Mod Files may be an exception. The Mod Files are where you can download things such as MLB faces, logos, and ballparks, as well as fictional team logos, All-Time logos, and background images. All of these serve to make the gameplay more customizable, and most of them are inherent to previous versions of PureSim. To get a feel for the game, I've downloaded the face pack. Adding packs to the game is relatively simple; all you do is download it and the game will add it automatically. I recommend restarting the game to make sure the update takes, but it doesn't appear to be necessary.
One thing I noticed while tooling around the game is the discrepancy between the good players and the bad ones. The good players have consistently good rankings; free agents and poor players do not. And while this might be a Captain Obvious statement, part of me wondered if the gorge between the two is a bit too sizable. Like Madden in previous years, it serves to truly differentiate the haves from the have nots — because let's face it, three years ago nobody was chasing down Devin Hester from behind — and that's probably for the best since these players are free agents for a reason.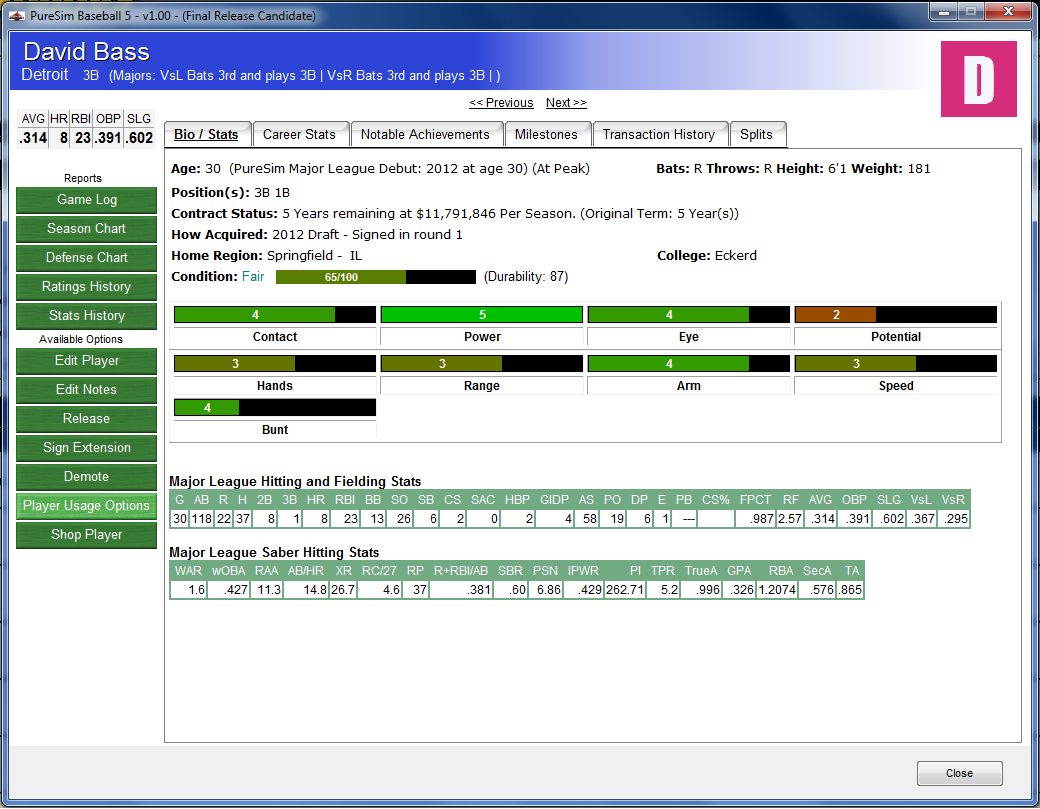 PureSim5 Player Cards
Opening a new game brings you a nice handful of options. You can start a game in PureSim classic mode, PureSim classic quick stars (you choose the number of teams, divisions, etc.), Major League Career (choose your year and format), Major League Career Tru-Transaction mode (you manage, GM makes moves as they occurred in real life), and Sandbox mode (any season 1900-present, with real players if you wish). Finally, you can choose your ratings format: 1-100, the 20-80 scouting scale, a number of 1-xx formats, and finally, no scoring whatsoever. The last option is how you want finances, market sizing, and free agency to work. You can be the equalizer with all markets the same size, or you can have it just like it is.
For the intents of my review, I'll be the Minnesota Twins — team I'm most familiar with — and will sim through the entire 2011 season to keep it fresh and timely. Unfortunately, a 2012 option doesn't appear to be available yet. So we have normal market sizes, free agency, and all that goes with what I feel should be an accurate replication of the 2011 baseball season. Let's see if I can prevent the Twins from losing 99 games again!
Right from the get-go you choose your file name for a save; this is nothing revolutionary, you just have to make sure you can remember it. Then you select your team and change them off CPU. Then comes even further customization for your 'association' — your league, in essence — such as choosing size of rosters from 35-60 — I'm using 40 like in real life — as well as making expansion possible, allowing ratings to change in-season, and a handful of others. Here are the ones I enabled:
Expansion Possible
Injuries Can Occur
Player Ratings Can Change In-Season
Allow Computer AI Trades
Use Player Photos
Import Players Prior to their MLB Debut
I also selected a strict fatigue/durability model — as opposed to age-based — as well as DH in the AL, five-man rotations and closers on a pitching staff, and importing players' historical stats. Finally, I selected TRU-life for the player development engine; essentially this models what players did in that real time frame, with potential adjustments due to natural variation and the like.
Random thought at this point: Wow. This game is very thorough on the front end. The final piece before starting the game is to import the major league players from the season that you've chosen. So far, the setup for a game might turn off people looking for a more basic interface, but if one can get past the intro, there are clearly options for players looking for all different playing experiences. Additionally, you can update some, not all of the options as your season goes along, so don't fret making too many hasty decisions when starting up the game.
Spring training is the first activity that awaits prospective players, and it's basically just a simulation of the Cactus and Grapefruit Leagues that we've grown to love as baseball fans. I've never really known anyone to enjoy these parts of games anyway, so I don't think simulating through the spring is much of detraction. Before opening the season, PSPN — clever, huh? — posts its preseason power rankings — Twins 22nd — and an annual "most feared hitters" list. It's a pretty cool feature, even if I don't agree with the methodology (batting average and home runs? yuck). There's also a "frugal or fancy free" feature that profiles team payroll. Again, cool feature, but not exactly necessary. Onto the season! We'll be using the real 2011 schedule.
At the season opening screen, you can do a number of things. You can edit your association notes — essentially a notepad — as well as check season stats on an ESPN-like interface. It's pretty cool, to be honest.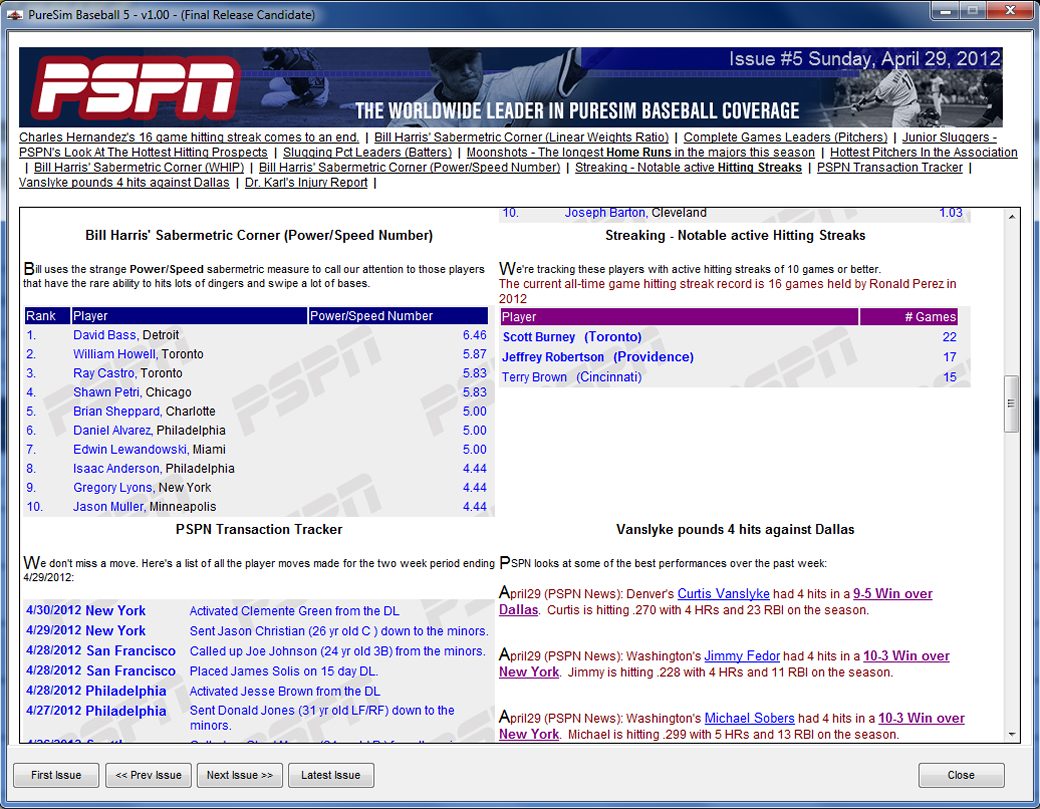 ESPN..err we mean PSPN Coverage!
Let's have a peek at the roster and front office options. From the front office you can edit a lot of things — keep in mind, I'm on commissioner mode — such as GM and manager tendencies, as well as managing every single part of your roster. It's really an in-depth, well done aspect of the game.
For this review, I'm going to try to improve the Twins club from within, using the best 25 men at my discretion to try keep the Twins from repeating their worst season in club history. Just for fun, I tried out the trade interface, and the Angels offered Tyler Chatwood for Danny Valencia. That seems like a pretty good offer, and leads me to trust the engine behind this game pretty well. Similarly, hitting 'shop player' will suggest a handful of players that other teams are willing to offer you. At this point, I have to tip my cap to whomever programmed the game engine, as this is well done.
Before I start the first game, I survey my front page with lineups and so on. The 'Ask a Scout' feature is pretty cool, where you can consult your local 'scout' on how he sees fit to update your team.
In the interest of brevity — you're clearly laughing at this 1400 words in — I'm just going to start with the rosters as-is. Strangely, player stats for 2011 — such as Joe Benson's cup of coffee — are in the game. For me, that makes 2011 rosters a bit strange.
Options for each individual game, as well as yours, are QuickSim and PSPNCast, which is similar to GameCast on ESPN. On your own game, you can also manage, which is the third option. I'll manage game one before I sim for a bit. Game one features Carl Pavano and Ricky Romero, and before the game you get the option to alter your pitcher and batting lineup, as well as weather conditions and a few 'quick facts' before heading into the game interface.
The home page lists your lineup, the defensive players on the field presently, and some stat interfaces as well as a list of roster options available to you — pinch hitters and relievers, essentially. Every time you strike 'enter' the game progresses one more step. You have the option to hit the B key (bunt), L key (lineup), 2 key (to steal second or third with 3 button, based on your base running situation), H key for hit and run, and much more. It's really in-depth.
In the first inning, Alexi Casilla reached via a single, Delmon Young was hit by a pitch, and Jim Thome singled to center. I'm given the option to run on Corey Patterson (84 arm) with Casilla (71 speed). I went aggressive and scored, but this is a pretty cool option. So far, I'm really digging this game, and we're just a few hitters in, even though the batting lineup with Joe Mauer hitting seventh and Jim Thome playing third is, shall we say, a bit odd.
Now, with Pavano on the mound and a runner on, I have the option to check the lineup, walk a guy intentionally, pitch around him, change my infield and outfield positioning, and do a pitchout or a pickoff move. Again, very thorough, as the Blue Jays score a pair of runs to make it 2-1. Now I'm not going to bore you with how the game turned out, so I've auto completed to the end of the game. Final score: Minnesota 4, Toronto 3 in 12 innings. Glen Perkins got the win, so for the fun of it, I checked his ratings. 85 stuff, 79 control, and 70 velocity. The 52 endurance is a bit high, perhaps mixing his starting days with his closer days into making him a possible rotation candidate, but even games like MLB The Show goof this sort of thing. I can't complain too much.
I've opted to simulate through April at this point. The game pauses to give you options, such as pausing to see new issues of the PSPN magazine, and to let you know if there are injuries or trades proposed. On the left side of the screen is an overlay updating you on statistical leaders, such as Jered Weaver with the most wins, Fausto Carmona with the most walks, and even some team stats, such as Denard Span with a .372 OBP. This really helps the game have a good MLB feel to it.
At the end of April, the Twins are 13-16. Not good, but fortunately only a game-and-a-half out of first place. So basically, bad Twins and a bad division, just like 2011. Another pause the game makes is for scouts to evaluate talent periodically each month, which is a pretty cool feature. Oddly, simulating a month stopped at June 3, so I'm thinking it goes month-to-date rather than calendar month. No matter, as the Twins enter June in first place 30-27, with a three-and-a-half game lead on Detroit.
Now, we'll move onto the All Star break, which takes us through July 10. Hold up; the Nationals are interested in trading for Scott Baker on June 21. Let's take a look, shall we? The Nationals gave a list of one-for-one trades they would make. This list includes Tom Gorzelanny, Wilson Ramos, and…..Stephen Strasburg? Well, I'd be a fool to pass that up, but I think it's a negative strike against the game engine, as this would never happen. In fact, up until the break, I got offers on every single major player on the Twins roster — I didn't take or even look at any of them — as well as guys like Ben Revere and Trevor Plouffe. I like to envision this as how Terry Ryan's phone might ring, but if the deals were anything like Baker-for-Strasburg, then you could probably assemble an All Star team in no time.
Fast forward to July, and from what I gather, there is no All Star game, just an All Star Break. Not a huge mark against the game, but an oddity to be sure. The stats at the break seem pretty reasonable, with the exception of Joe Mauer hitting .252/.333/.319 with just 3 home runs. What's pretty cool is the game calculated his WAR (-0.1), wOBA (.300), and that he'd thrown out 49 percent of all attempted base thieves. As a huge sabermetrics geek — I work for Fangraphs after all — these are wonderful additions to the game engine.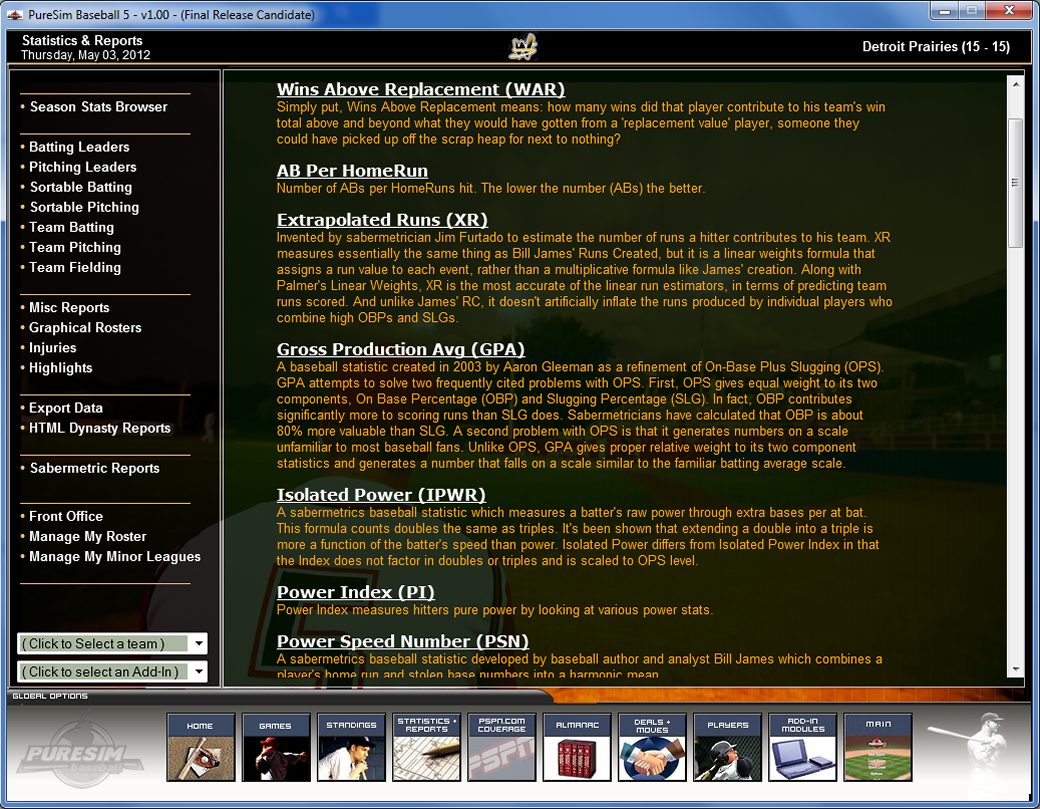 Sabermetric reports!
Now we'll simulate through August 31 to have a peek at the roster expansion options. On the way as we approach the trade deadline, plenty of deals proposed make sense, such as Span to Tampa Bay and Morneau to Toronto. I like to see a trade engine in games that can at least be somewhat realistic — Strasburg notwithstanding. A quick peek-in during late July shows the team under .500 at 52-54 and still leading the Central. Yikes. It also showed 14 complete games for Cliff Lee in Philadelphia, which seems a bit high.
On September 1, a note pops up alerting the GM to make his call-ups to get to a 40-man roster, which I just auto'd. At a 40-man roster, you'll obviously have to move some guys around to get them work, but it's extremely realistic. On September 28th, the Twins clinched the division with a 78-83 record, and it led to a matchup with Boston in the ALDS. Obviously, after September you have to send players back down for a 25-man playoff roster. With little surprise, the Red Sox dispatched the Twins in three games. In game seven of the World Series, Roy Halladay outdueled Ervin Santana, and the Phillies won the World Series.
PSPN gives awards at the end of the season in a pretty cool format, and there are plenty of awards, such as Gold Glove, Silver Slugger, and a handful of others. Afterwards, when you head to the offseason, a prompt comes up with a score out of 1,000. For instance, my Twins score was 635, and three straight years under 500 will result in a GM being dismissed, which is a cool, if simple element of realism. After a pre-offseason evaluation of talent, we're ready to start the offseason, which I'll attempt to abbreviate to keep you reading.
After retirement, ranking of players, updating the almanac, listing individual and team records broken in-season, and talent evaluation, we're ready to begin the offseason. The draft picks aren't totally listed in a way that's easy to find players, but the menus sort quite easily, based on talents and bonus demands. After the draft is completed, free agency starts, and the list pretty much accurately resembles last offseason's list, with players like David Ortiz, and Jamey Carroll, but also some oddities like Alex Rodriguez. All in all, most things make sense, with the exception of Kevin Kouzmanoff asking for $3-plus million per season. And now, we're back to the beginning.
All told, this is a fun game as long as you aren't 100 percent committed to reality and realism. I'd definitely recommend it as a sim if you're looking for something to supplement OOTP or something of the like.