Having already reviewed OOTP15, it's certainly hard to know what to expect from iOOTP, the iOS version of the game created for enhanced mobility on Apple devices. As such, it is expected that this version would be considerably truncated from the PC version reviewed here.
Knowing this is key in reviewing this game based on its own merits and what is possible for an iOS game, rather than trying to compare it to itself on the PC version.
Opening Page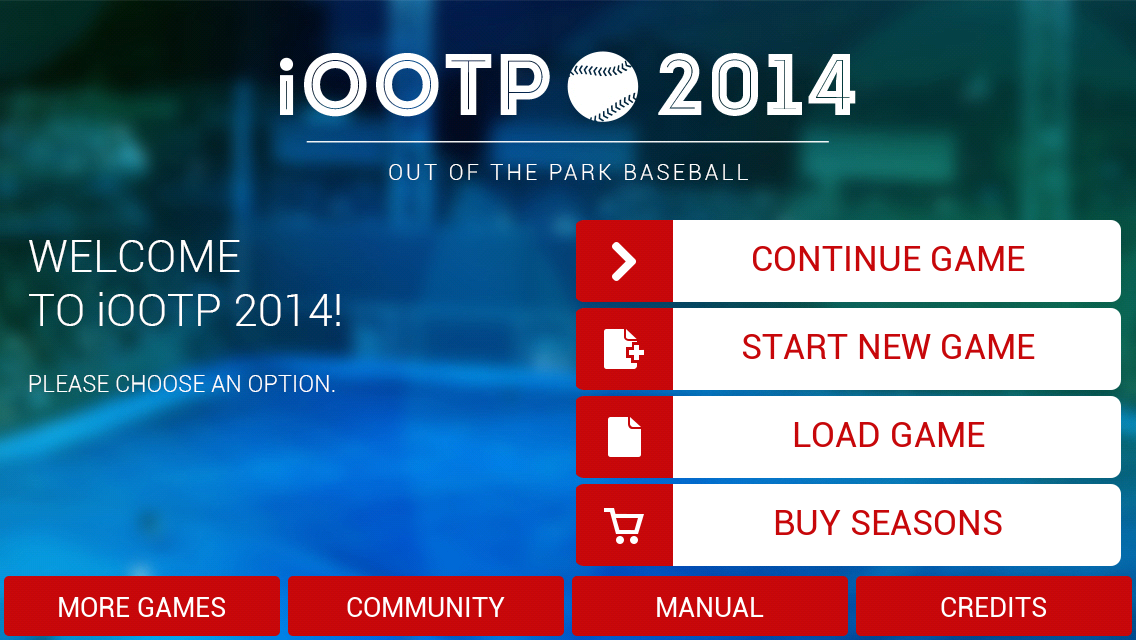 From the opening page it's pretty simple to see this game is toned-down from the OOTP 15 version, but that's not necessarily a bad thing. The simplicity will no doubt endear itself to a larger audience than the hardcore, manage-your-team-all-the-way-down-to-Rookie-ball, all-encompassing version that OOTP 15 can provide. The 'buy seasons' option is neat as well, as the player can purchase bundles of seasons — such as special seasons where records are broken — or individual seasons, set apart by era (like Deadball, Golden Years, Expansion, and Pre-Steroid era).
From there you can pick if you want a legitimate league based on current rosters, a fictional league, or a historical league, and if you want to start with a fantasy draft.
One fun thing the game has are these cut scenes: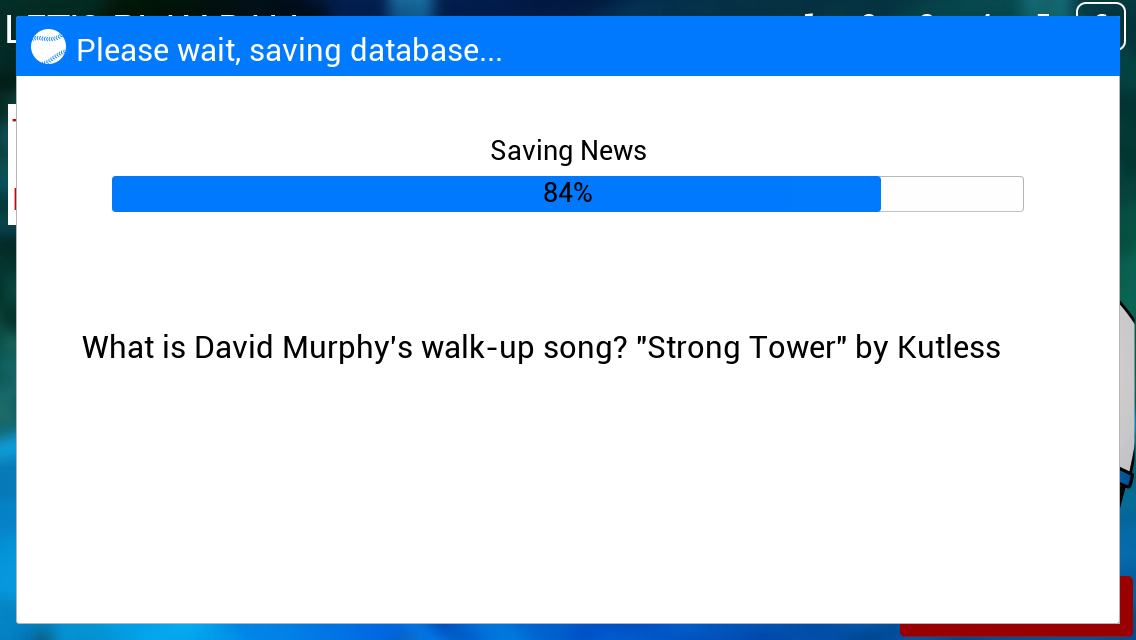 These will have fun little bits of trivia or anecdotes that even the most hardcore baseball fan will find fascinating. I know I did.Basically speaking, all of the menus are considerably toned down from OOTP 15. Here are some examples.
Organization Control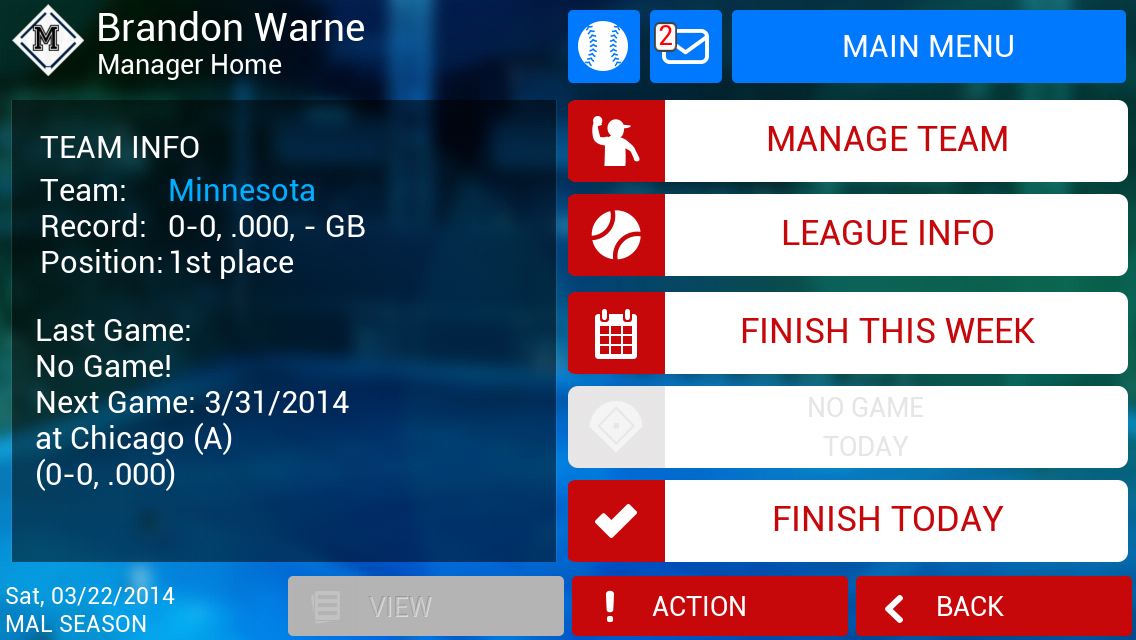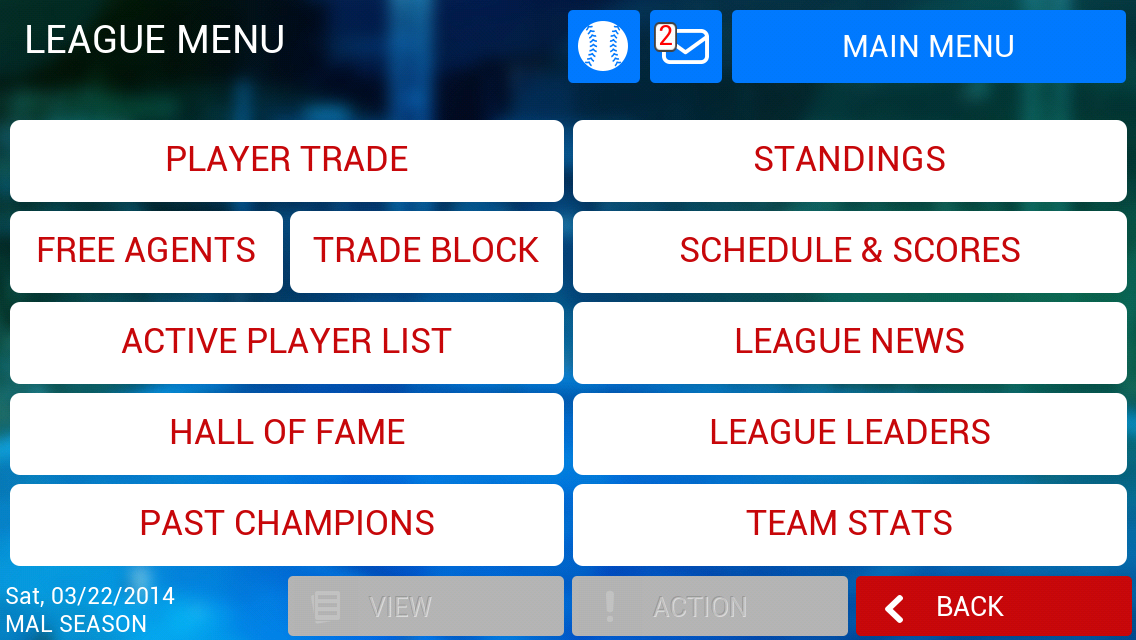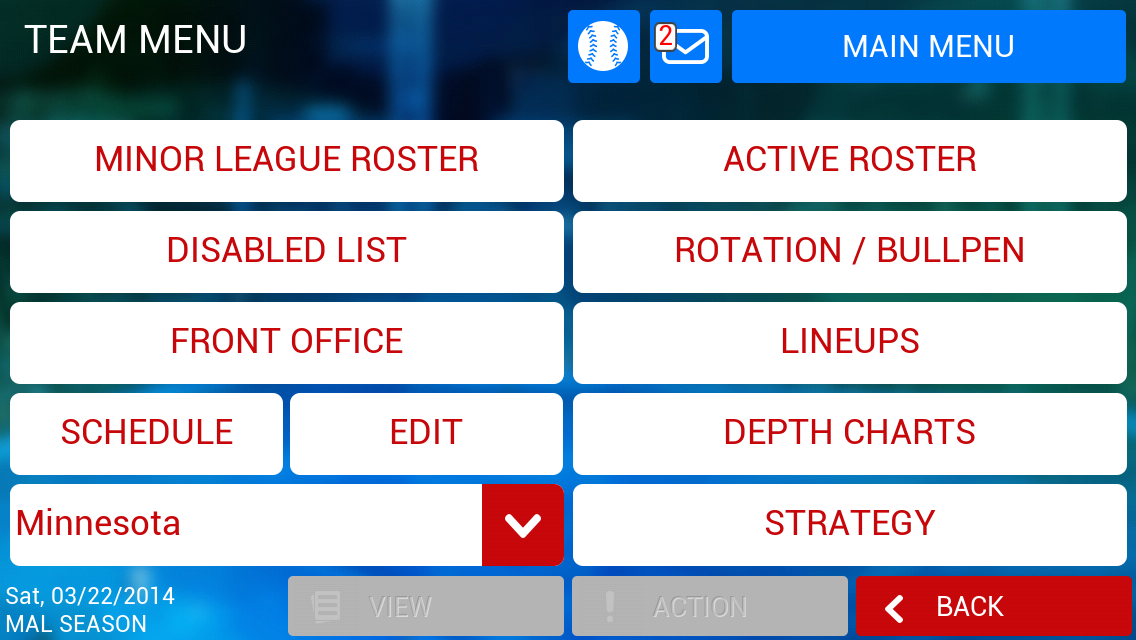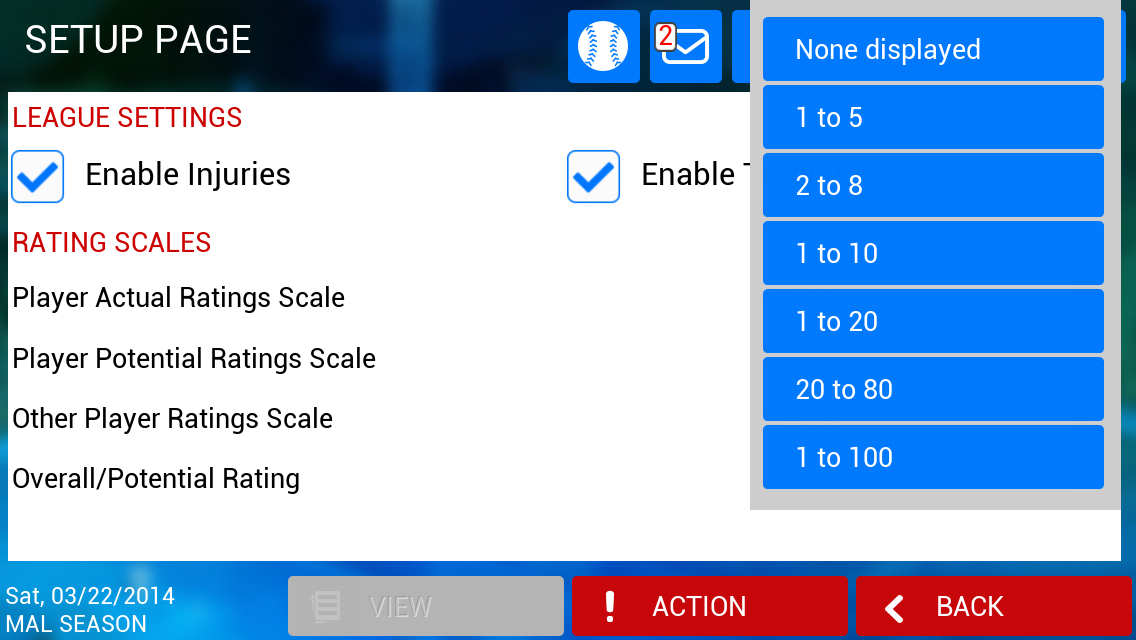 Basically speaking, this is top-to-bottom the level of control you can have on your organization, as well as the settings for the underlying aspects of the game. I like the customizable rankings, especially using the one to 100 because that's the scoring system I cut my teeth on in OOTP 6.5. Otherwise, the 20-80 scouting scale is a fun one to use, too. Since there's only one minor league system for each team — rather than levels — moving players up and down is quite easy, if not a bit oversimplified — at least for people who are really into the minors.
Minor Leagues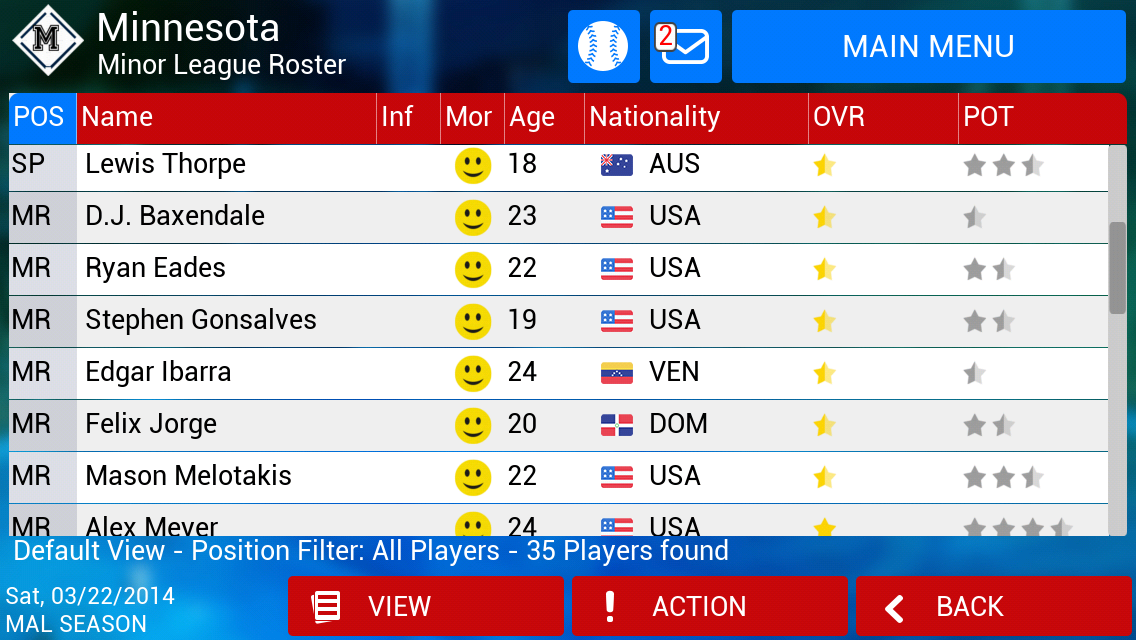 Here's a look at some of the Twins minor league arms. What's impressive is that, outside of Alex Meyer, these are not some well-known names.
OOTP has done a nice job integrating these players and their skillsets quite accurately into the game. As a bit of a minor league junky, I was impressed.
Player Pages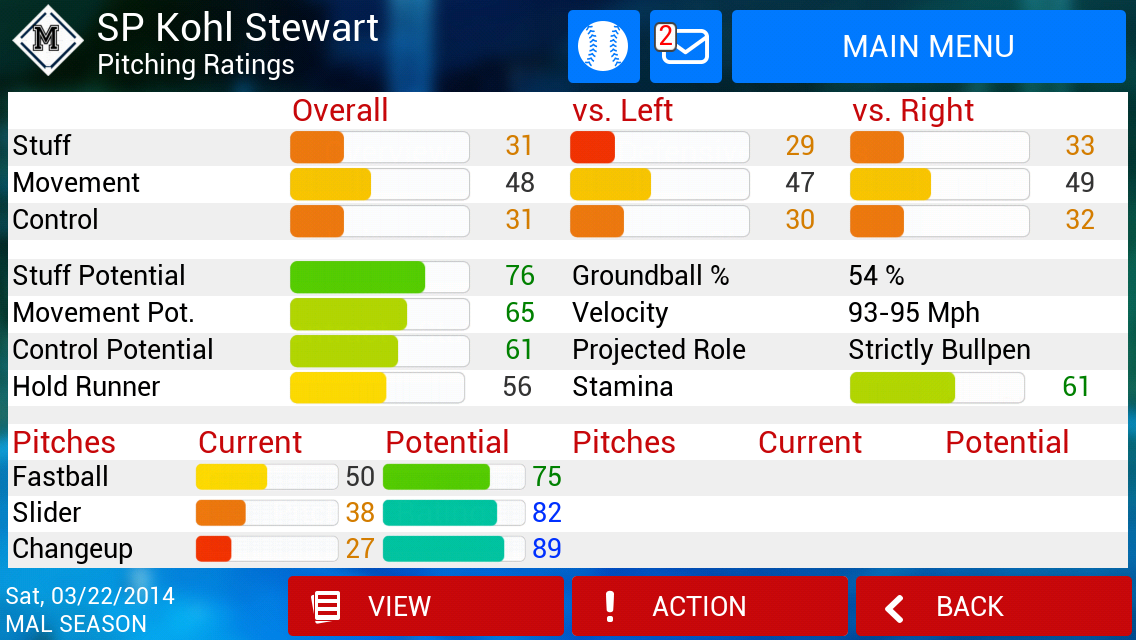 Speaking of big names in the Twins minor league system, here's one, and here's a peek at what the player pages look like. There are many, many options to check out on the player pages, with multiple menus making up for a lack of space on the iPhone — in this case — screen. The user can seamlessly transition from a players talents to potential future talents, and a number of countless other pages which hold lots of pertinent information.
Strategies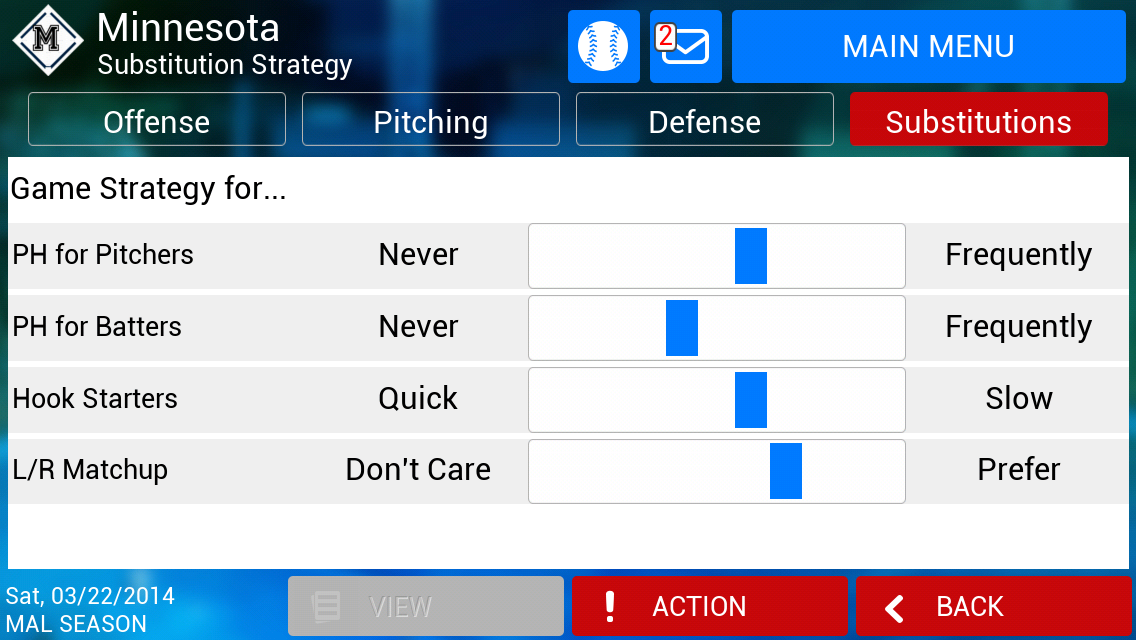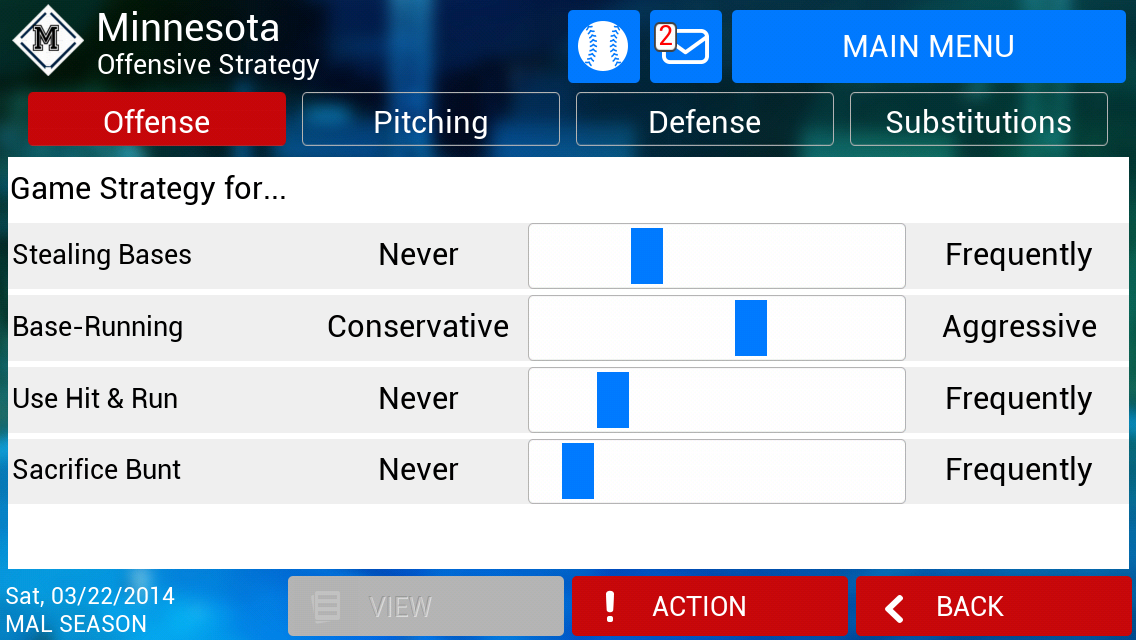 And here is the strategy page. This is my personal OOTP strategy, as I'm not one who likes to give outs away on the bases or at the plate, but I do like exploiting a late-inning, lefty-lefty matchup when I can.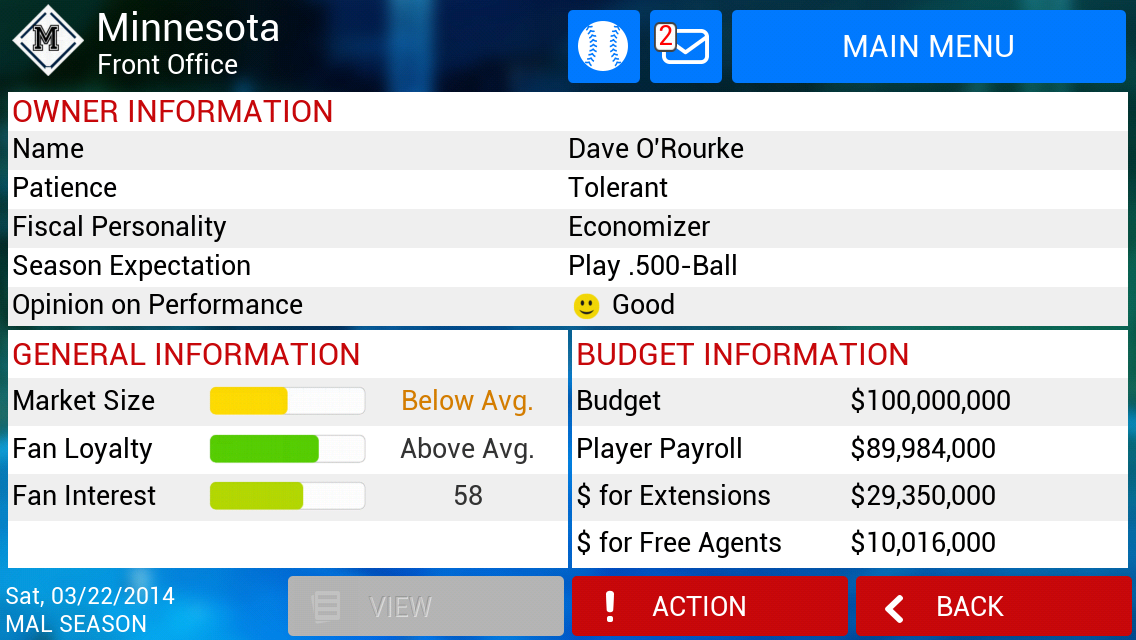 One thing that I found a bit odd here was they didn't use real names. In OOTP 15, Jim Pohlad is listed as the Twins owner, and his personality is reflected adequately. It's not a huge deal-breaker, but an odd deviation from the factual basis upon which OOTP 15 stands.Now we are ready to get into the game play. Here's a peek at the lineup screen that greets you as you prepare to play a game:
Game Play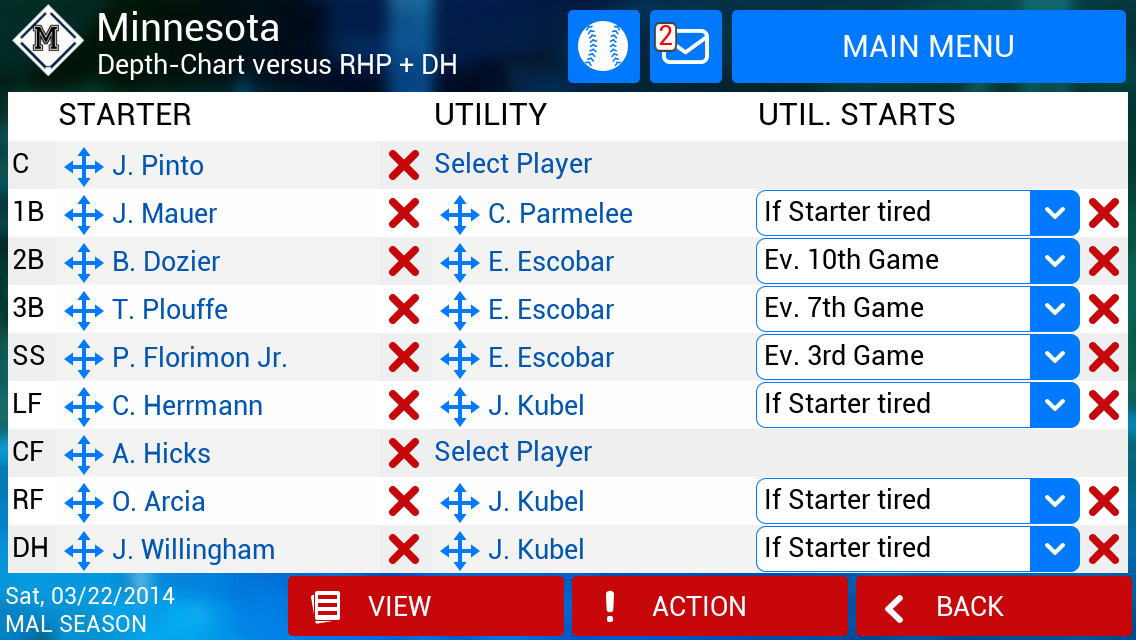 …and beyond that, you can also dictate your strategy on a game-by-game basis in the event that you want to change it up: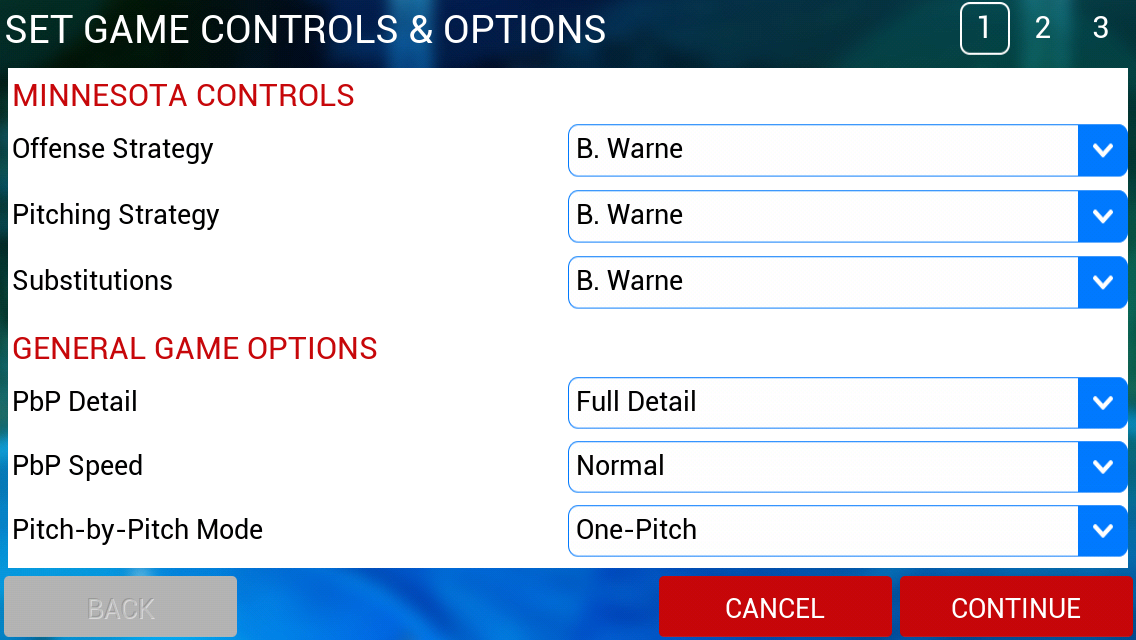 Alright, let's hit the field and get this show on the road.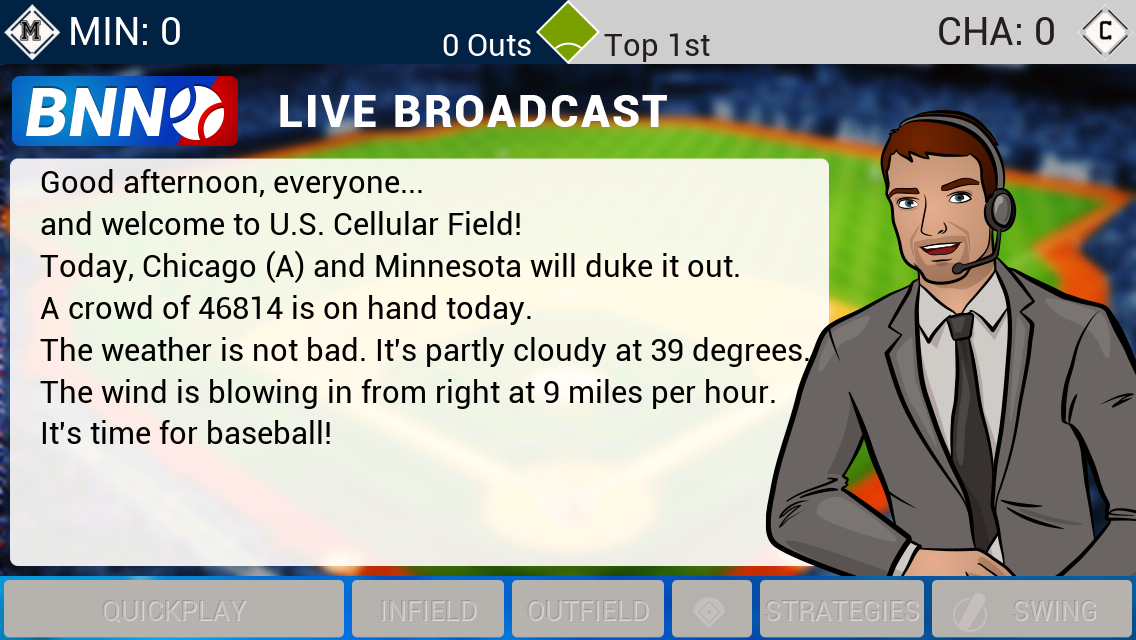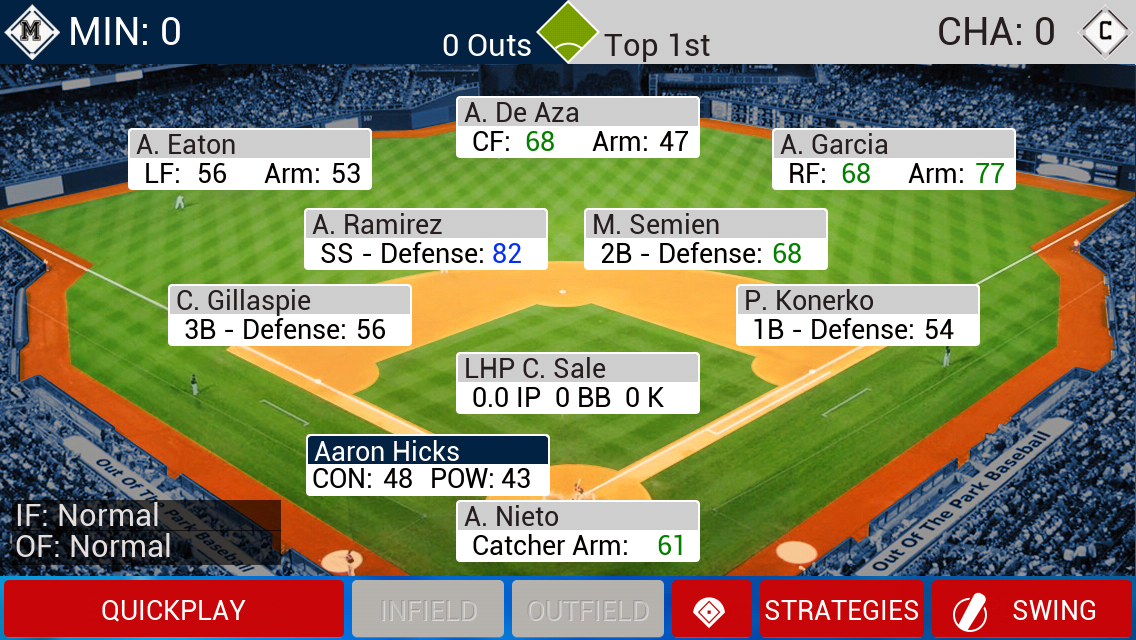 This isn't entirely different from what we've come to expect from OOTP. There are no batted ball graphics like on the desktop version, but the graphic overlay is still pretty cool. The quickplay option allows you to jump to the later innings, and as far as strategy goes, you can take a pitch, or consider bunting for a base-hit as well as all the options when bases are occupied (bunt, steal, hit-and-run, run-and-hit, and so on).
Boxscores
Here we have the postgame box score: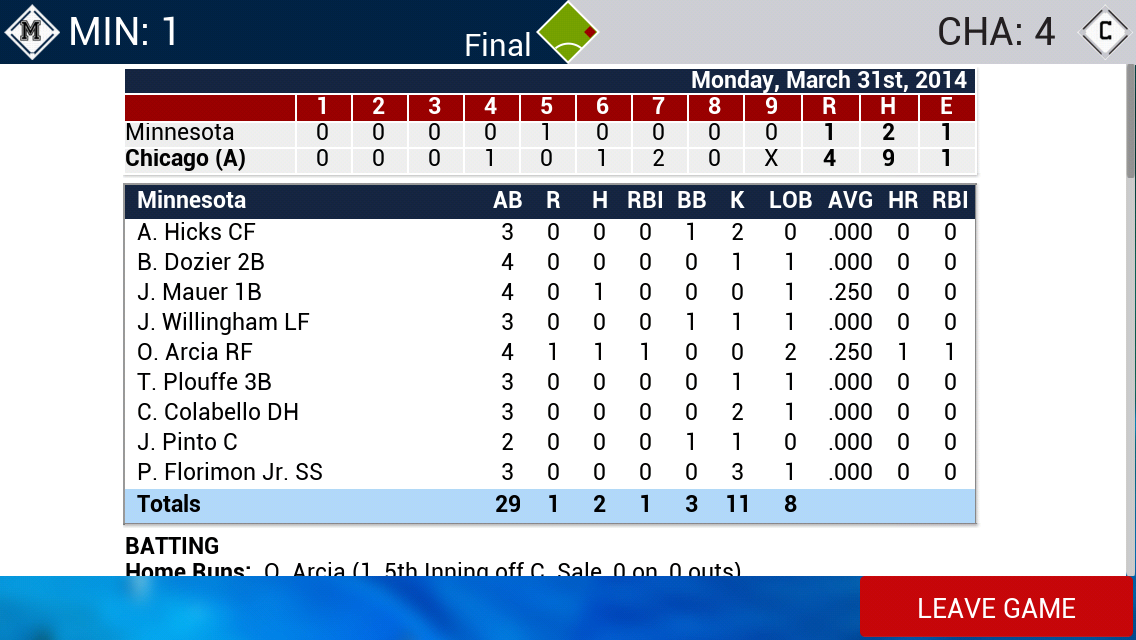 Needless to say, this game turned out like most games against Chris Sale do.
Prospects
As the season wears on and draft prospects are added, it's sort of neat to be able to break down each draft prospect.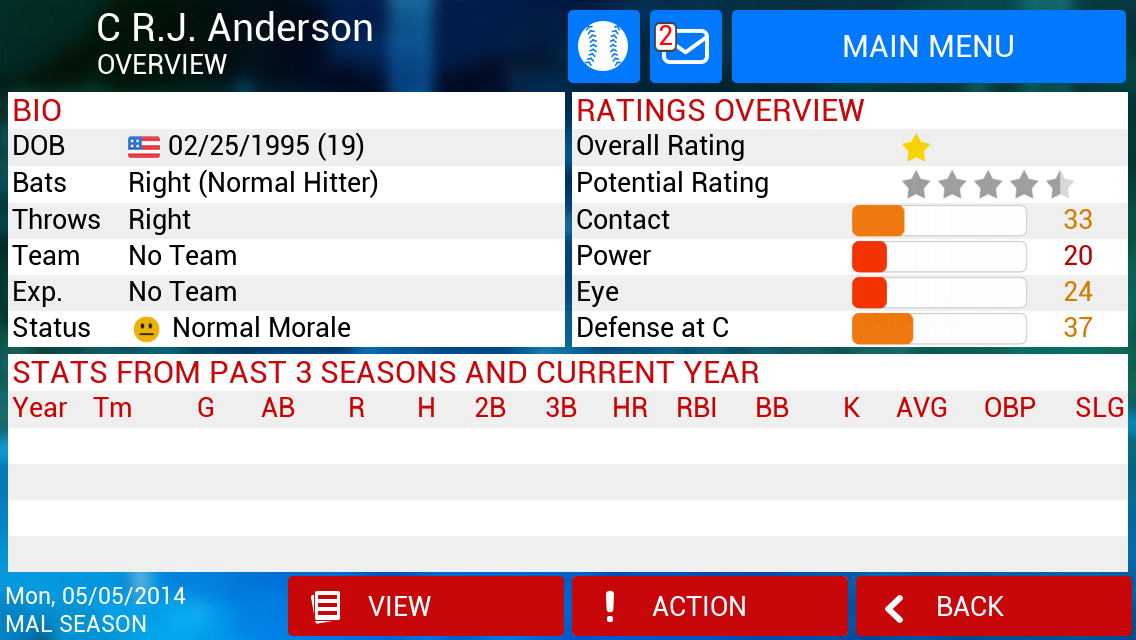 …though absent from this version is the haggling that goes along with signing your draft picks, as well as the International Free Agent period that incidentally starts Wednesday in the real MLB.
Searching
At any given time one can thumb across menus, as the interface is actually woven together quite nicely. Here's a menu that you'll find that might prove quite nice if you're looking for a player specifically: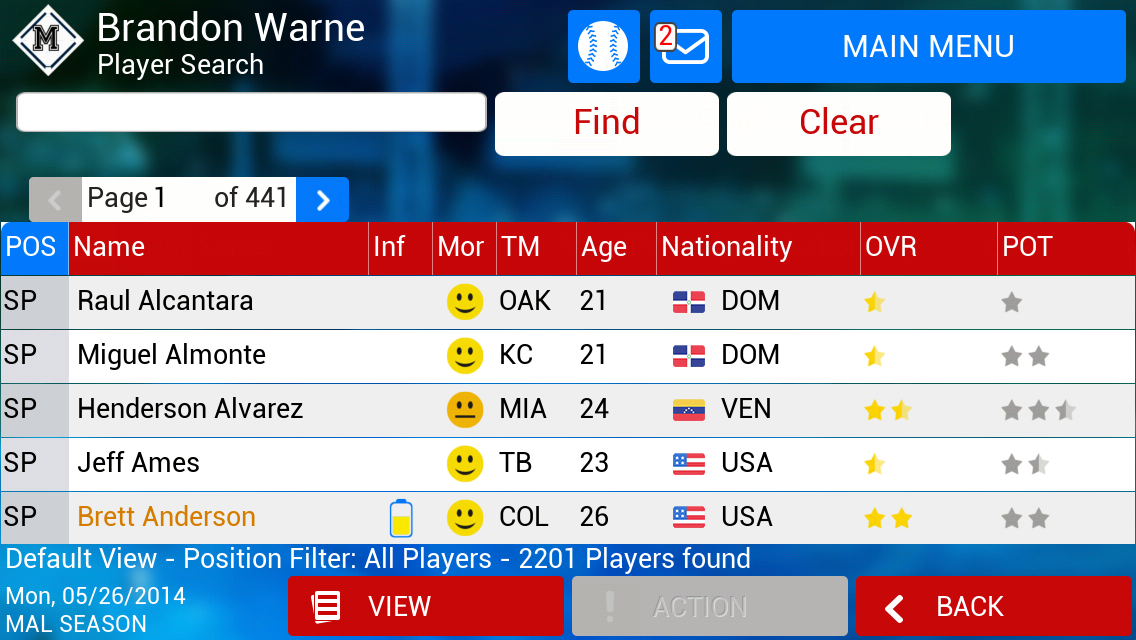 So now instead of having to move over to the Marlins page to find Henderson Alvarez, or worse yet, try find Stephen Drew once he's been traded in the game — to the Rays, which is odd — you can simply do a search and find whatever player it is you're seeking.
GM Score
As for me, my season with the Twins didn't go so hot.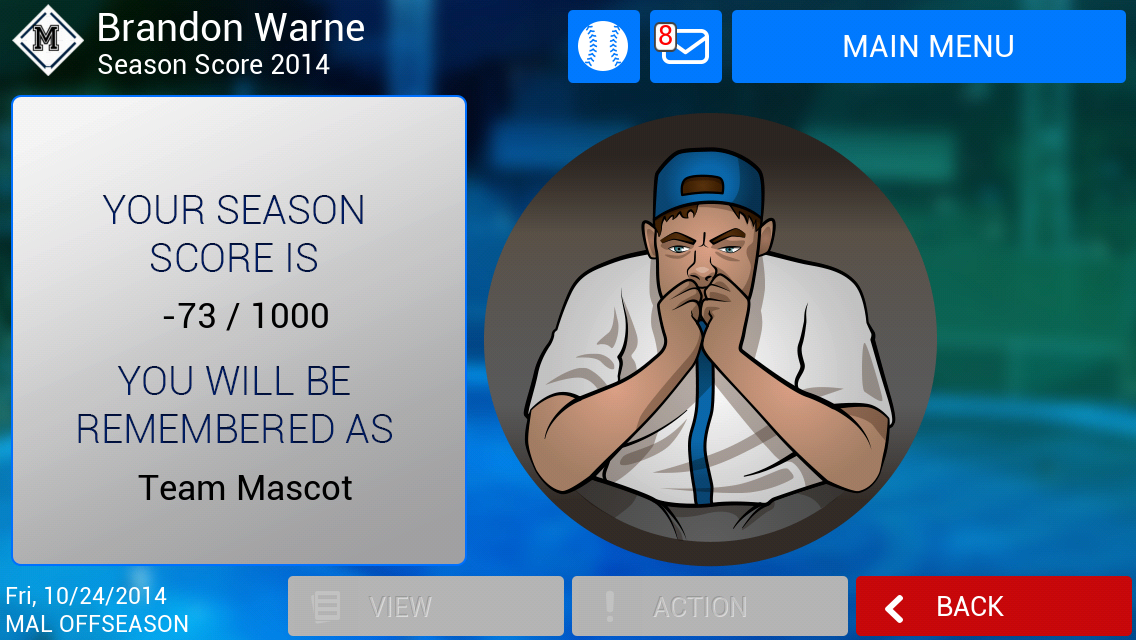 But as long as Mr. O'Rourke gives me the shot to come back for a second year, I'll no doubt be in tow.
This game has a very good replayability factor, and can be very addicting as a way to just kill time since it's not quite as engrossing as OOTP 15. It's fun, but a different sort of fun.