A.I. sports fans – Draft Day Sports: Pro Basketball 2020 for Windows PC has been released. Customers will be able to download real NBA players and NBA team logos from community members of the Wolverine Studios site. We had our own John Comey share a detailed look. Here is the official media release from Wolverine Studios.
[Press release details are courtesy of the Wolverine Studios blog]
For the vast majority of people the opportunity to be a general manger of a pro basketball team is just a dream. Well for all of you wanna-be GMs out there our basketball simulation puts you as close to the front office as you'll ever get!
Draft Day Sports: Pro Basketball 2020 is now available for Win-PC. You have full control over your favorite franchise. Draft, sign free agents, trade and choose your strategies as you battle a competitive AI. Deal with players who all have a unique play style and personality and carefully craft your team with the precision required to meld those different players into a cohesive unit. This is the only basketball simulation that puts more emphasis on building the roster rather than stacking up players just who have high ratings.
The biggest change you'll see is that Draft Day Sports: Pro Basketball 2020 looks totally different! We tore the game down completely this year and rebuilt it on a new platform called Alchemium Unlimited. This has allowed the game to take a massive leap forward and gives you the most complete and rewarding user experience that any of our games ever have.
Our new platform also ushered in many new goodies which we have taken advantage of. Beautiful new charts present the data in a modern fashion. A treasure trove of new data is there to help you make more informed decisions. There is so much new data we created a whole new section called Insights where you can find things like the expanded lineup tracking and much more.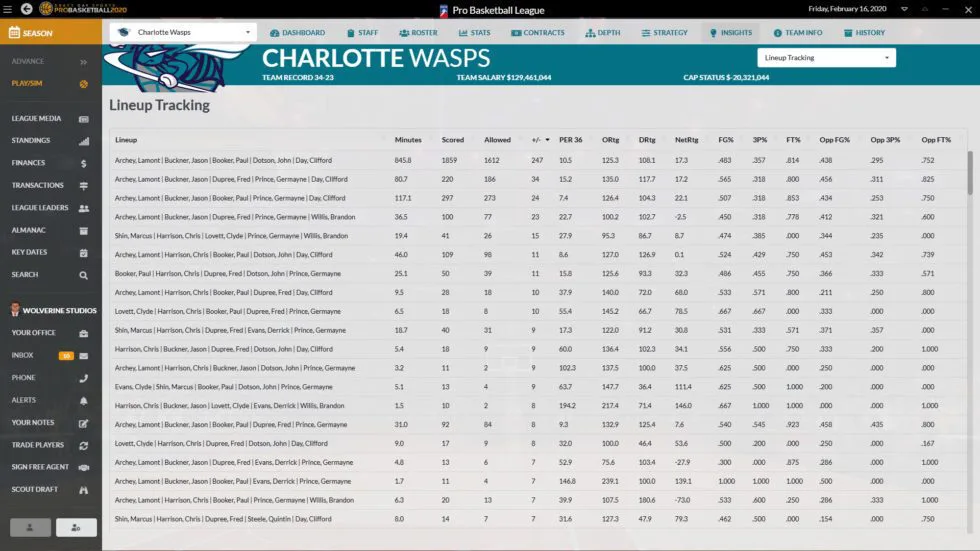 The expanded lineup tracking gives you a ton of new data to evaluate each lineup
One thing you have come to expect from the DDS: Pro Basketball series is our first class presentation. Whether it is things like new cut scenes for big events in the seasons, a redesigned game screen to make coaching even easier or of course the best draft experience in ANY sports game hands down we know you're going to love the new look and feel of the game.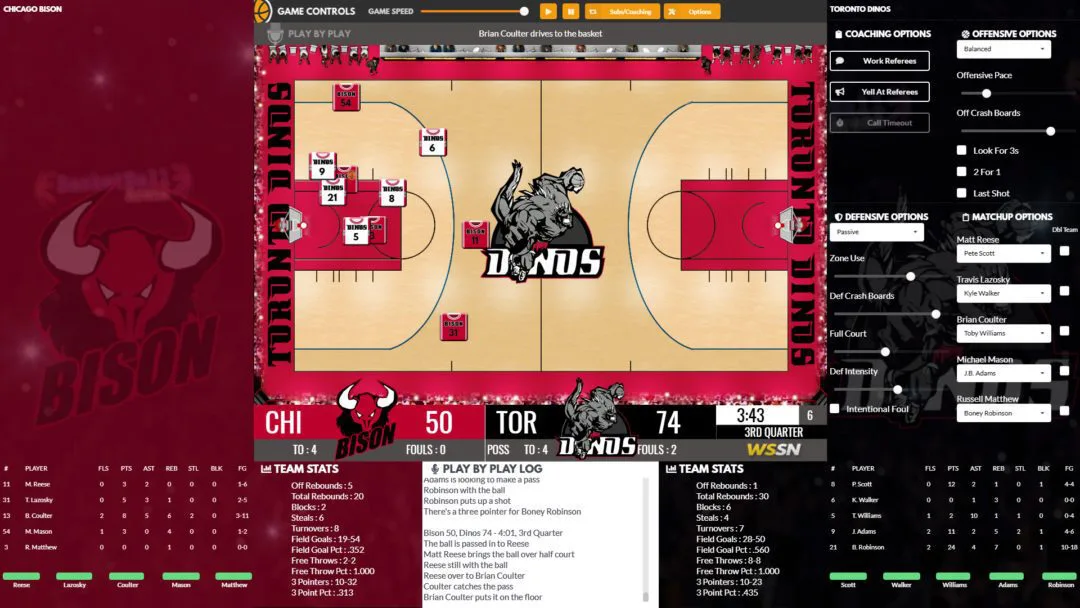 The redesigned 2D game screen puts all your coaching options on the screen for you at once including new fatigue indicators for your players on the floor.
Whether you are brand new to the series or an experienced vet of the franchise we know you're going to be amazed at just how awesome a basketball simulation can be. Get ready to experience basketball nirvana with Draft Day Sports: Pro Basketball 2020!