March is almost here but you don't have to wait much longer to feel the madness. Draft Day Sports: College Basketball 2020 will be released on March 9th, 2020 but you can pre-order right now and starting February 26, 2020 you will be able to download playable beta builds all the way up to release!
[The content narrative is courtesy of Wolverine Studios]
DDS: College Basketball 2020 is our biggest and best effort yet! This season we have completely rebuilt the game on the brand new Alchemium Unlimited platform which has allowed us to deliver the most attractive version of the game yet. As you can see the entire UI has been redeveloped giving you the ability to easily move around your association while giving you access to the impressive amount of data and reports in the game.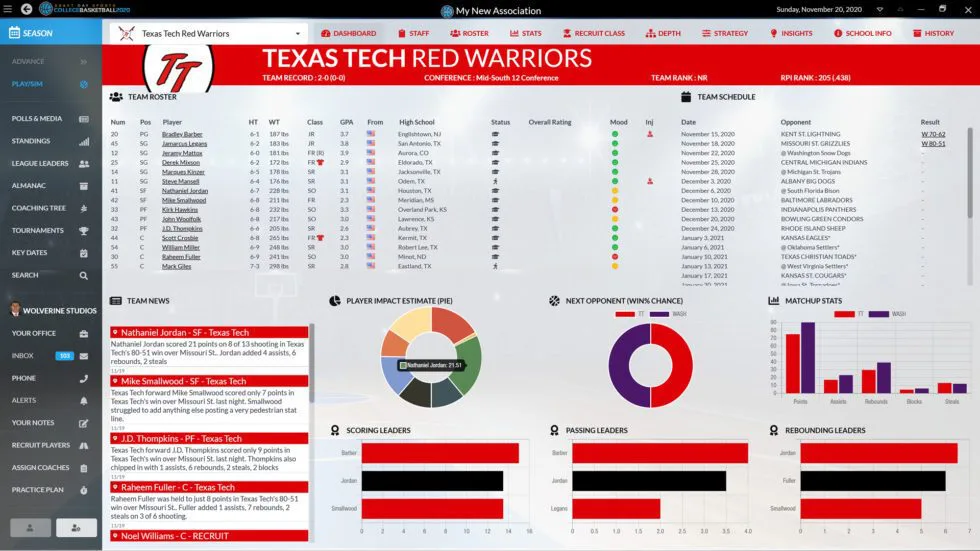 Above you see the new dashboard screen in the game which gives you access to your roster, schedule, news and important information about your team and upcoming opponent. The top also contains a searchable drop down box with every team and conference – no more hunting through conferences to find a team you are looking for. Just type the name and you'll find them. With over 350 teams to consider that alone is a huge time saver!
With our brand new look comes some great innovations in function as well. One of the biggest parts of the game of course is recruiting. Last season we introduced a quick recruiting feature to try and make it a bit simpler but this year we really honed in on that feature making it THE way you recruit in the game now.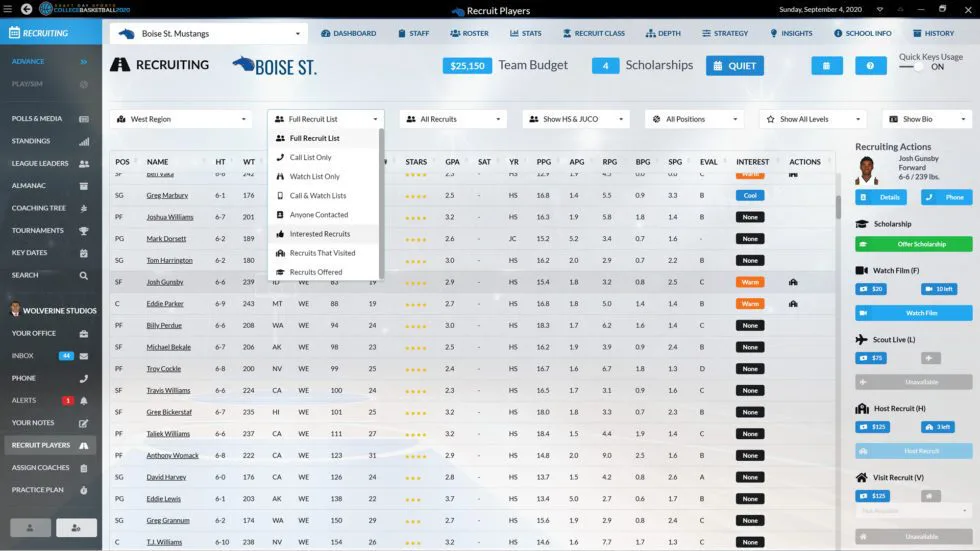 A look at our brand new recruiting screen shows you exactly what we have done here to make this area much more user friendly and much faster. You now have hotkeys for not only adding players to your watch and call lists but also for the weekly recruiting functions. Each of those seven drop downs contain different ways you can filter out the recruits to your liking and your choices will remain saved. You also see we've added things like color coding interest levels and giving you visual reminders as to things like players you have already hosted for a visit.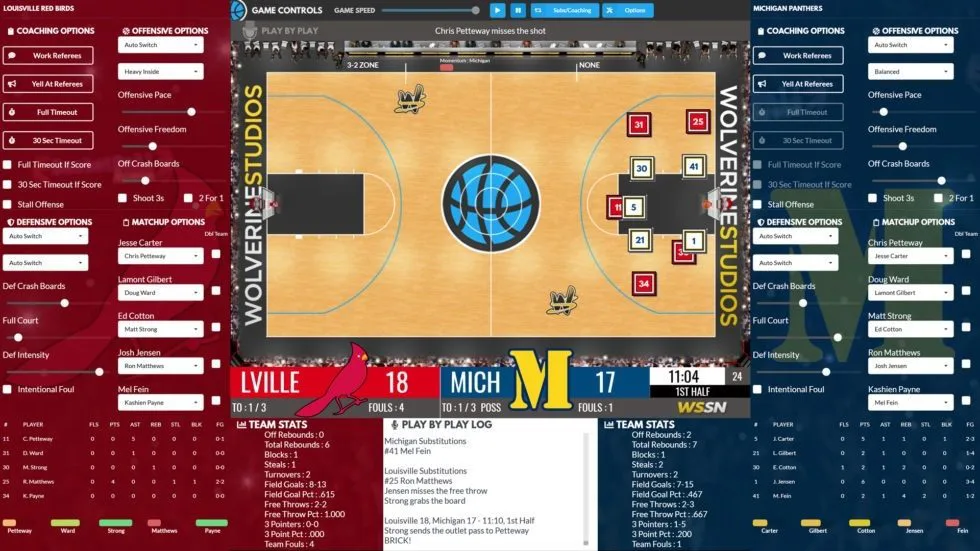 Our redesign doesn't just stop at the league screens – we've taken the 2D screen to an entire new level with some massive changes there as well. Notice at the bottom of the screen a visual indicator for the fatigue levels of the players on the floor and you can see that all of your coaching options are now available to you at all times without having to switch back and forth between popups. You truly will feel in charge of your squad with all of these options just an easy click away. The in-game experience has never been better!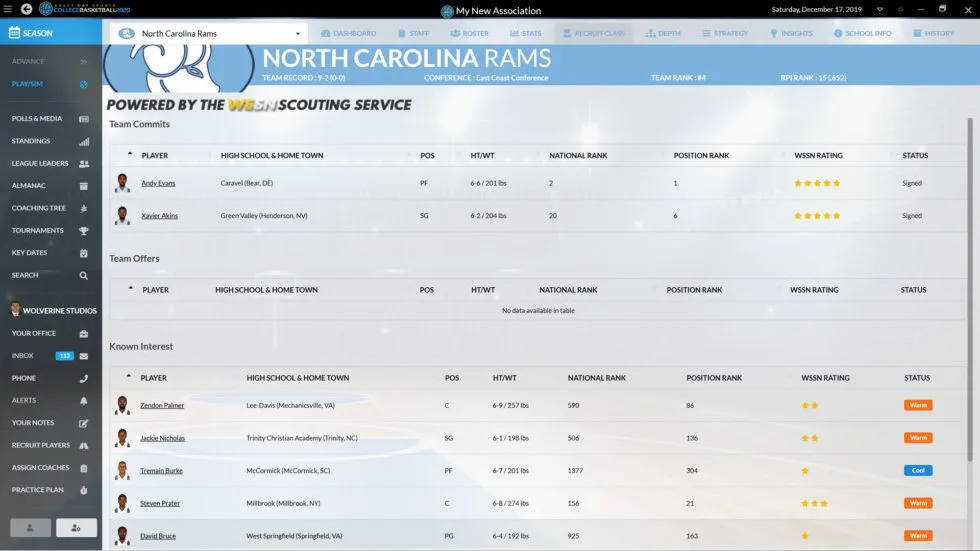 Our efforts didn't stop at just re-imagining what was already there – no way! Above you see one of the new features debuting this year – the recruit class screen. This gives you a scouting report from the in game media outlet which provides a look for each team at who they have signed, who they are offering scholarships to and who the WSSN feels is interested. It's a new twist in recruiting and arms you with additional information when making your own recruiting plans.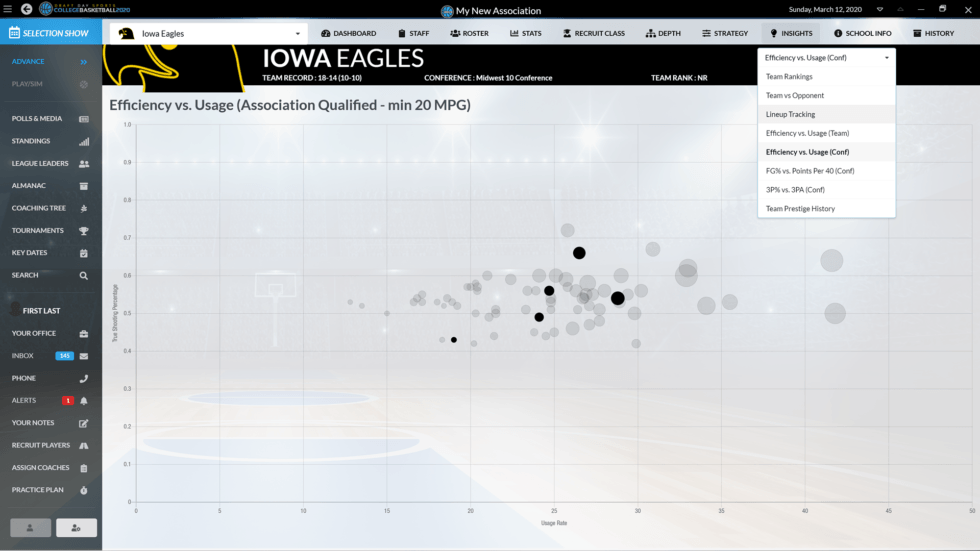 How about the brand new insights screen that gives you some great new stats such as the bubble chart above showing efficiency vs usage for your team vs the rest of your conference. As you can see there are a bunch of different options here including a VERY expanded lineup tracking option all to give you the most information possible in managing your team.
It is not just screens, data and functionality that are new to Draft Day Sports: College Basketball 2020 either. Thanks to the feedback of our community we've incorporated a slew of other changes as well. Here's a short list of just some of the new features.
There are now 353 teams to choose from in the game
Play by play logs can be generated for games
Scheduling has been redone to allow for 20 game conference schedules
Teams get use of an extra scholarship immediately when an underclassmen declares for the draft
The Tournament Maker feature has an option to auto generate an entire tournament bracket
In game improvements in presentation for things like the selection show and playing out tournament games from the championship tournament
The all new Draft Day Sports: College Basketball 2020 is calling you, coach. Take advantage of the pre-order offer to get your savings, qualify for your complimentary Steam key and get FirstAccess to the game. Take the challenge today!