The award-winning TEW franchise by Adam Ryland and Grey Dog Software returns with the eighth installment, Total Extreme Wrestling 2020. TEW2020 takes all the prime cuts from its very popular predecessors and adds well over 250 brand new features and changes to give the ultimate TEW experience. More user friendly than ever before, this is the perfect version for newcomers to the series to start off with.
Total Extreme Wrestling 2020 Features
TEW2020 takes all the best bits from the previous games in the series and adds well over 250 brand new features and changes. These includes fan-favorite additions like the ability to play as another company's developmental league, on-the-fly booking, a brand new realistic finance system, enhanced "fast advance" mode, and the all-new attribute system which allows wrestlers to be given tremendous depth of character.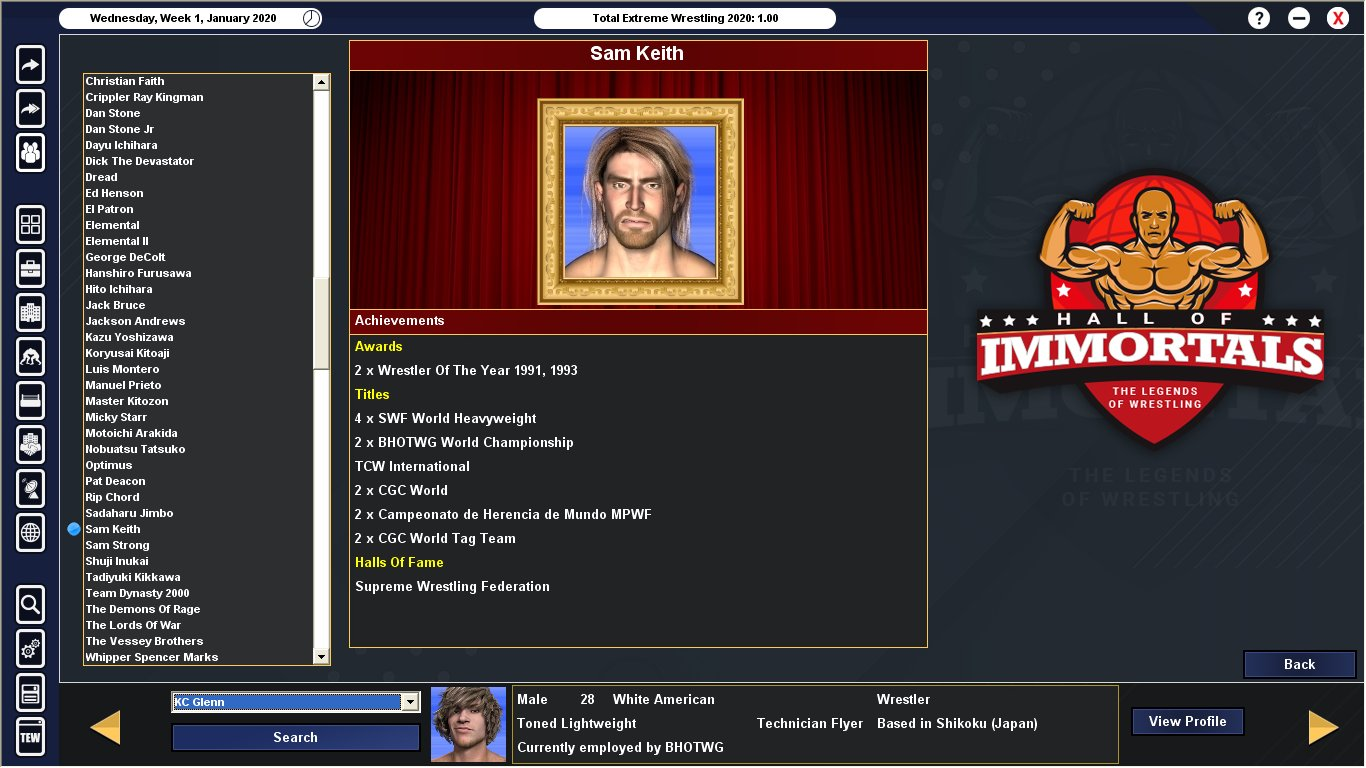 In this version, Grey Dog Software has completely taken the game apart, rewritten the underlying architecture, and then put each feature back in one-by-one, revamping and upgrading as he went along. The end result is that while you're still going to recognize the game as being part of the TEW series, it's effectively a much sharper, quicker, more intuitive, better quality piece of work.
Here are some features in the new version:
New contract structure, ticket pricing process and merchandising plans.
Attendance levels are now directly impacted by the star names on a show and a much more streamlined match booking approach.
Playing as child companies. This mode works in the same way as running a normal company, except that the player must deal with several extra challenges in dealing with the parent company (development workers, call workers up, fire workers, and the parent blocking certain actions).
TEW2020 is going to be at a 1366×768 resolution ,which means that it's physically wider than previous games.
Feature on-the-fly booking for the first time. This means that when you're running a show you can "drop out" of the live event and back to the booking screen whenever you like.
Each event can be given an intent; this tells the game how it is being promoted to the fans and what its aim is. The four levels are Normal (like prior versions), Lesser, Tour, and Throwaway.
Attributes will be making their debut in 2020. Attributes are essentially tags that can be assigned to workers to give them specific quirks or abilities.
Experience for each worker has been added. Experience affects a worker's in-ring performance; the more experienced a worker is, the better he is able to cope with problems and mistakes when they happen. This also allows workers to mitigate poor booking.
Comes with a detailed editor that allows you to alter any aspect of the game world. Edit existing worlds or create your own!
New feature which turns a save game directly into a new database. It's located in the Options menu (right above the existing button to make an MDB file). The resulting database then works like any other mod – you can edit it via the main editor, use it to launch new games, etc.
Feel free to talk about this story on our reddit..