Take control of your favorite franchise and lead them to basketball glory with Draft Day Sports: Pro Basketball 2021.
With the additions of the "Slybelle Real World Mod (Team Logos, Names)" and the "GM Games – Pro Photo Pack (Player, Draft, Coach, Court Photos)" you'll be playing a franchise mode full of graphics, realism and life. Mods are here: https://www.wolverinestudios.com/board/viewforum.php?f=328
[This press release is made courtesy of Wolverine Studios]
We dug down deep into the AI for this year's version to make sure that the AI was even smarter when it comes to things like roster building decisions and most importantly trading.
We have completely overhauled trading in this year's game not only to make the AI even more intelligent especially when it comes to valuing and trading draft picks but to make things more user friendly for you as well.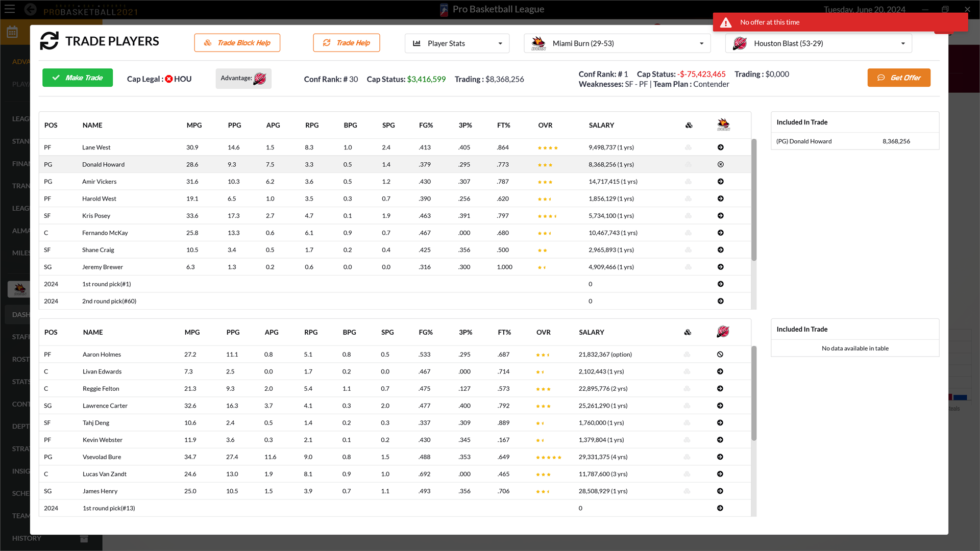 You can see that now when going to make a trade you are able to see more detail about the other team in the trade. You can view what stage of build process they are at and what their biggest needs are. Don't want to wait for trades from the AI? Use the brand new option to immediately shop a chosen player to the AI controlled teams. We even have added an option in the free agency session to replicate sign and trades to bring the realism to an entire new level!
A Brand New Look…
We didn't just work under the hood either. Last year's version saw a massive transformation in the game as we moved it to the Alchemium Unlimited platform. This year we started to show just how powerful this platform can be.
We've redesigned many of the areas of the game such as the player card above to make the information more vibrant, easier to read and better looking. You also see in that screenshot one of the many other new features we have added this year – player types.
Players in DDSPB21 have always been created to be incredibly unique so that the job of building your roster was an exercise in putting together players that fit well as opposed to simply finding the highest rated players there are. Player types now help you to identify with badges players that fit a certain description such as a "bucket getter".
So Much More…
That's only the tip of the iceberg for what's new this year. Here's just a quick list of some of the other new items.
Offseason start mode
Universe mode allowing you control of multiple teams at once
New and more realistic player and coach models
New schedule and new schedule screen
New draft pick monitoring screen
Expanded lineup tracking features
New milestone tracking feature
Offseason injury options
Free agency rumors to help make decisions with
D-league select players that skip college and enter the draft after playing a year in the d-league
Expanded coach and player personalities
Expanded linked league option with Draft Day Sports: College Basketball to allow stats and player information from your DDS:CB league to be visible right in your DDS:PB league
Join in the conversation about DDS PB21 on discord or below on Reddit…