Gary Gorski, the man behind the Draft Day Sports series, may have unlocked the secret to an immersive, successful basketball simulation.
When it comes to the genre, there are two main divides: Draft Day Sports, delivered by Wolverine Studios, and the Fast Break series, published by GreyDog. I have rather extensive playing experience with both, and both have their pros and cons. FBPB offers more of an authentic historical tool, offering real players and proper expansion going back to 1946. It is, however, less of a strategy machine (at the pro level) than it is a management sim.
One thing Gorski has always been about, sometimes to a fault, is teams at the relationship level. I understand that. We're both old coaches. Anyone who has even played pickup basketball understands that it is more than about just talent, more than about X's and O's. One chucker gets on your team, and your afternoon is shot. It's frustrating; sooner or later, those who have like-minded philosophies on playing tend to play together.
Case in point: the Morris twins, Markieff and Marcus Morris, went to Prep Charter, a pop-up school in Philadelphia when the city entered the PIAA, which is the governing entity for high school athletics in Pennsylvania. Philadelphia schools openly recruit, and while Prep Charter was considered of AA enrollment (A-AAAA is the classification in PA), something brought an interesting story to this school. They had multiple…more than five…players who would go on to play Division 1 basketball. Their starting five, the first year they were in the PIAA, ran something of 6'9, 6'8, 6'6, 6'6, and 6'3. They were a team that fielded some of the best talent in the city.
In the state tournament, they faced off against York Catholic, a team out of York, PA. These players had participated in the Harrisburg CYO program from the time they were in the third grade; they either played with each other, or against one another. Now, to give you an idea of how legit the Harrisburg CYO is…I played for Good Shepherd in 1993-94. We finished third in the Diocese; we were 30-5. The team that won it all, West Catholic out of Shamokin, went 44-4 as they went to the state tournament. (I'm not kidding when I say the West Catholic game program was happy to inform you of the four 1,000-point scorers that played on the team, going back to fifth grade.)
In short…this team had chemistry. They had it coming out of their ears.
What they did not have was height. The biggest player on York Catholic, on the entire roster, was 6'1. I scouted them as a coach for Trinity High School. I saw them play several times. Their top players were a 5'7 freshman guard, a 5'11 forward/center, and a 5'8 guard. It so happened that the 5'7 guard, Jacob Iati, would score 2,000 points in his career, mainly off backdoor cuts and an incredible quick release on his shot, which went back to 25 feet. This entire squad was predicated on precision cuts and good decisions, and understanding where everyone was at all times.
So here's this gargantuan team, full of Philly prep stars that have schools chasing them, and two future NBA players, against this team that is as tiny as the neighborhoods in which they live. Naturally, I tell you this story because York Catholic won the game, got to the state title game (beating the Trinity team I was an assistant on in the state semifinals), and nearly won the whole thing.
The point of this longwinded diatribe: When it comes to basketball, chemistry trumps talent. San Antonio. Golden State. Villanova. Build for fit, build for harmony, and you can go far.
This feels like an obvious point, but it's one missed by most developers…or, at least, one not approached by most developers, because it's really hard to pull off. Football Manager has got it down; but Out of the Park has only started implementing these kind of features this year, and it's more based around the manager than around the players. Gorski was ahead of the curve on this, to a point: he implemented player morale, as well as issues between players. Namely, the too-often-implemented player fights. To be honest, in early versions of this game, it drove me nuts, and was generally unrealistic. It was, and still is, a novel idea; however, it made playing the game frustrating.
For the new DDSPB, though…Gary may very well have found his mark.
We'll get to that in a bit.
Graphics/Interface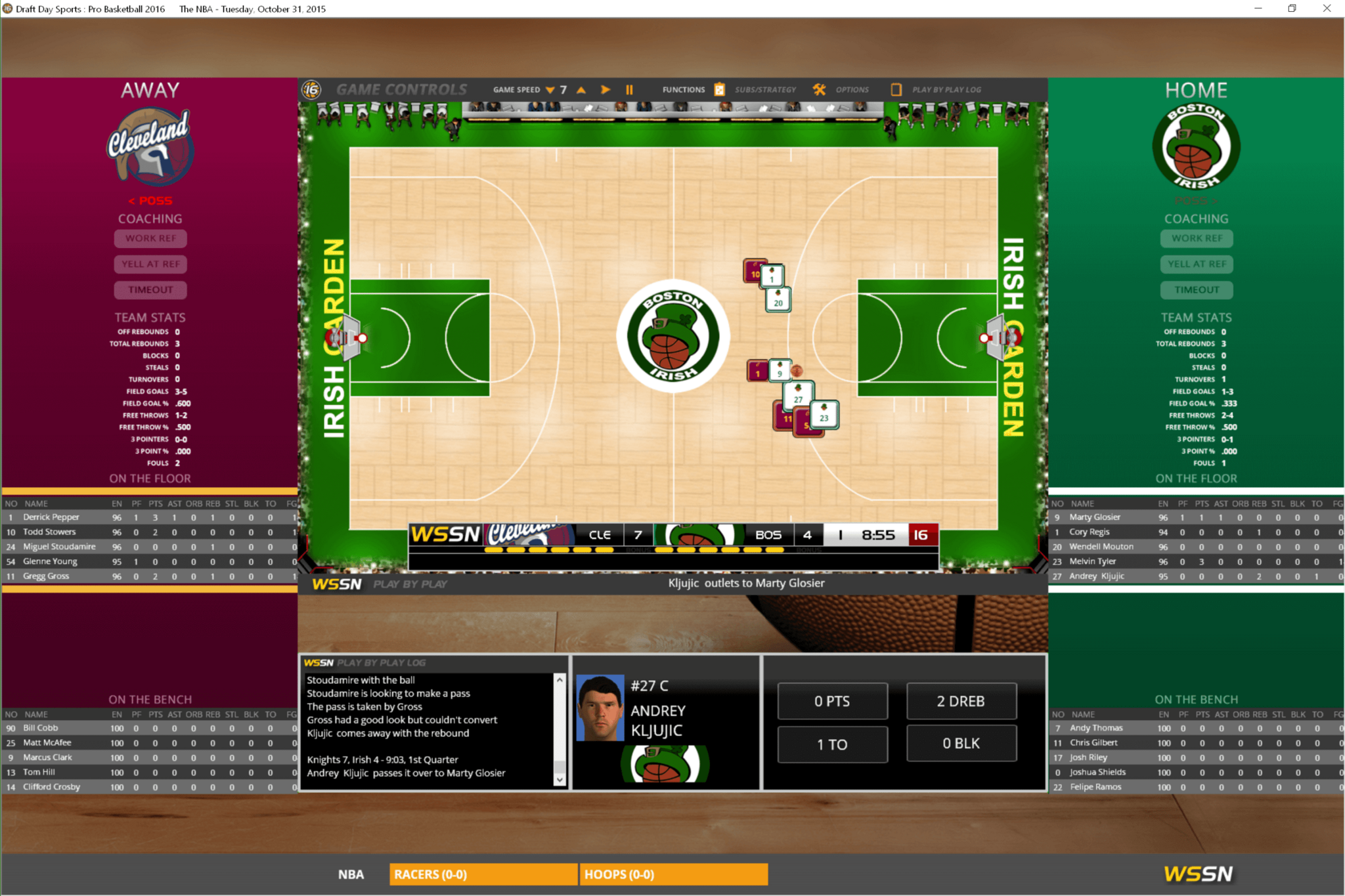 The graphics are straight-forward for DDSPB, though Gary has revamped the UI.
"The UI restructuring really was to serve two purposes" said Gary. "First I wanted a more visually appealing experience. I wanted something that was brighter and a little easier on the eyes – the old games always had a darker feel to the design. This one is bright, fresh, new, revived….much like the game itself.
"The other objective was functionality. It's familiar to those who played the game before but I tried to make additions and changes where they would be useful such as adding a page that allows you to compare team stats or all the side widget areas that give you all kinds of great info at a glance without you having to leave a screen you want to be on (assuming you have the resolution to support the additional windows). Other sight tweaks like making all progress advance from one area or adding in graphs to better visually display data – many small tweaks went into it and many probably won't explicitly be noticed but the user ends up linking the UI and being appreciative that it's intuitive and easy to use."
This is a reasoned and sensible adjustment; don't rock the boat, but take advantage of growing resolution abilities. The only quibble, and this is due to a total firstworldproblem, is that it can look a little dry on a 4k monitor, as is the case with my Surface Pro 4 (oh, the humanity). I imagine, if I set the resolution to 1080, it would be absolutely fine.
But I won't. Because I'm stubborn. And because of the in-game abilities. More on that later. I won't hold this against the game, but do hope that, in the future, 4k support gets added. You know, for the little guy, like me.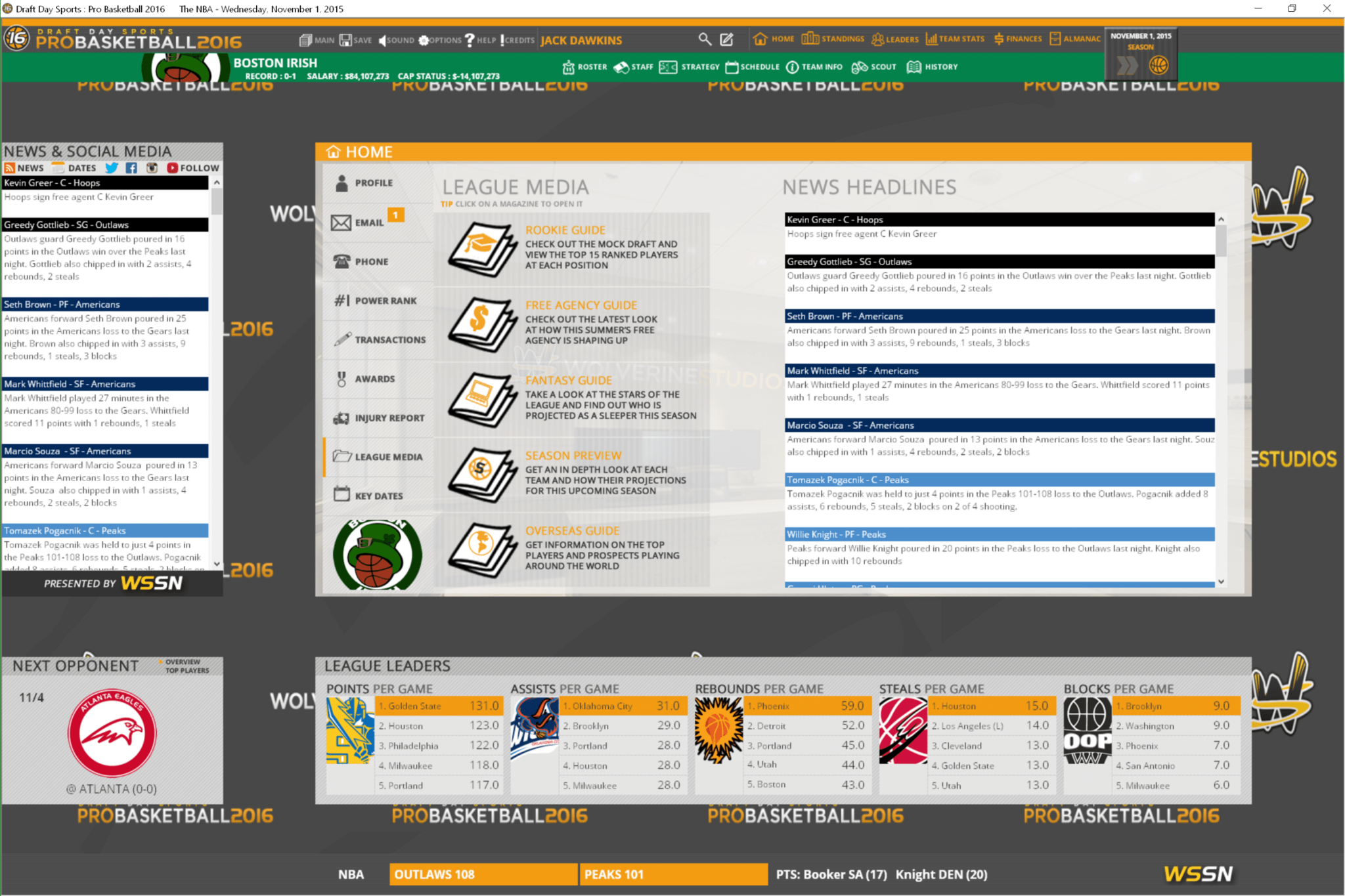 (The graphics are clean; here, you can see the media, something you don't find in most games.)
There is one thing that did frustrate me: window mode. I'm a multitasker/ADD-addled guy, and I do everything in windowed mode. Right now, I have OOTP16, OOTP17, FBCB, FBPB, Word, WordPad, Notepad, Nik Collection, and Chrome all firing. All are in windowed mode. The only thing that's not? DDSPB. And I can't use it in windowed mode, because the game does not adjust to being in it. This is frustrating, and while I know it will only affect some users, I feel like it will affect more than a small portion.
Impression: The UI is clean, and a stark contrast from FBPB. While I will be attempting to let DDSPB stand on its own, such comparisons are inevitable. With FBPB, everything is adjusted to the left, and sits generally utilitarian. What you see is what you get, which follows the overall tone you get with that game. Here, everything is bright, colorful, and aligned to the top. This is more in line with OOTP and FM, which gives it a more comfortable feel to me. Everything is laid out easily, and given appropriate space.
So, windowed mode issues, and 4k adaptability noted…this is a win. 8.5/10
Customization
The game is more customizable than others, and almost as a couple more. You have all of the historical NBA setups, as well as a plethora of options as you go along. You can include a variety of European leagues, the D-League, allow or deny high school entry (make those whippersnappers go to college! Learn something! Get a skill!).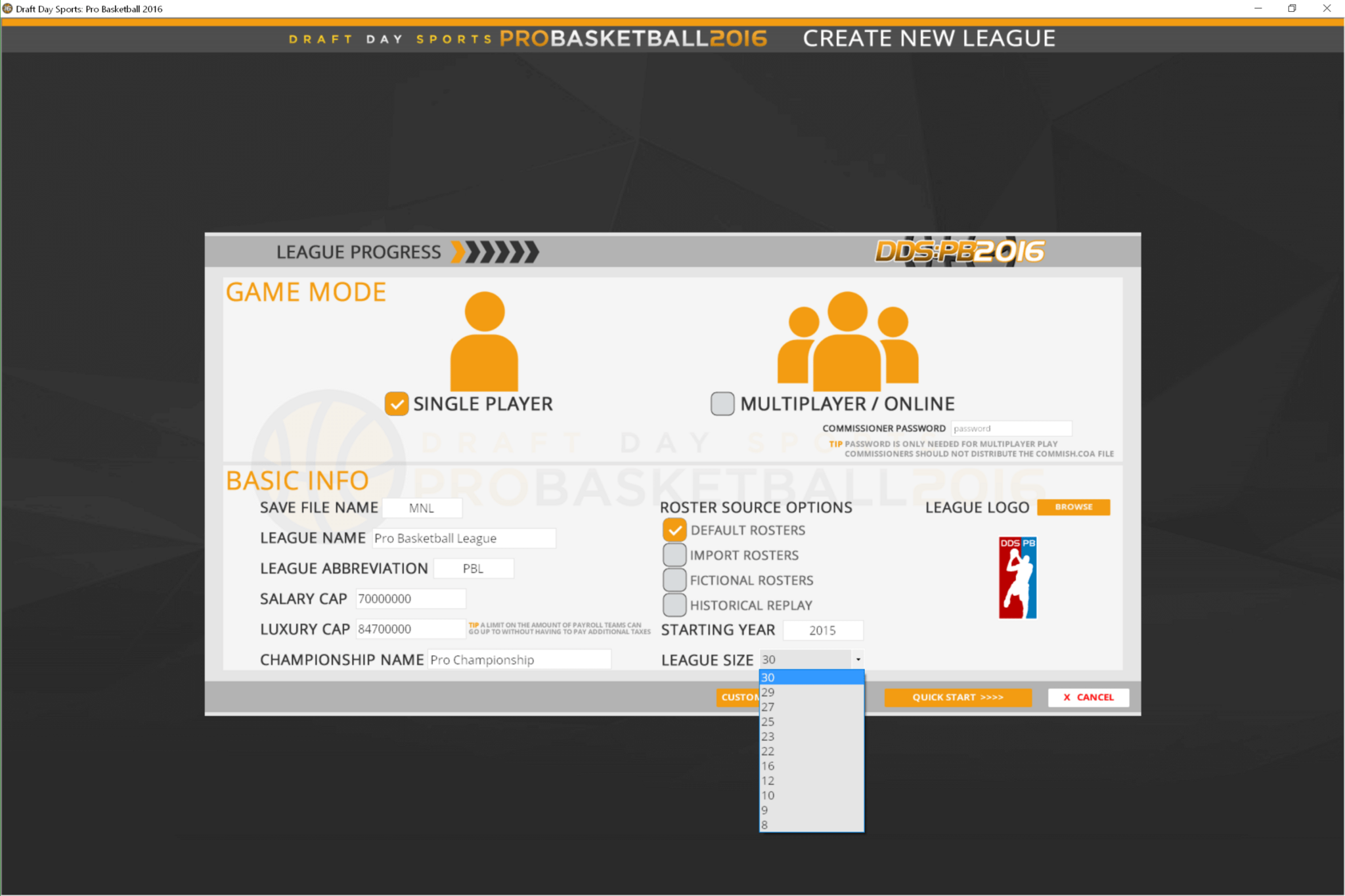 (The intro screen, showing just how many setups you can have.)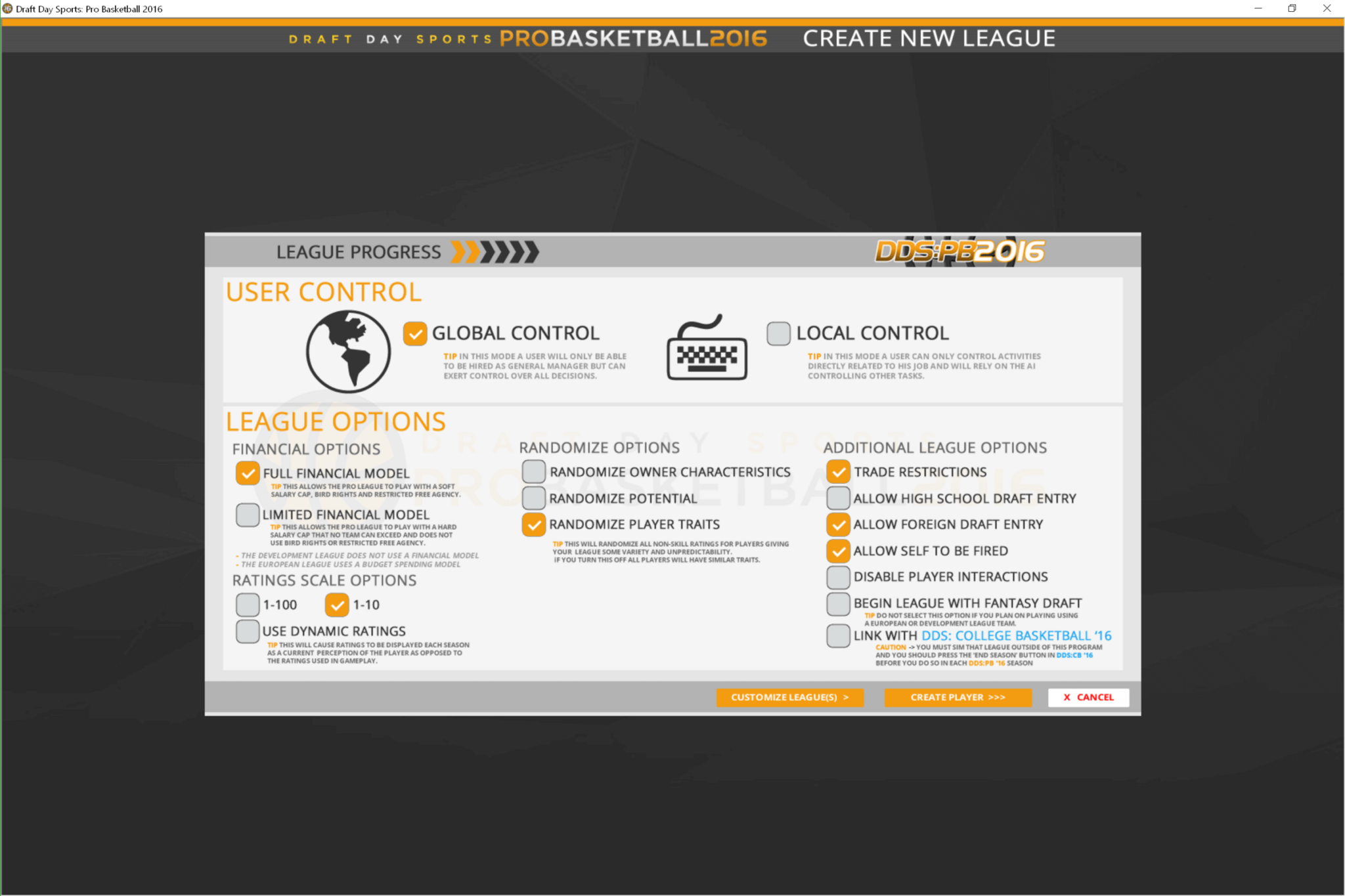 (League creation, part 2: Your options.)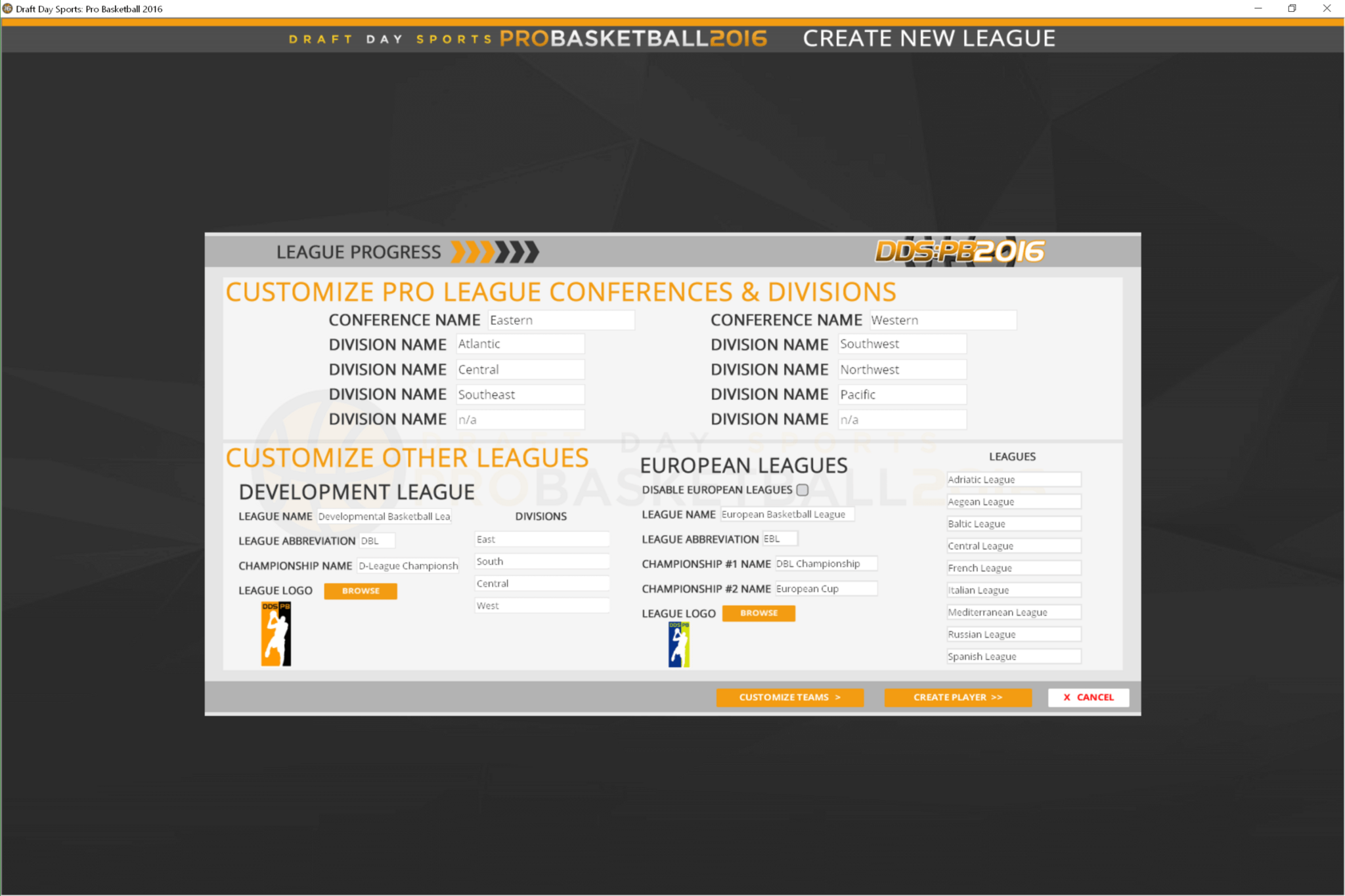 (League creation, part 3: Foreign leagues, D-League, etc.)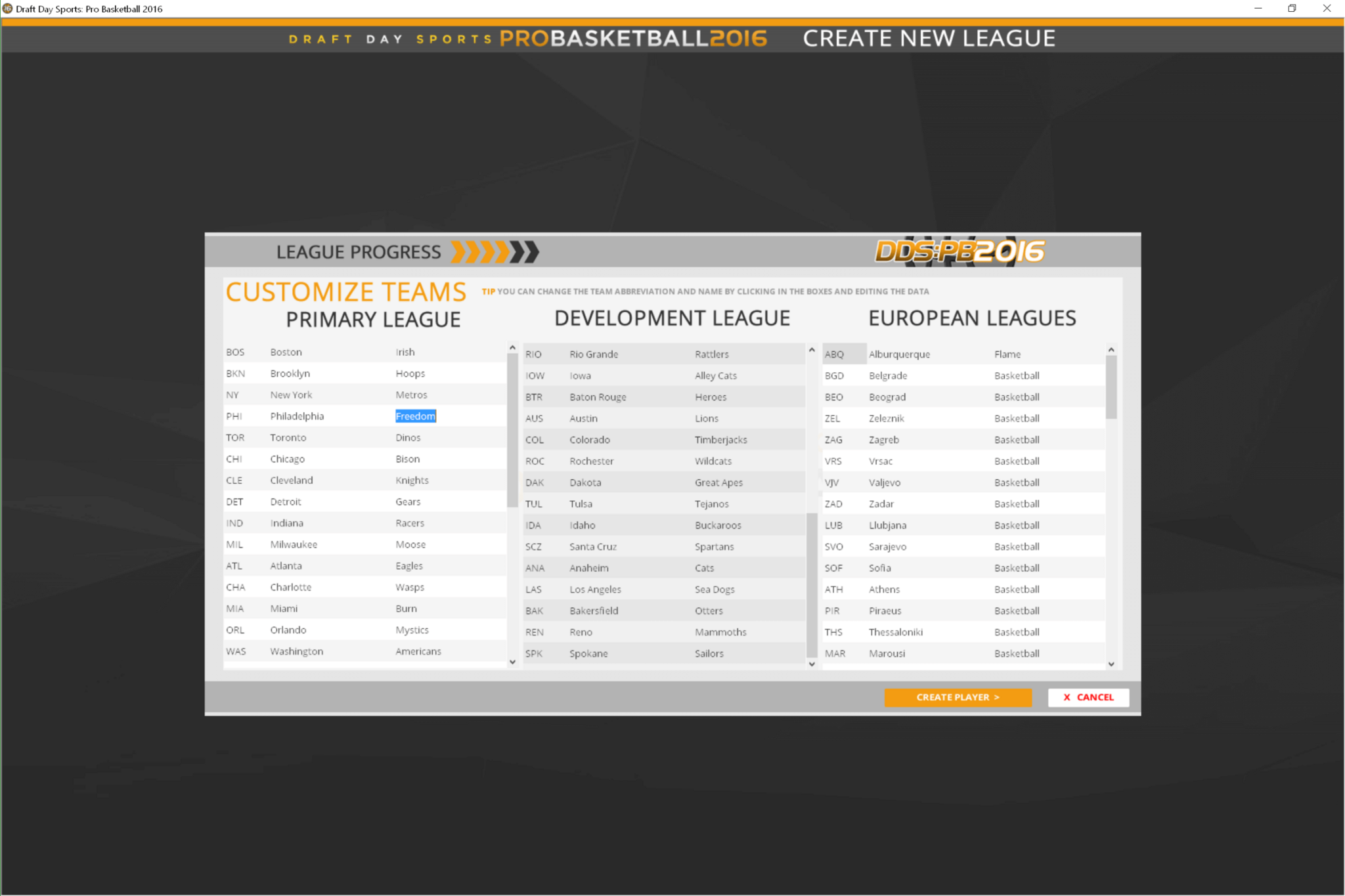 (Team Editor screen. This is a lot better than it used to be, but a standalone editor would be fantastic.)
My issue with the modes falls on the historical replay. I'm quite aware that it's a cool feature, the ability to go to 1976, and replay history from that moment. My issue is that this has already been on the market for a long time, in a much more expanded role. A historical database, akin to the Lahman database for baseball and football, exists. It works well with other games. You can even do random debuts, a la OOTP.
Baby steps, I know. And I hope this will grow into this exact thing. After the season disk adventure (something that was an impossibility for one man, or even a small group, to accomplish), this feels more like an "Well, we *did* do this!" Gary has every reason to be proud of it, and to tout it as a big feature.
Perhaps I'm greedy as a player. This doesn't feel complete to me. I simply hope it's the first step in a bigger process. (If you're going to go down this road, Gary, and not use the database, a strong suggestion would be to create the key points in NBA history: 1956, 1969, 1984, 1998, 2003…you know, on second thought, don't do 1998. Nobody wants to relieve the Michael Olowokandi and Larry Hughes eras…)
As far as logos, mods, etc…there are plenty of user-created mods available, from courts to logos to quickstarts. The game is wholly customizable in that way, much like OOTP is. I do wish for a more robust editor, but I am not clamoring for one. What's in the game gets the job done well enough.
Impression: On the base level, it's standard basketball fare. When the extended features, it lacks what already exists. The one-step historical replay is impressive, but pales in comparison to the competition. For now. Modding the game is what you would expect, and it does the job quite well. 8.5/10
Gameplay & Sim Engine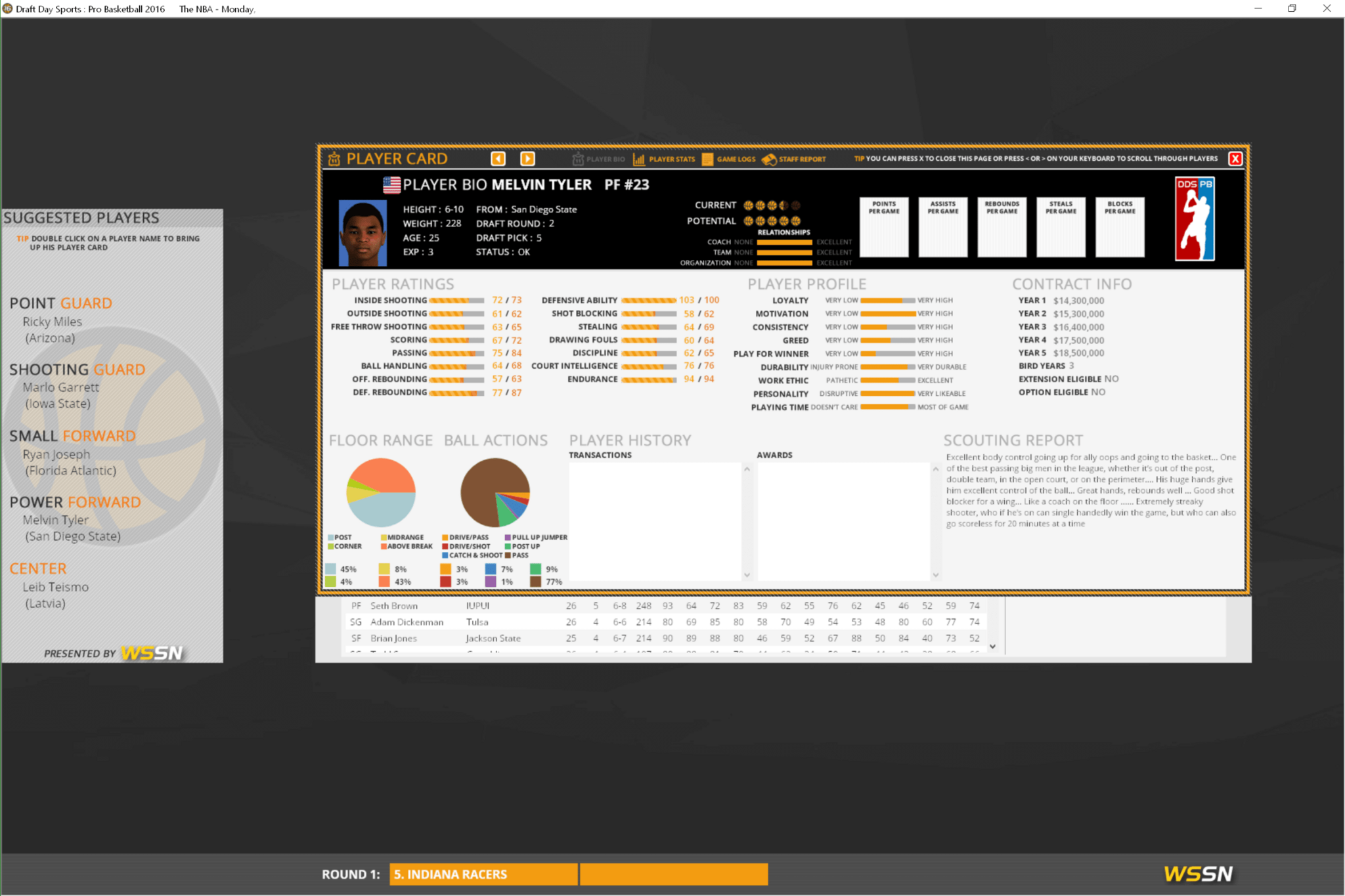 This is where the game really begins to shine. The big reason why games like FM, OOTP, and the like become popular is what's under the hood. It isn't simply a talent-based game. Front Office Football, as well as FBCB, are also renowned for this. You see the results, but you also see the logic behind it. You can build towards a particular ideology, a culture, or see it succeed on the field…or go down like the Hindenburg, the 2011 Philadelphia Eagles, the 2012-13 Lakers, or the Brooklyn Nets in general.
DDSCB still suffers talent hoarding. Of course, this is a basketball curse, and especially so at the collegiate level. Gary openly admits, or at least he will later on in this piece, what every basketball purist does: while it is, at its foundation, a team game, it is also one more likely won when you have the best player. And the best way to win in DDSPB is to build around a superstar. But that's how professional basketball is designed, and you'll be hard-pressed to find disagreement on this issue. The Warriors are the best team I've seen since the 95-96 Bulls…but they still have Steph, and didn't become The Dubs until Steph became what he is now. The Bulls fell short in 1994 and 1995. The Celtics fell back as Bird got older. The Cavs instantly became championship contenders when LeBron came back. The Sixers continue to tank, in hopes that they'll find their superstar.
It goes on and on. And this is the crux of strategy in DDSPB. Find the man who build around. But once you do, you have to build around him. And there are myriad factors and puzzle pieces that go into doing that. It is a multilayered approach to successful basketball management.
In order to illustrate this, I'm going to run a fantasy draft. I set up a 23-team fictional universe, as I appreciate smaller leagues and players I do not know. Besides, what good is it to have a draft of players we all know, especially for this exercise?
I took over Boston, who has the third pick. I'm doing a regular draft order, because the New York Metros are picking 22nd, and really, forget the Metros.
The first two picks were PG Phil Crispin and SF Brandon Scott. There are five players being suggested to me, one at each position. My strategy is to pick the best all-around player. I also value IQ and being a team player. I will sacrifice offense for someone who will make the extra pass.
First up, there is C Rico Brown, a 6'10, 26-year-old center. He is rated as the second-best scorer available, behind guard Marlo Garrett. But he is a better rebounder and defender. He is supremely motivated, but could be disruptive.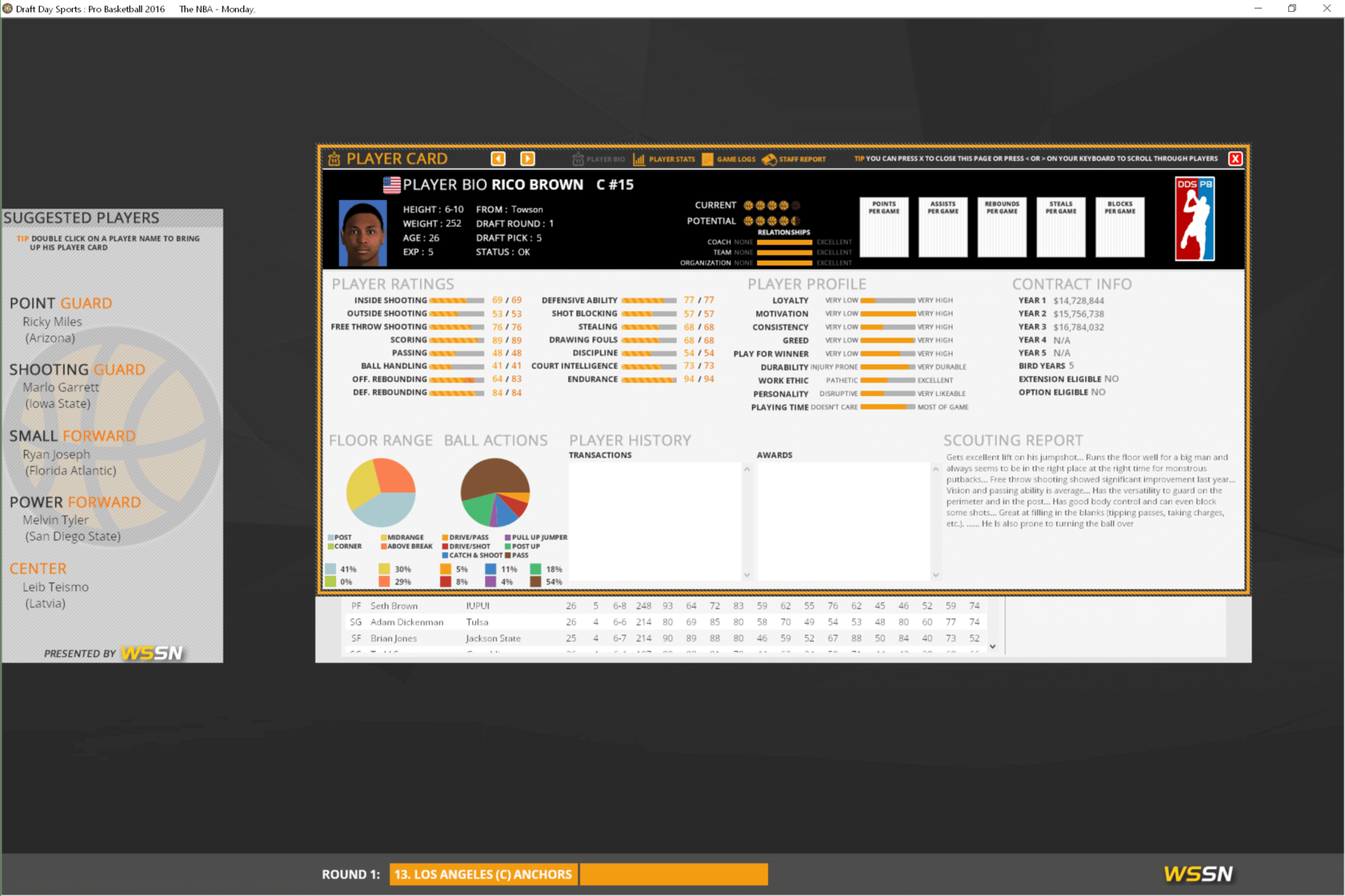 (Riiiiiiiiiiiiiiiiiiiiiico…………Brown. Doesn't have quite the ring.)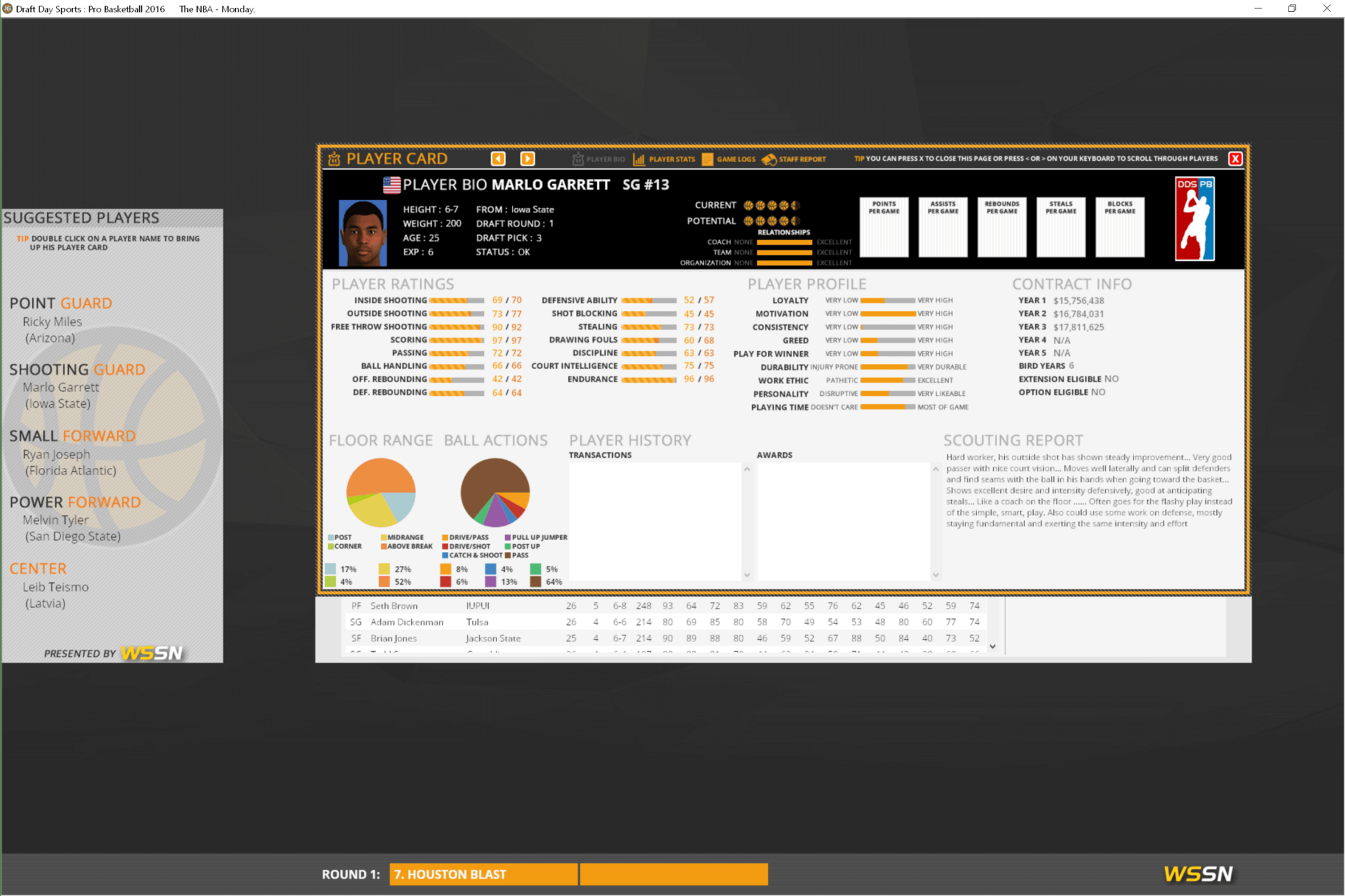 (Almost, Marlo. So close.)
Garrett, meanwhile, is a top-flight scorer (especially from outside), someone who can get to the free throw line, but will also pass it considerably more than most scorers of his ilk. He is also tremendously likeable. The only downside is his consistency. He has absolutely none. That said, he's big (6'7), only 25, and he looks the part, all the way around.
There is one more player…Melvin Tyler. He's also 25, but only has three years in the league. He's only 3.5 stars now, but 5.0 overall (Garrett is 4.5/4.5, Rico is 4.0/4.5). Tyler is, simply put, a defensive monster. He actually rates 103/100 (I turned on dynamic ratings), and is impressive all across the board. The question here is his age, and whether or not he'll actually realize that potential. He has a fantastic work ethic, is incredibly durable, and someone who gets along with everyone. He also has motivation akin to Brown.
In short…this is the kind of guy I want to build around. It's riskier than Garrett, who is a truly established star. But I can find scoring later. I cannot find someone like this again.
First Round Pick: Melvin Tyler, PF
My next pick is going to be a guard, and like a point guard. I went against my normal philosophy of building from the outside in; I cannot let another pick go without finding my primary ballhandler. There are a couple of different options. In the end, I'm going with Marty Glosier, a 29-year-old from Harvard. He is rated 100 in passing, and prefers to pass or drive and pass 87% of the time he has the ball. He drives and passes seven percent of the time. I feel like this will definitely jive with Tyler, who can get fed the ball on Glosier's advances. Glosier will space the court well, and he is a good, not great, defender. He also has an excellent work ethic, and is very likeable. Do you notice a trend here? Note: I'm going against the in-game advice of PG Zhelyu Izetbegovic. That is the slowest I will type all day.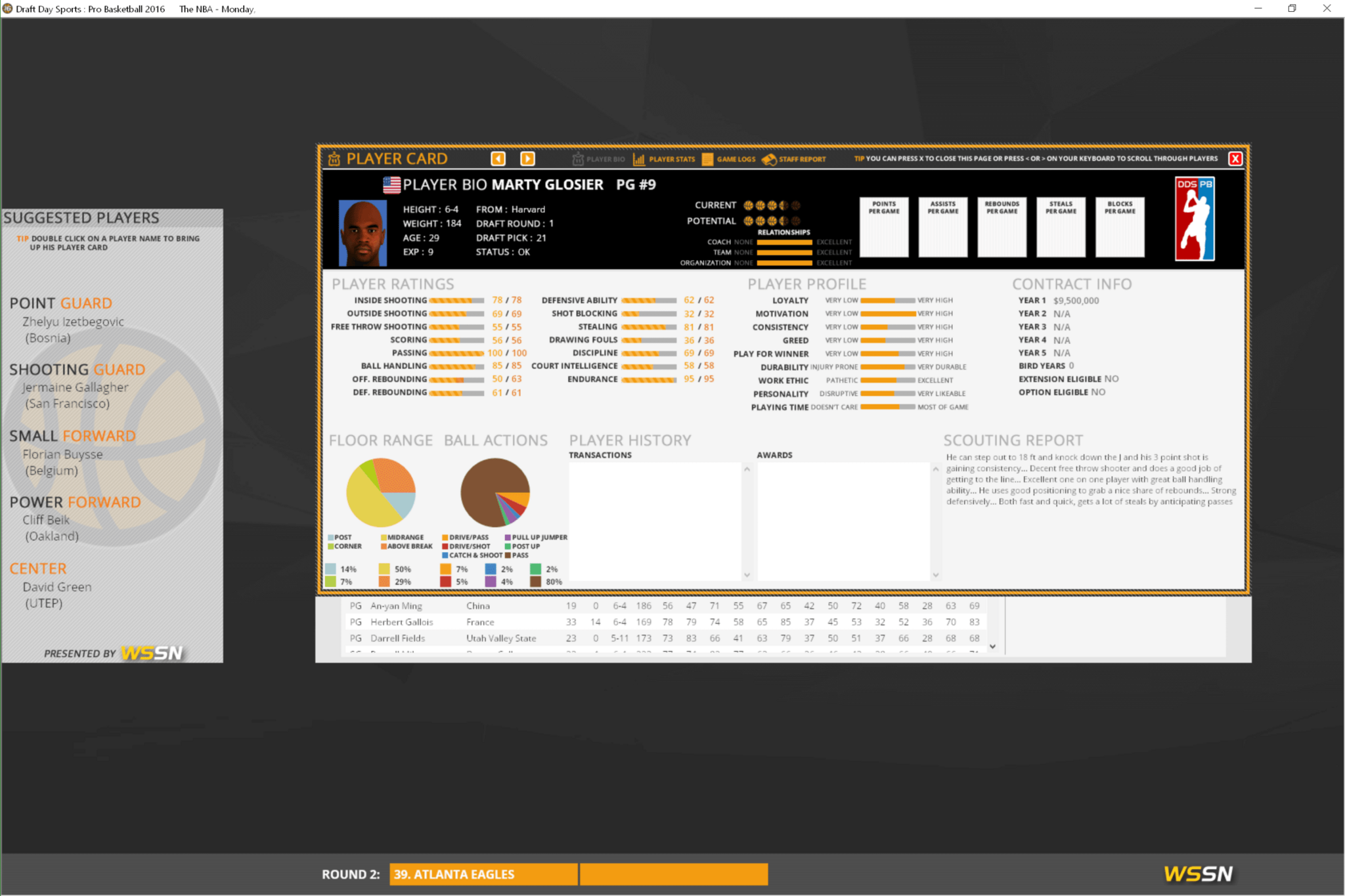 (I prefer to get a star point…I wonder how this will play out.)
Second Round Pick: Marty Glosier, PG
I won't bore you with the exhaustive details of the rest, though I would really like to. But this is where your roster will be made or broken. But there are expectations…which are to be expected, when you select third overall. My team is considered the best in the conference. However, will there be a style clash with my coach? Will the players be able to play together? Will the coach find the right substitution patterns, find productive lineups to toss out there? Who will get the ball in crunch time?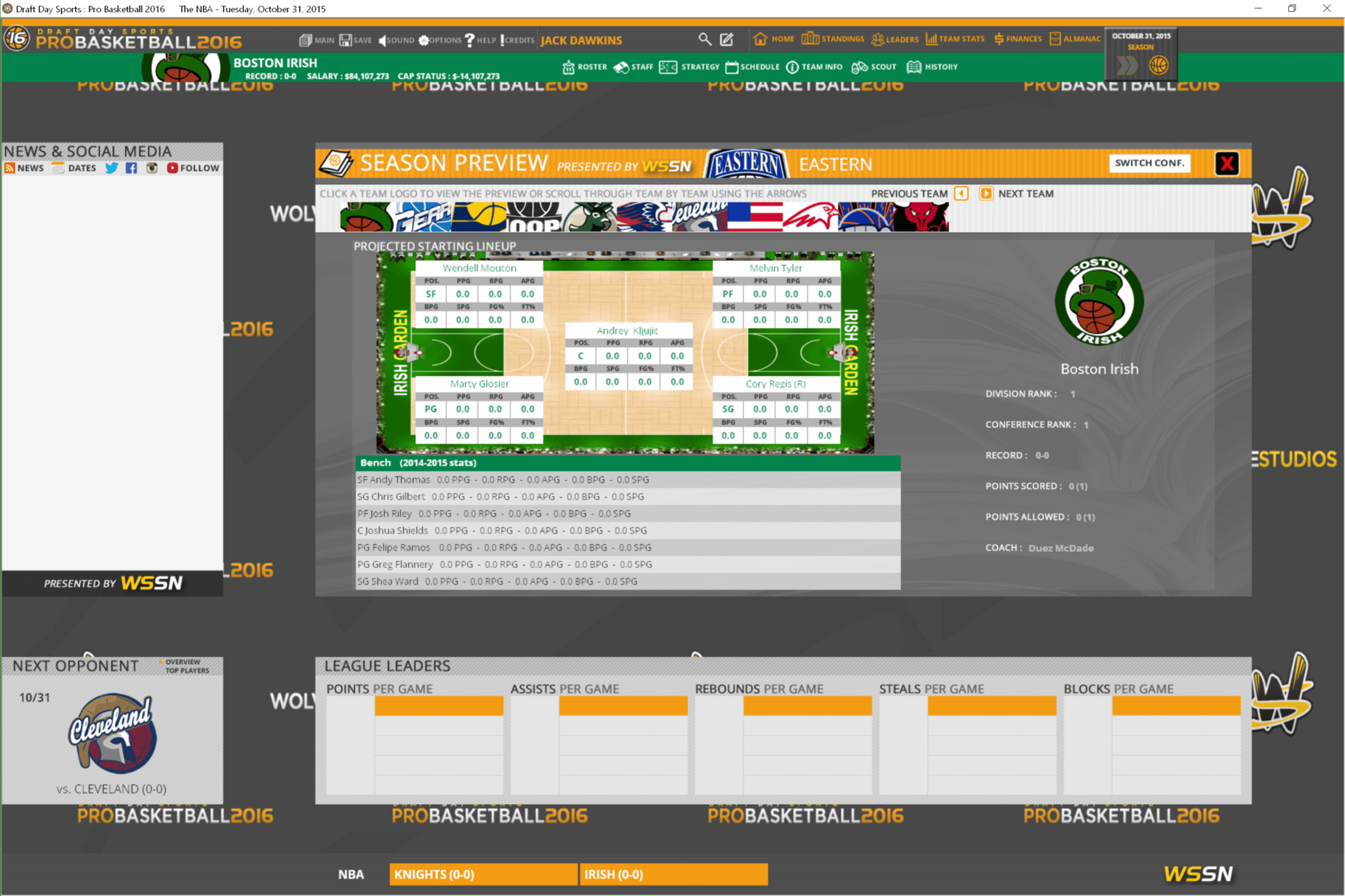 (The burden of expectation now weighs on Boston.)
These are the things I, as General Manager, have to worry about. This is something refreshing in this version. Before, it was stockpile talent and hope they didn't fight with each other all the time (one thing that truly aggravated me about previous versions). In this one, well…you still have to hope they don't fight…but you have to hope they genuinely get along and play with each other. If a Carmelo situation develops, where the offense turns into a ginormous black hole of iso, that will torpedo the whole season.
This is one of the first games where it isn't the stars a player has; it still helps you decide, but only up to a point. In DDSPB, it's how the players fit together, and finding the intangibles and key skills that matter. This is very much like FOF, where scheme and personnel chemistry can trump talent level.
I didn't even tackle the draft, which is one of the most fun areas of the game…of any game…for me. I also haven't tackled it because it hasn't changed much over the past couple of versions. However, make no mistake…this is a highlight of the game. Sure, the AI makes some wonky decisions at times. So do humans. (Jonny Flynn?) The presentation with the draft is unique to any other game, with a full draft show, including analysis. It gets a bit static after a couple of seasons, but that's to be expected. The draft is a game within a game, with plenty of action happening by the AI in the form of trades, reaches, and all of the drama, and shenanigans, you come to expect with this event.
Personally, if a football game had this for its draft, it would be a dream. Honestly, I would love a game where you were just the man in charge of the draft, and it was a full, immersive experience. (And then, if you did well, a movie would be made about you, starring Kevin Costner.) That's how much I enjoy the draft in this game. But, since there are other new features in the game that require my attention…well, you should just try it out for yourself, really.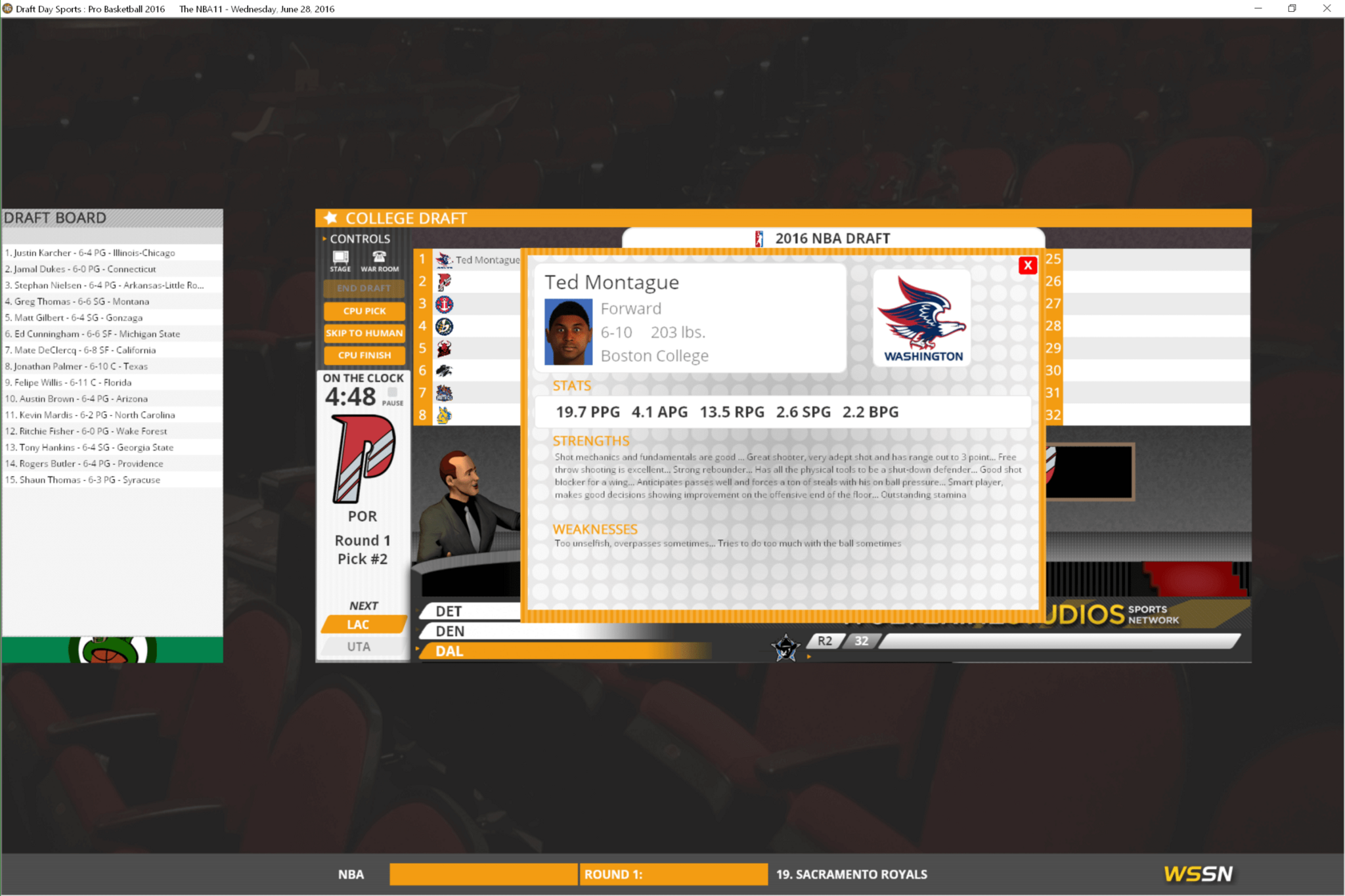 (Top overall pick, Ted Montague, heads to Washington. What do the analysts think?)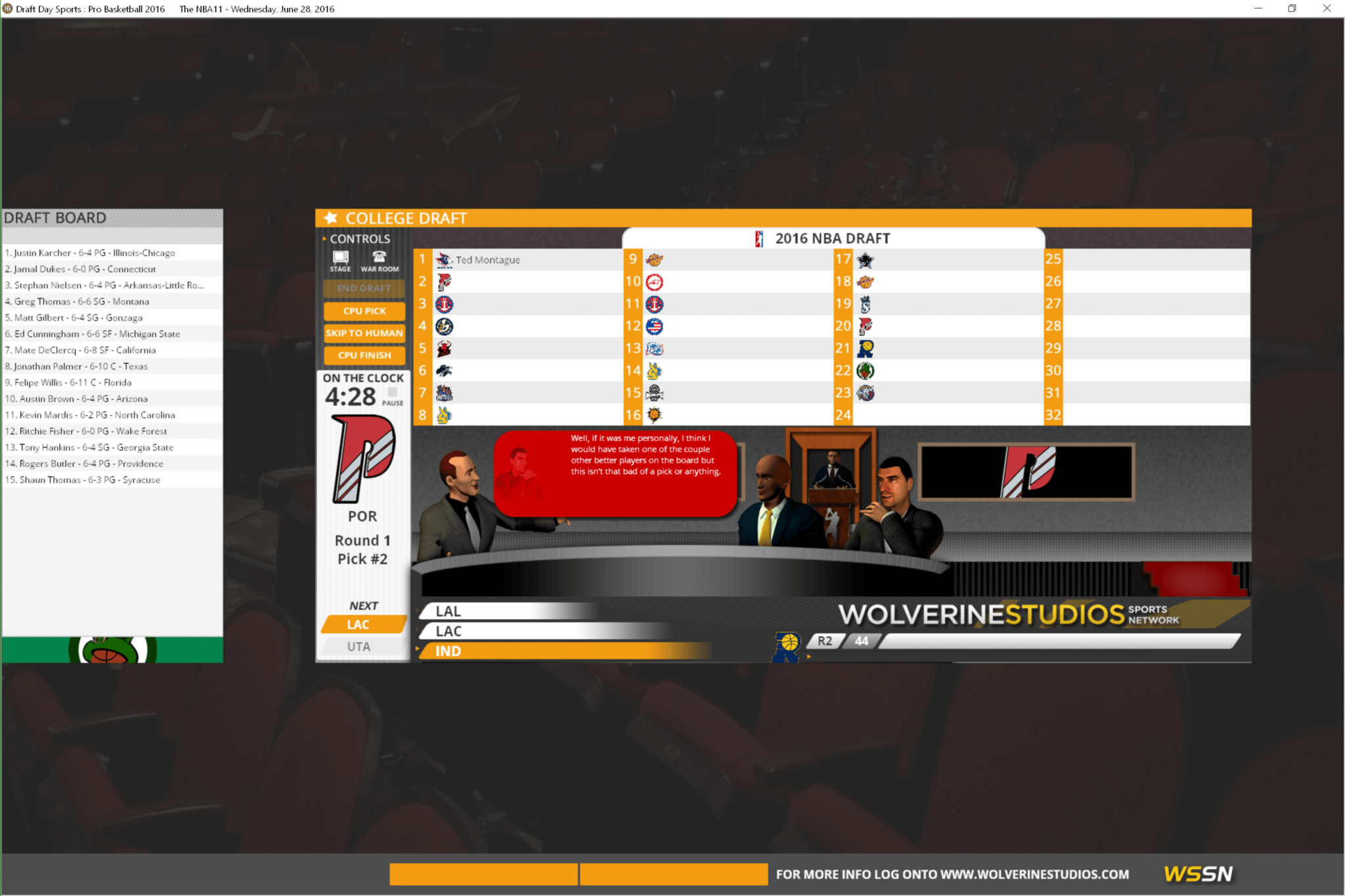 (………oh. Well, it can't be all bad. I mean, he'll add some scoring punch, right?)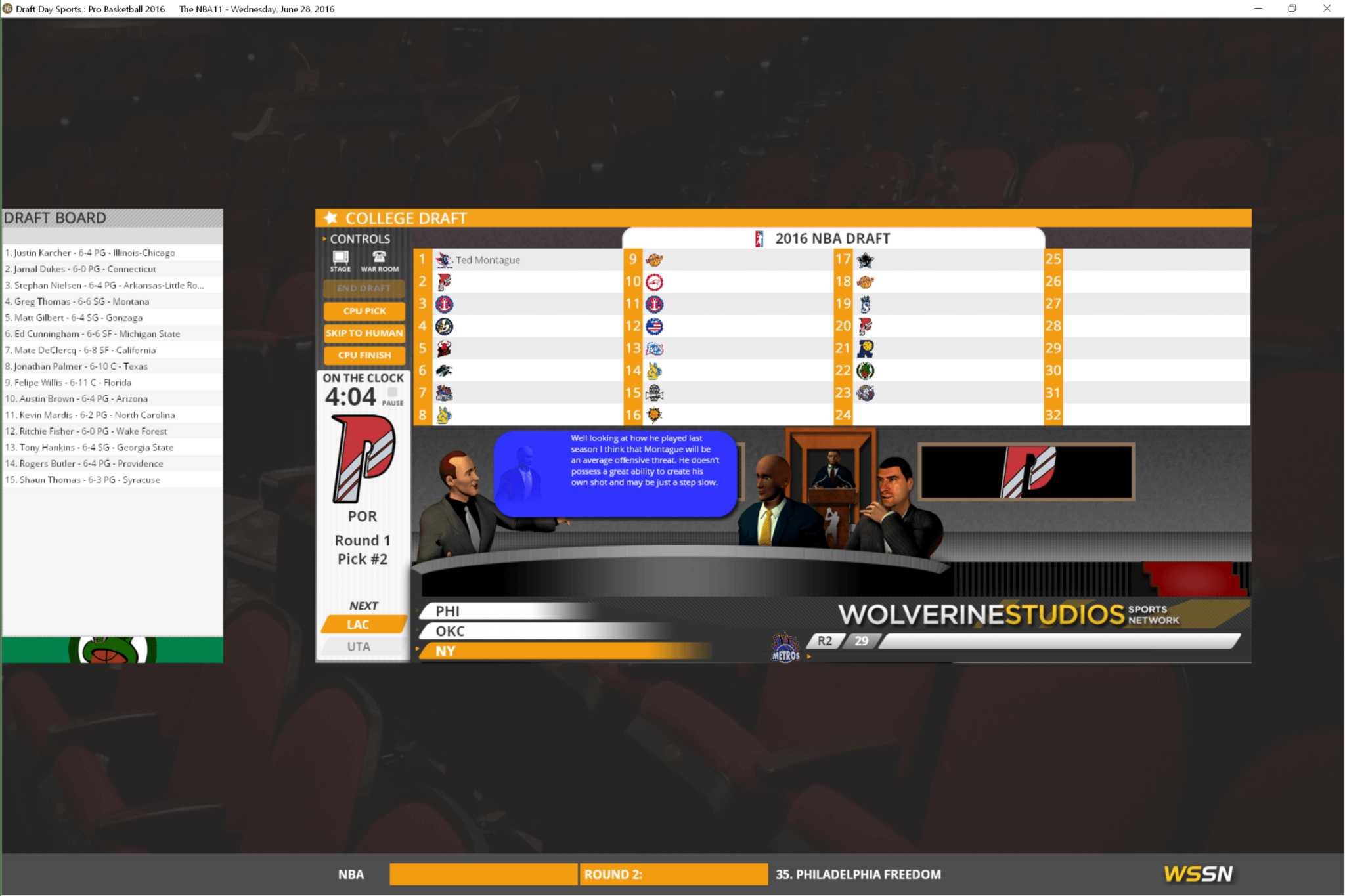 (………………….oh. Well, this is awkward.)
Impression: This has caused me to fall in love with this game. I have read countless stories about people going past the surface stats and finding out reasons why their carefully constructed teams are turrrrrible. There are plenty of reasons for it. It is up to you to find it, and hopefully make the proper adjustment. Because you can light the match to the dumpster fire if you're not careful. 10/10
Postscript (to this section): It's only one game, but I can already see this team not living up to expectations. This was the first game, against Cleveland.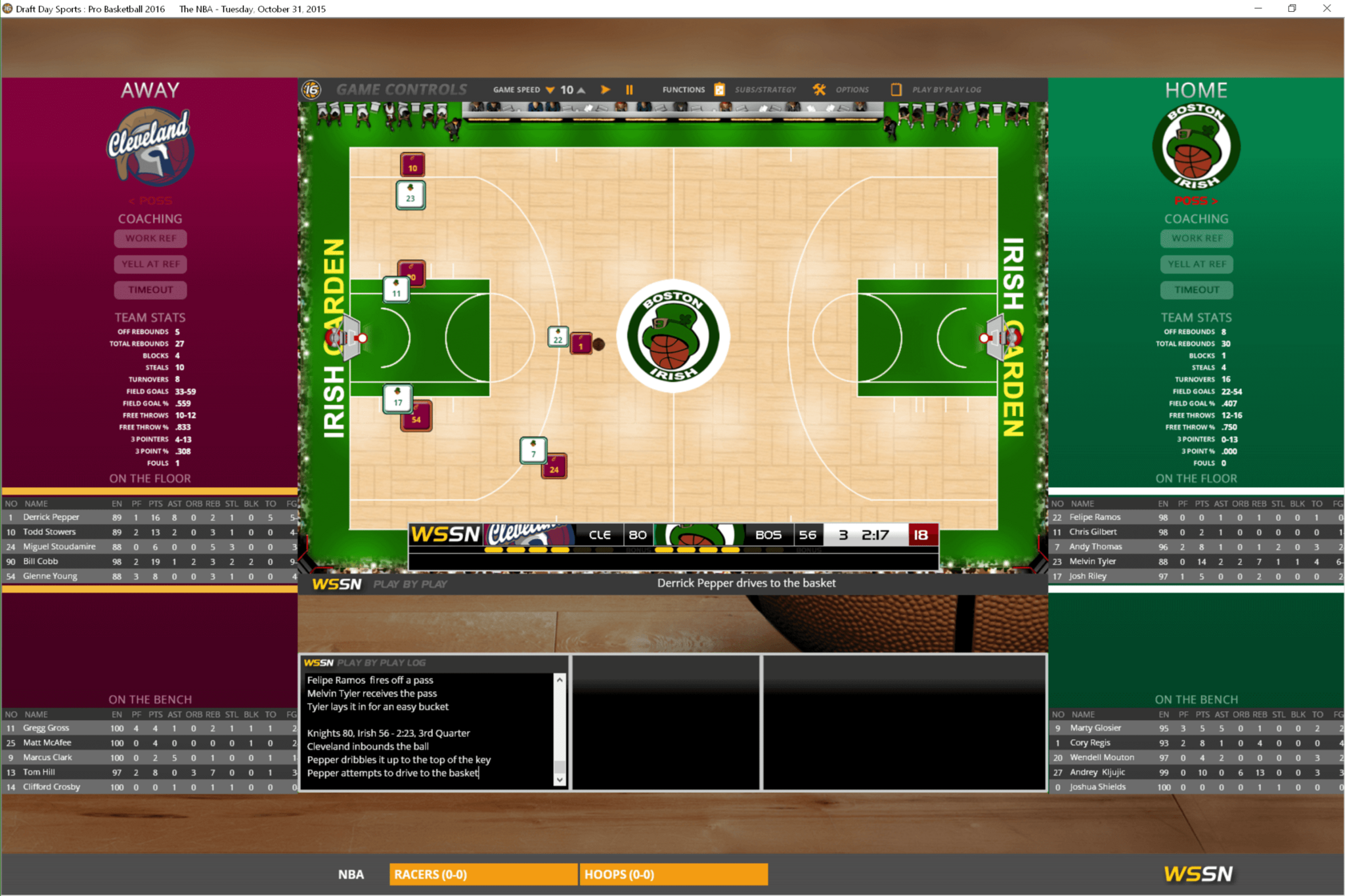 (Can you spot why we stink? It's not too hard to figure out. Live by the three…)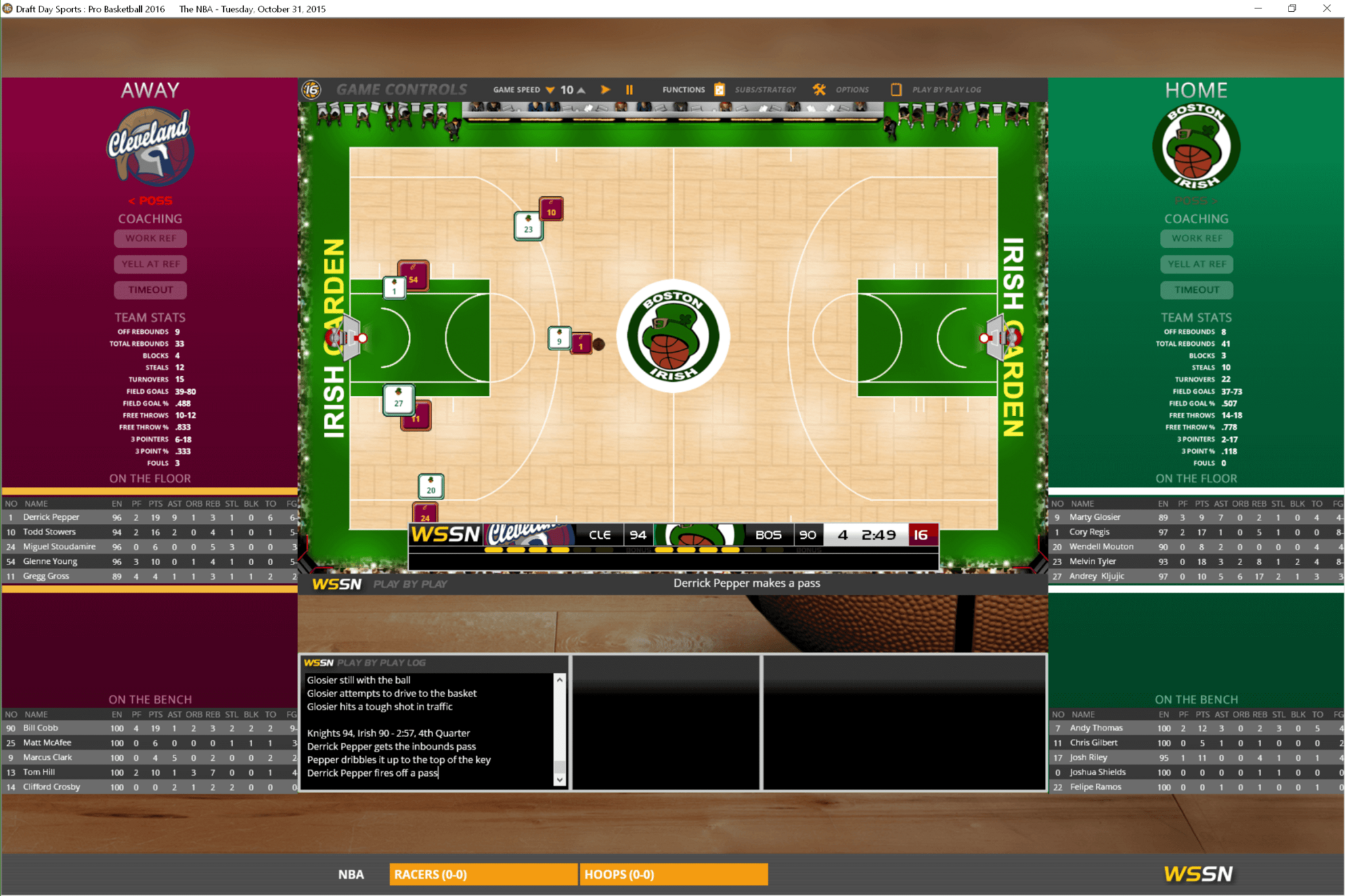 (The comeback was fierce…)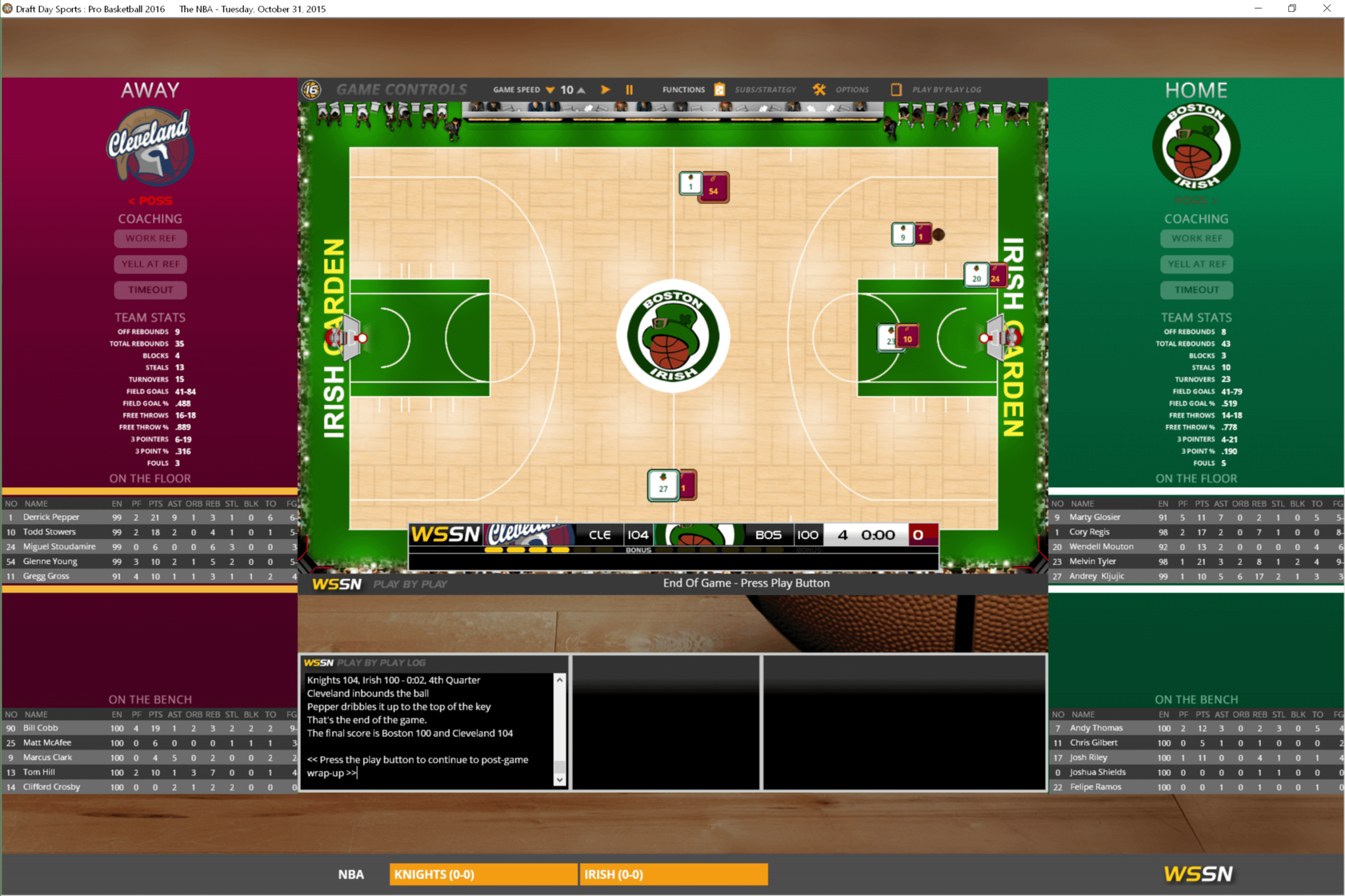 (………..but not fierce enough.)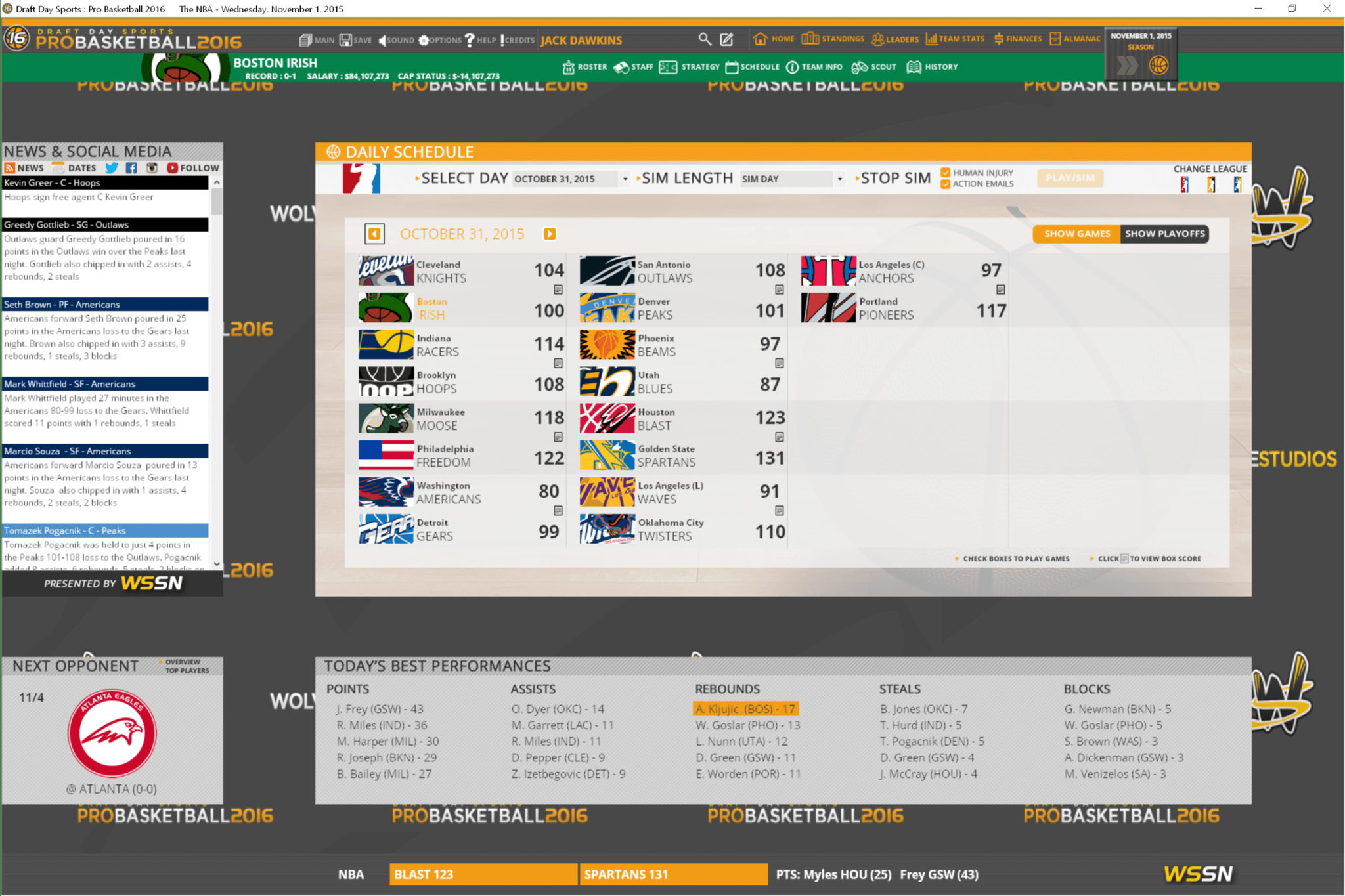 (The recap of the day, well put-together by Wolverine.)
Post-postscript: It turned out that Cleveland was quite good; they would take the top seed in the East, and get to the Eastern Conference Finals, before losing to Indiana. Boston, the #3 seed, fell in seven games to the Sixers in the opening round. Oklahoma City won the whole thing.
Melvin Tyler was named All-NBA 1st Team and All-Defensive 1st Team, while Josh Riley, a kid I had high hopes on, was named 6th Man of the Year. Cory Regis, who I took with my fifth pick in the fantasy draft, was named All-Rookie 1st Team. All in all, not bad.
A Quick Note About Stability: The biggest drawback, perhaps, in past offerings in this series have been stability. (You try to learn code, sometimes on the fly, and implement it perfectly. Not that easy, is it, Will Hunting?) Gary has understood this, and made sure that this version would make those issues a thing of the past.
And he has.
This version of the game is as you expect, right out of the box. I know some will read about the game and think about those RTE 9s, 4s, and whatever else came your way. Those are gone. And if you're worried about support of the game (which you shouldn't be, because Gary has always been known for his responsible, nimble support), he has already released six updates to the game.
There are very few places that can offer that kind of support. Really, there's only one I can think of, that being Out of the Park, and they offer a sizeable beta team to work out the kinks (of which I have been a member for years, and know how amazing that operation is). Gary has a few dedicated helpers, but really…at this stage, it's him. It is amazingly impressive, and requires perspective when reflecting on this product.
Online Modes: It exists. It is not the strongest suit of the game. In all honesty, basketball games don't seem to port well to the online community. This is typically not the fault of the developers; the schedule is pretty clunky, it's by far the most niche product of this community…it isn't like OOTP, where leagues spring up (and fail, like small businesses) all the time. The leagues that spring up here typically last, but that's because you get very dedicated guys who are willing to stick with the product. This is where Wolverine has failed in the past, as stability issues in early versions cost them this audience.
I'll make this prediction, though: With heightened interest in the Warriors, and seeing that there are many different paths to take towards building a champion, if Wolverine can continue to build solid word-of-mouth (and they are getting this on message boards)…this will be the game that finally breaks out and finds a solid spot in the community. Online is not specifically Wolverine's target here, nor should it be. But, with continued progress (and perhaps adding the historical database, or a more robust league/team editor), it will have to be.
Impression: Really, I can't test this. But, as a long-standing member of the community, both as a player and administrator, I can tell you…this really deserves an incomplete, which is what I'm giving it. I can't fault Gary. But that time is coming, and he better be ready. Incomplete (8/10 for rating purposes)
Replay & Fun Factor
I had an exchange with Gary about how he attacks a roster, if given the scenario I played out in this review. Here is what he had to say:
"If I were starting in a fantasy draft type setting the first thing I'm after, as you suggested, is a star. I want a guy who can be the focal point of the offense. If he can be a game changer on the other end of the floor too even better – think Anthony Davis, Kawhi Leonard etc but you have to have at least one guy that you can get the ball too and feel confident he can somehow get you a basket.
"From there the possibilities really open up and I would either look for a dominant big man like an Andre Drummond or a very versatile player – someone like Draymond Green or Pau Gasol who can do everything – score, rebound, pass, block shots, defend…I think that kind of guy is really valuable.
"After that I think a point guard would be my next target assuming he wasn't the star I selected with my first pick. The guy handling the ball is so important both as a facilitator but also as someone who is going to work the pick and roll and end up getting a few more shot chances that others because he has the ball so much.
"I can tell you my pick definitely would not be a chucker. I would much rather have to wait and take a pure table settler who can't really score that well over someone who is going to give away offensive possessions because he can't shoot.
I think the next two spots to fill I'm looking for good defenders – if I'm looking for a 2 or 3 man I'm really looking for the typical "3 and D" kind of guy. They have to be able to defend and knock down the open 3. If its the 4 or 5 man I'm still looking for I want a strong defender and a great rebounder – shot blocking is always a plus too. I don't get caught up in the concept of a stretch four –   the guy I want playing the four would depend somewhat on who my 5 is. If I did get a Drummond or DeAndre Jordan then I definitely want a 4 who can play outside the paint. He doesn't need range to the 3 point line necessarily but I only prefer one paint clogger at a time (which is why I hated the Monroe/Drummond pairing in Detroit).
"The only way I would have some wiggle room there is if I didn't have any wing players with the ability to drive. If it's a two post system with a lot of post entry from the wings the ok but I'm not going to neuter a good PG or wing player who can get to the basket because he's got extra bodies in the paint.
"As I look for the 6th man spot I like to find an offensive minded player and preferably one that is not a catch-and-shoot guy. I think he needs to be able to create his own shot. He's probably the one player I'm willing to be completely defense optional on because really he has one job to me and that is to get us some points while the main scorer or two takes a rest.
"As for filling out the rest of the bench again my focus is on defense. I'm really only probably going 9 deep. I love players who can generate steals because that's a good chance for an easy bucket. For the most part these three guys (7-9) are probably looking at 15-20 minutes so I want guys who are going to defend, rebound and actually not worry about scoring. If they can knock down an open three if left alone that's great and if steals and offensive rebounding can generate a couple easy buckets that's even better but I place no offensive hopes on them and only expect them to sort of just hold the fort down while they are in.
"Players 10-15 I really look at as development guys. 10 and 11 should be guys who are capable of playing in a pinch or competent enough to play some minutes if there was an injury but I really would be looking mostly to round out the roster with young guys that I think have high upside."
Did you get all of that? It's total nerdery, of course. And absolutely not a cheat code for how to beat the game. It's a truism of this genre: if you want to game the game, you can. You can cheat all you want. Most of these games require house rules, because the AI can only go so far. Remember, these guys are learning code, and implementing through these games. While they're all several versions deep, there are flaws. One thing that bothers me to no end is people complaining about said flaws. For crying out loud, do you realize how difficult it is just to get to this point? Why would you expect perfection? I thought about this recently with OOTP, and how many people complain about finances in that game. It boggles the mind.
(I hope I didn't lose you.)
Impression: This game has as much replay value as any out there. In all honesty, you couldn't always say that about previous games from Wolverine. Either you'd build up a roster so good you couldn't be beat, or the game would crash out with those RTE 9s until you gave up. With this, if you build up a super team…okay. Go build another team, with a different approach. Become coach-only, and deal with a GM who doesn't 'fit your style. Or go GM-only, and deal with a coach going Nuclear Karl on you.
And, once again, you'll do it with minimal interference from something within the game disrupting your enjoyment. If that happens, more often than not, it is an outside influence, like a significant other, pet, or forgetting to eat, drink, or sleep because you can't find the perfect power forward to pair with your dependable-but-plodding center.
The pitfalls in this game are endless. The successes feel earned. The failures are deflating, especially when it's something you did not anticipate. It makes the appeal to the game substantial.
I would put this with FM, OOTP, FBCB and FOF on the upper echelon of games you can play over and over, find new ways to play, and have sustained enjoyment for the life of the game. I say this as someone who currently has a 430+ page dynasty with FBCB/FBPB series going; I cannot wait to get myself going with this, and see just what I can create.
Maybe it's that I'm a basketball nerd, but this is the game I have been craving. 10/10 (would give 11+ if legal. Even in my own review, I have ethics. But I would do that, if I wasn't ethical.)
Conclusion
There is room for growth, of course. There is always room for growth. I have seen this game from the ground up, from the old .400 Software Studios days. Gary has always been two things: 1) a builder, and 2) a risk-taker. Back in the day, you could see the vision, but weren't entirely sure of the map to get there. It's hard when you're a single developer, essentially learning on the fly. I would say that there were probably days even he wasn't sure he would get there…but I doubt that. One other thing I know about Gary, after knowing him all this time, is that he is passionate about the game of basketball, and about his game about basketball.
It is that vision, that passion, that realizes this version, eleven years after the first version. He dealt with the bugs, the critics, and the perceived lack of interest in a basketball game, and continued to ply his trade, and build for those who did want what he could provide. To me, the day has come where more people will, and should, want this game. It is diverse, unique, and offers a complete experience. The quibbles are simply that at this point: minor nitpicks that will get addressed by Gary quickly.
Draft Day Sports: Pro Basketball 2016 is immersive and offers the ability to do what many other games fail to offer: the ability to not have the same experience twice. Even if you're not a basketball nerd like me, there is enough management variance and challenge here to entice you. If you want an experience in building something that is unique to you and your strategy…DDSPB is a game for you.