Right out of the gates with OOTP 16 users are greeted with a landing page which teases a cool new feature in this year's game: official logos. This year's iteration features all 30 MLB logos, over 150 minor league logos as well as historical MLB logos, as promised from the pre-launch press release.
The powered by Baseball Prospectus logo is neat to see as well, not only as someone who interned with the company, but has a lot of respect for what they do. One thing that BP can lend to a baseball game — and it's something I wish we saw more on console versions — is a deeper understanding of the intricacies that go along with the game. This is a good thing.
Start up Screen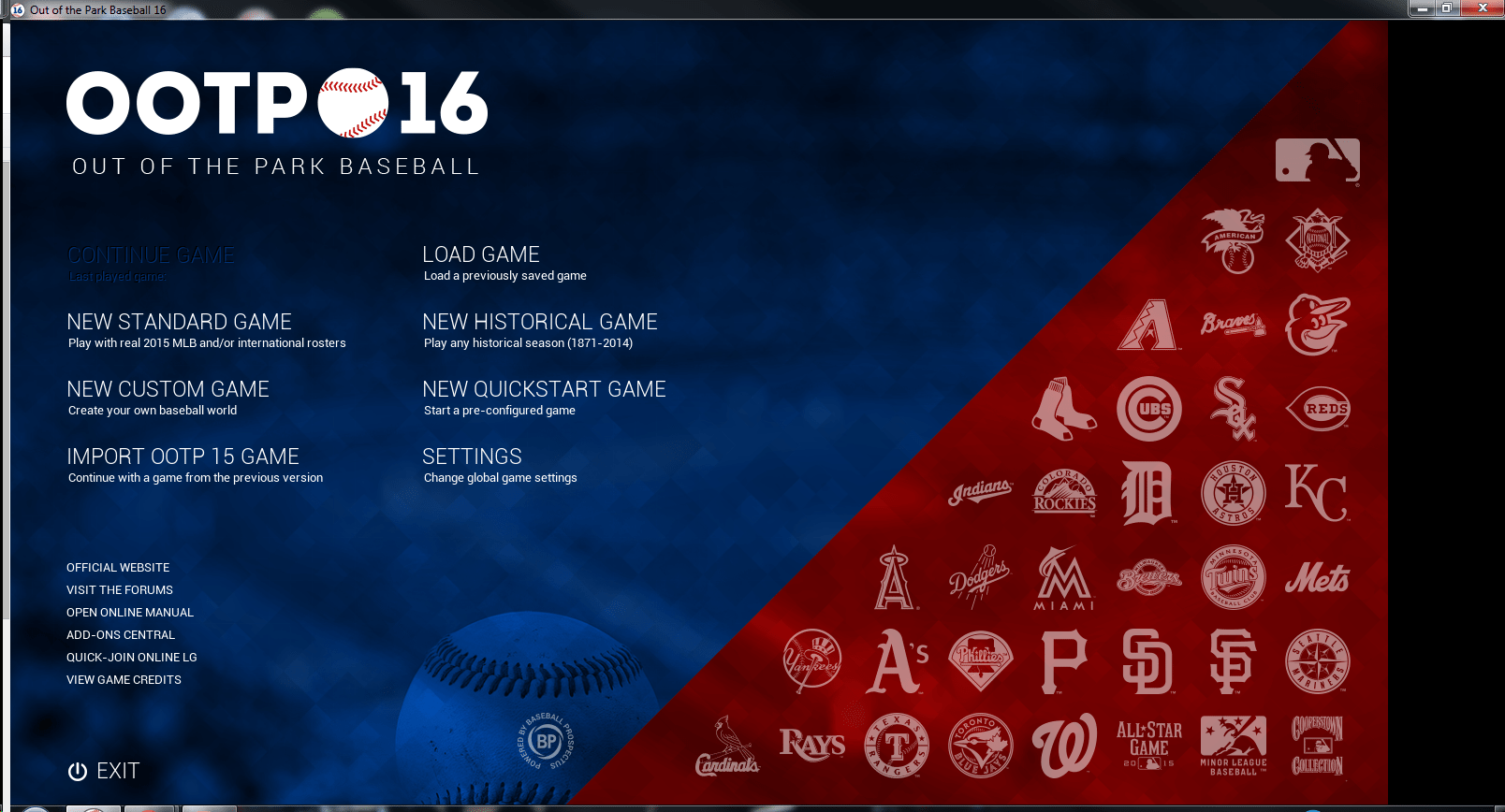 The upfront menu is almost daunting, but in a good way. In this review we'll provide a good sampling of what each feature has to offer you as a jumpoff point, and from there the rest of your experience is limited by your own creativity. Simply put, that's where we're at with this franchise.
The standard game again promises many options, with 11 different leagues — such as the KBO, Cuban leagues and Mexican leagues — to choose from. We'll load an MLB game for ease of communication, but it would be fair to say the Cuban Baseball League option has piqued the interest of yours truly.
Again, the neat facts and quotes have made a return to the load screens. The first one we see is "The first tarpaulin was used on baseball fields in 1884." Neat. Not only am I playing a baseball game, but I have my very own John Thorn here with me. That's pretty cool.
The load screens are a bit slow and arduous, but that isn't unexpected for the amount of data and options that are about to rush at you as though you're opening a college dorm door with a garbage can full of water propped against it. You're about to get soaked — in a good way. As is customary, I've selected the Minnesota Twins as my club purely out of familiarity. That way, I can relay to readers the accuracy of the information in the game, whether it's roster sets, player values or anything, really. I think it works.
General Manager's Office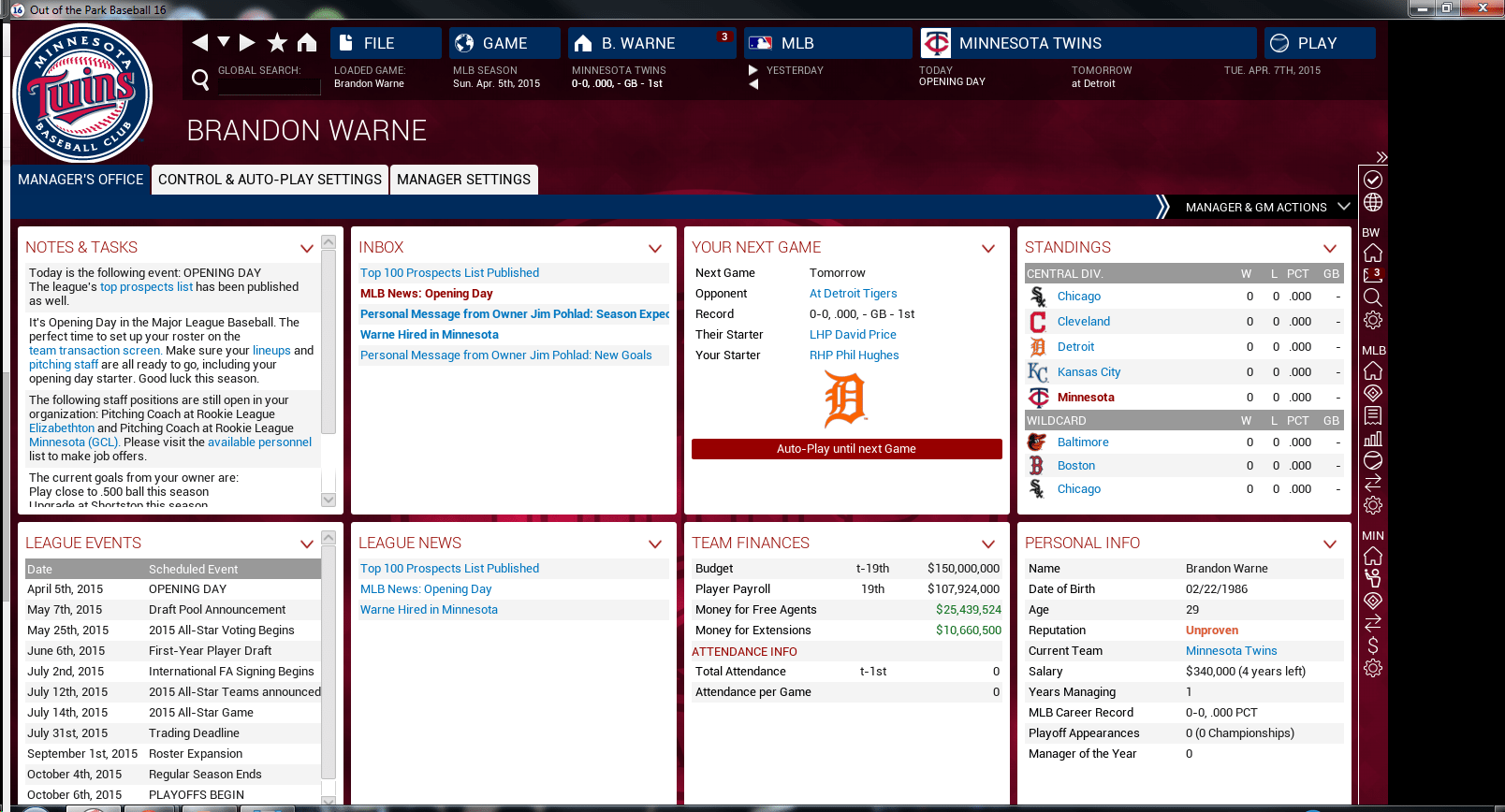 Every year I'm in awe of the opening menu and all the information it not only delivers, but all the different buttons and options is presents. The buttons on the right range from in-game email, to lineup changes, to in-game settings that can alter park factors, injury frequency, and a veritable bevy of other things. Have a look:
Game Settings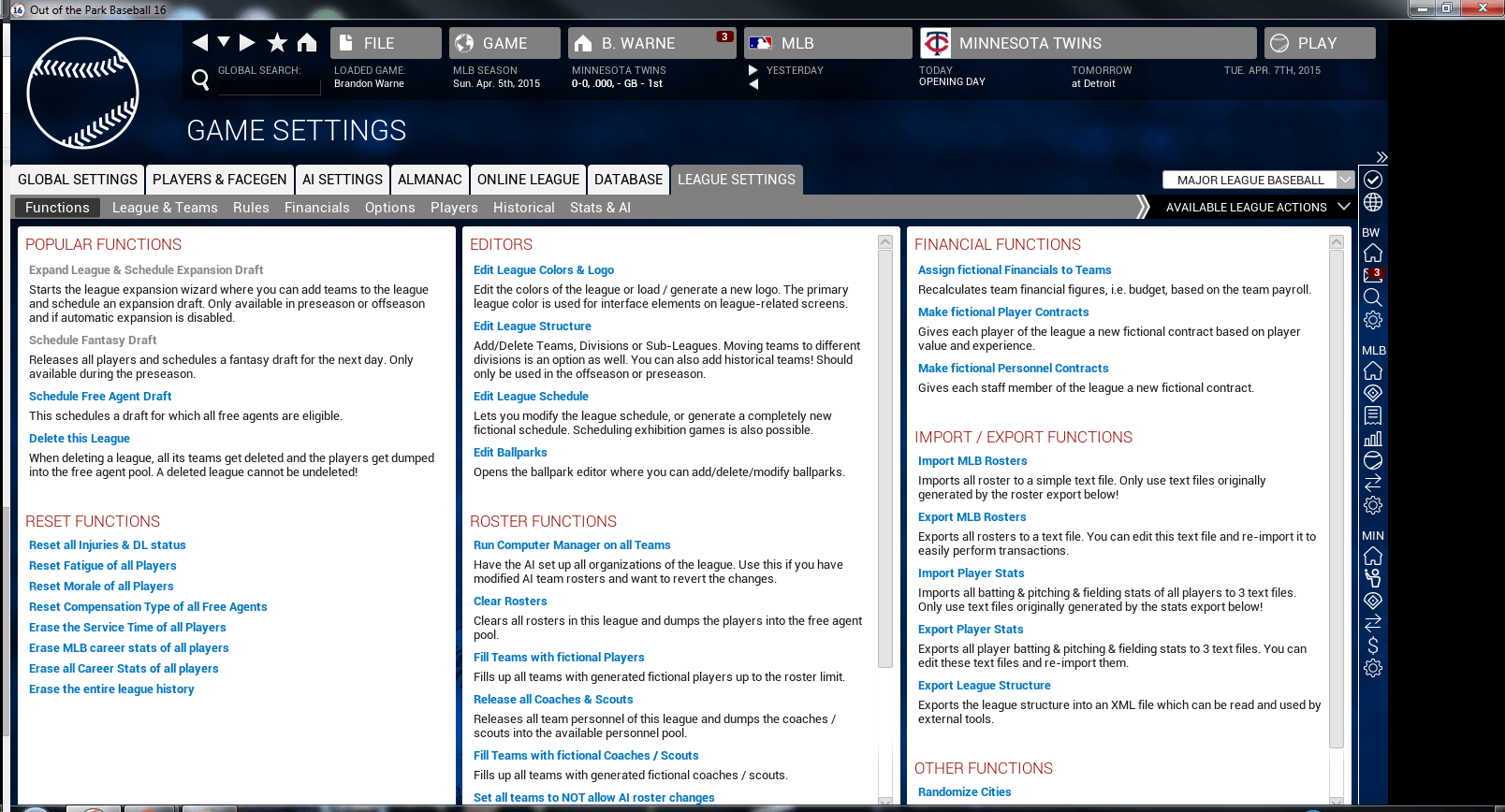 All of these options are simply from pushing the button represented by the gear under MLB — the second listing — and yet there are options to customize pretty much everything you can imagine. Want to reset all injuries? Boom. Fill teams with fictional players? You got it. Edit and modify ballparks? Absolutely. Run an expansion draft? OK, you get it. Again, the only limits here are your own personal creativity, and to what end you're willing to sacrifice personal relationships to devote to this game. Keep in mind, 14 more menus to click on.
For ease of reviewing we're just going to change a few settings that make things easier to convey to you as the reader. In the online leagues I've played, we use the 1 to 100 scale for player ratings. I've adapted that for this review. Now, we're ready to play a game.
Options & Preview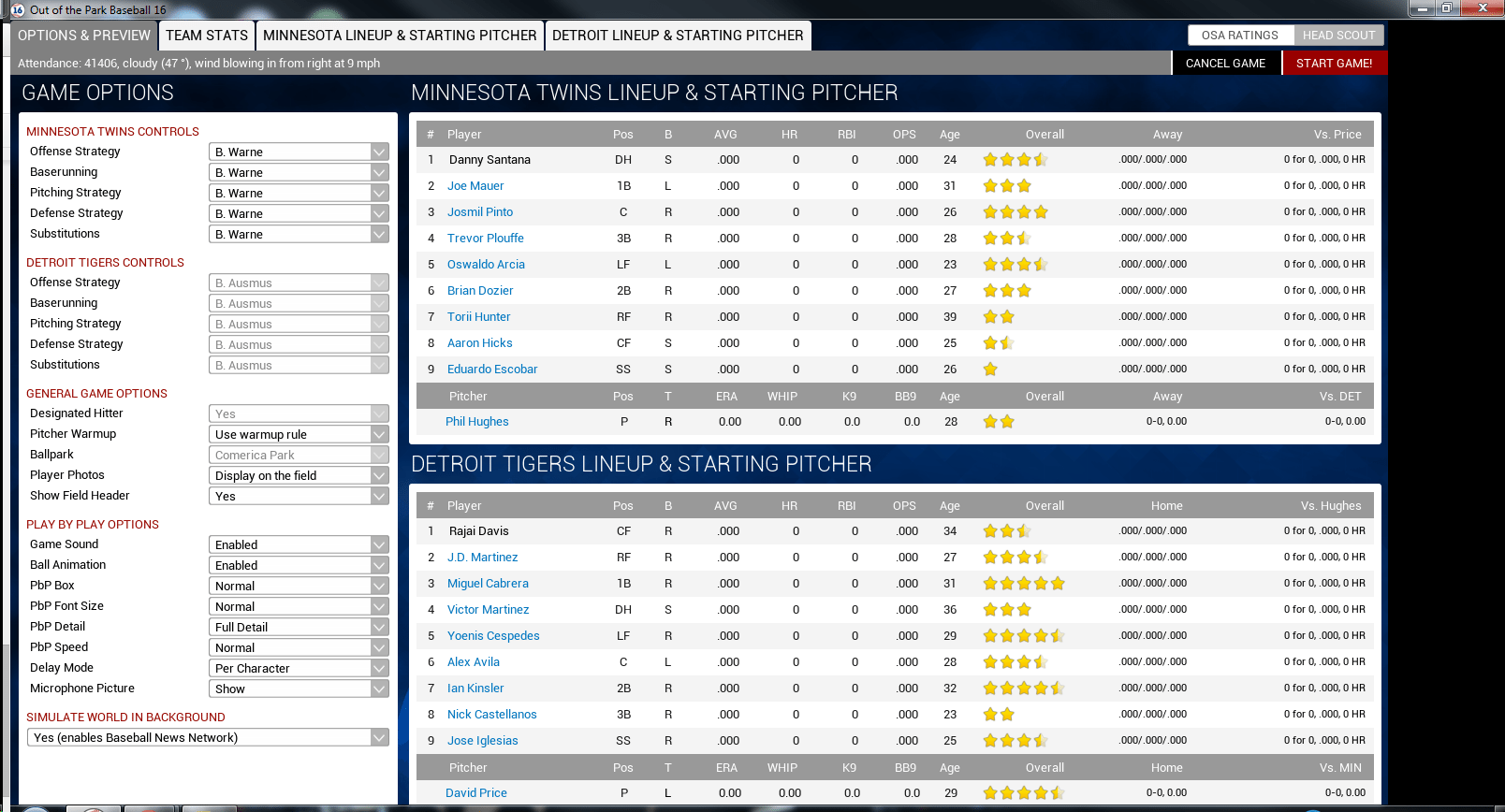 As far as opening-day lineups and 25-man rosters go, this isn't too bad. Having Shane Robinson with the Twins and Kennys Vargas in the minors probably won't happen, but it isn't egregious. Let's play ball.
The gameplay screen isn't entirely different from previous versions, though the official logos are awfully nice. The out of town scoreboard is a cool feature, and it shows rolling scores that flip about every five seconds. There are also three different options for a broadcast view, a 3D view and a webcast view, and each have their own merits.
Example Game View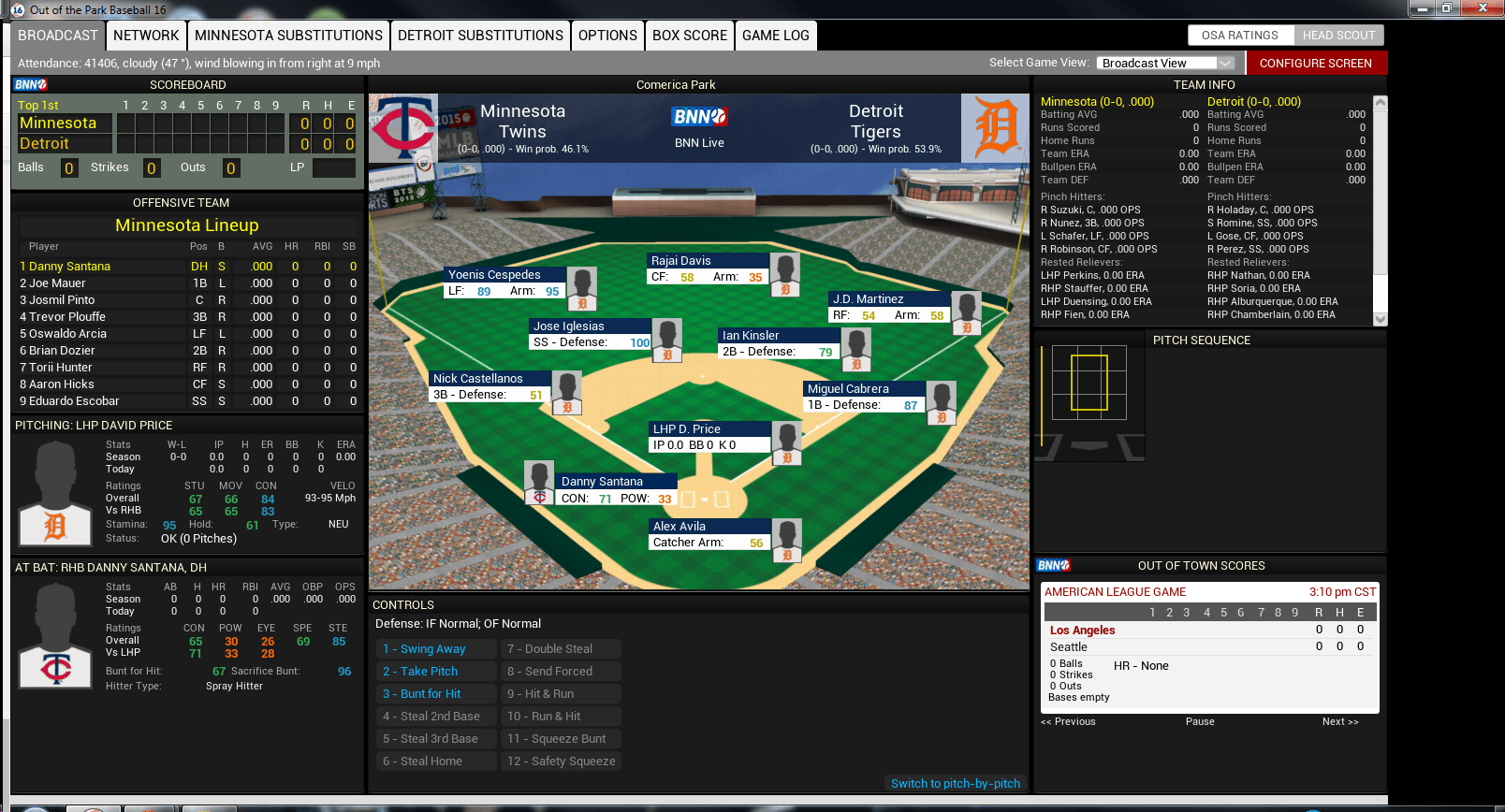 The pitch sequence tool on the right is a nice feature which operates similar to ESPN Gamecast in terms of pitch location and color coding for outcomes, such as green for balls, red for strikes and blue for balls in play resulting in outs. Small things like that just add to the immersive experience for baseball geeks such as myself.
The first trade proposal rolls into the email inbox in mid April.

Cardinals GM John Mozeliak proposes the following trade:

30 year-old centerfielder Jon Jay for 31-year-old catcher Kurt Suzuki and 19-year-old shortstop Nick Gordon.
Blech. Gordon's listed as a phenomenal, five-star prospect and easily the most valuable piece in the deal. Jay is a nice piece — a 2.5-star player in his own right — but isn't worth that much more than Suzuki. The positive gleaned from this trade proposal experience is that each of these players seems to be fairly valued in terms of ratings, which is always a big battle for simulation games, and where the first bit of disconnect can come into play. Bad ratings can undermine the entire game's viability, and OOTP is on good ground here.
A neat feature during in-season play is that when the draft pool becomes available, there are some familiar draft-eligible names, such as Brady Aiken, Michael Matuella, Dillon Tate and countless others.
That's about pretty much all there is to cover in terms of regular gameplay in this area. Now, let's branch out and have a look at what else the game has to offer.
—
For years we've extensively covered just the main portion of the game, but this time we'd like to give some love to some of the secondary aspects of it. Here are some highlights of other game modes.
The other options include "import OOTP 15 game" — pretty self explanatory — as well as new custom game, new historical game and new quickstart game.
Quickstart gives you the option of "All Time Greatest," "Majors," "MLB 1994" and "US Baseball League" for different options. For this case we'll use MLB 1994 as a nice change of pace. This allows users to play out the remainder of the strike-shortened season, with completely history up to that point updated. As a brief primer, US Baseball League is a fictional league with 24 teams and five levels of the minors, designed to be played for 10 seasons as a primer to more immersive gameplay. Majors is a stripped down version of the regular standard game, and All Time Greatest allows you to play with the greats across multiple eras and includes Negro Leagues greats as well as Nippon (Japanese) and other greats, too.
Manager Setup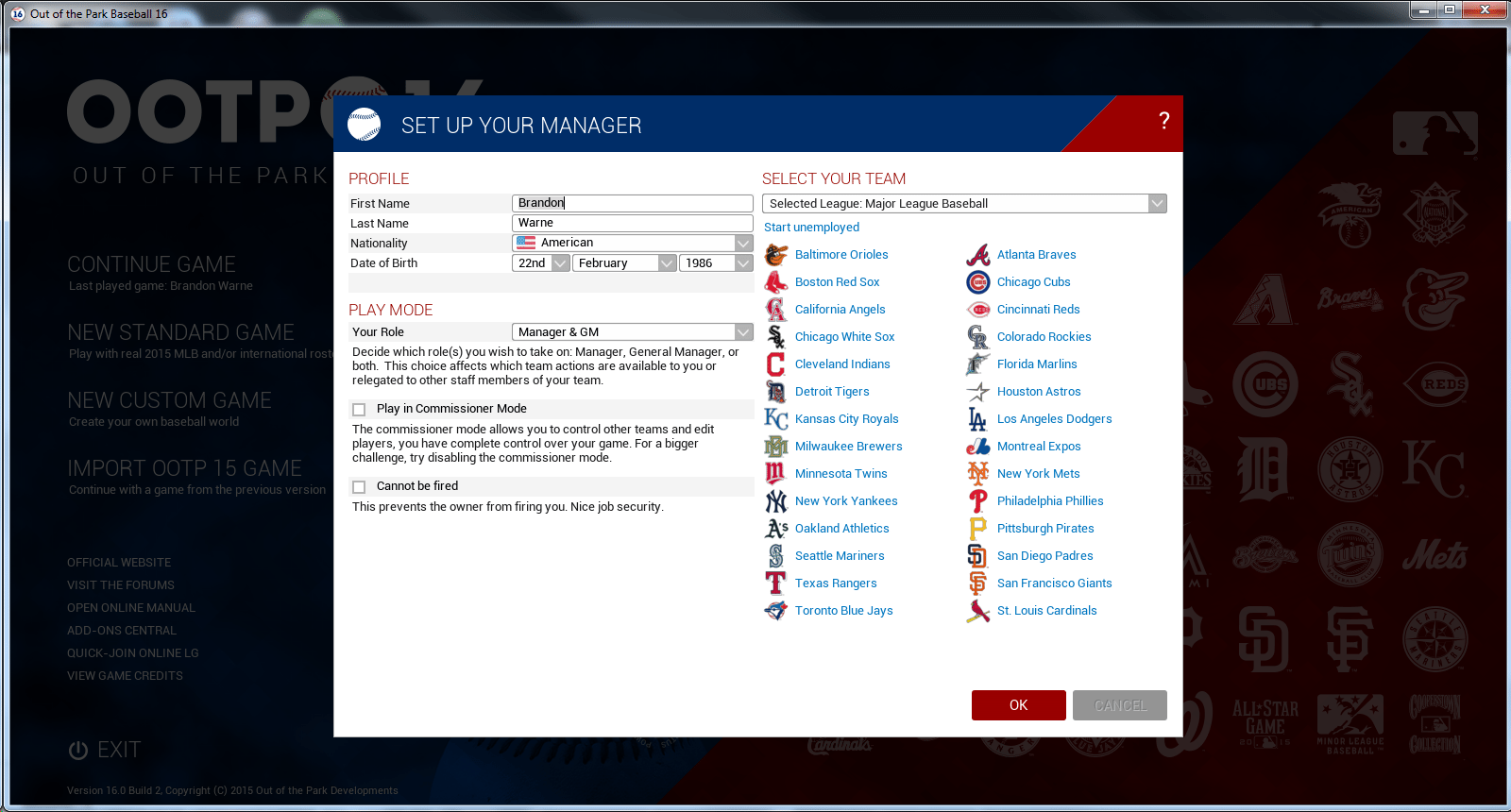 As someone whose formative years came around the 1994 strike, this setup seems like a slam dunk hook for someone like me. I love to see the Expos, Brewers, (California) Angels and Astros logos that were all prevalent in the game I grew up watching. That's pretty cool.
The opening page is complete with the news of Ryne Sandberg's retirement — his first retirement when he felt he wasn't justifying his contract — and with the completion of the season we have the first playoffs under the six-division setup. Most of you may remember this was the first year the Wild Card was enacted, but not used due to the cancellation of the remainder of the season.
Spoiler alert – here's how the regular season shook out in the eyes of OOTP. As you can see, it came down to a game 163 to determine which AL Central team won the division (White Sox) or the Wild Card (Indians):
1994 Season Replay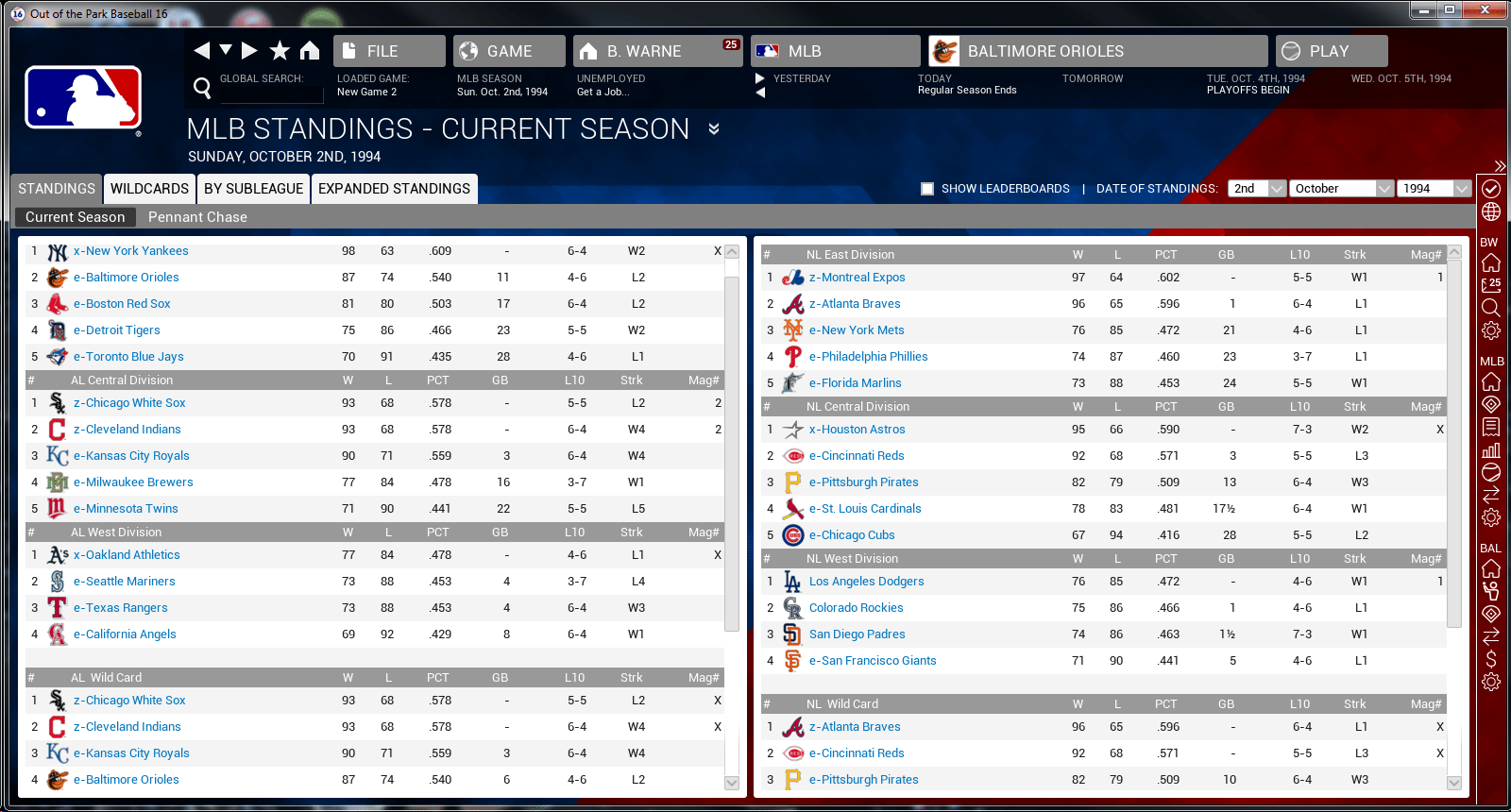 Jonah Keri (@jonahkeri) would be happy to find out that the Expos won the World Series — a sentiment held by a number of people who studied the MLB that year. These Expos dumped the Oakland A's in a thrilling seven-game set, and the ease of this setup. It makes for a good setup if someone doesn't want the completely immersive experience of the full league, and the other nice thing is that you can continue on into 1995 as a historical league.
The other league that we'll examine is the historical league.
Historic League Setup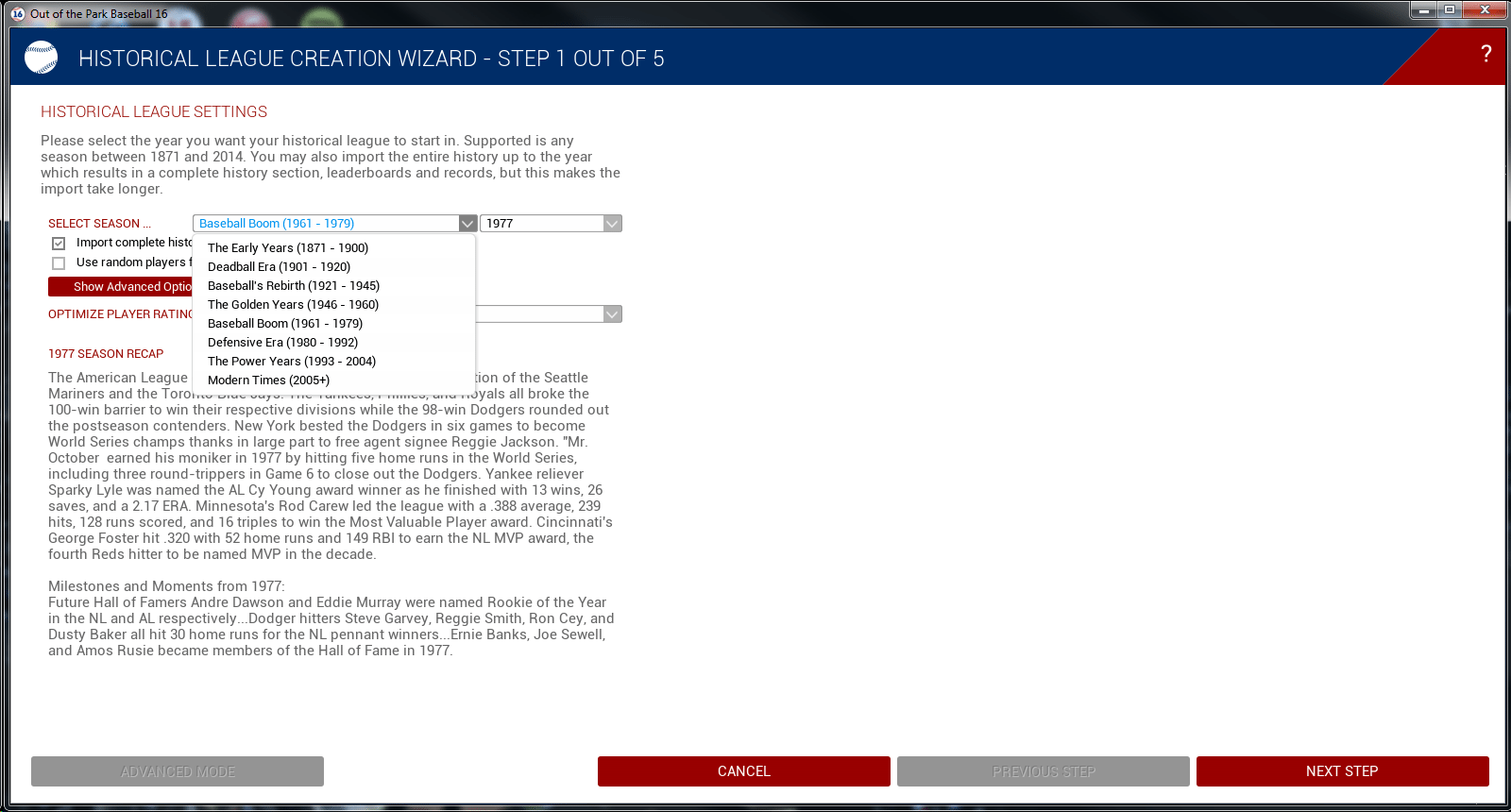 Here you can see all eight options for taking over a historical league. For fun, I'm going to go with the Early Years (1871-1900) — an era I know a little bit about but not a ton. For your league, you're allowed to have whichever minor league affiliates you deem fit, or none, which results in a reserve roster but no affiliates. For simplicity, I'm going to do just that. The teams you can choose from are the Baltimore Canaries, Cleveland Forest Citys, Philadelphia Athletics, St. Louis Brown Stockings, Brooklyn Atlantics, Boston Red Stockings, Chicago White Stockings and the Cincinnati Reds. These were all teams that existed in the National Association of Professional Base Ball Players, which existed from 1871 to 1875. I took over Philadelphia, and selected third in the player dispersal draft — as seen below.
Draft Screen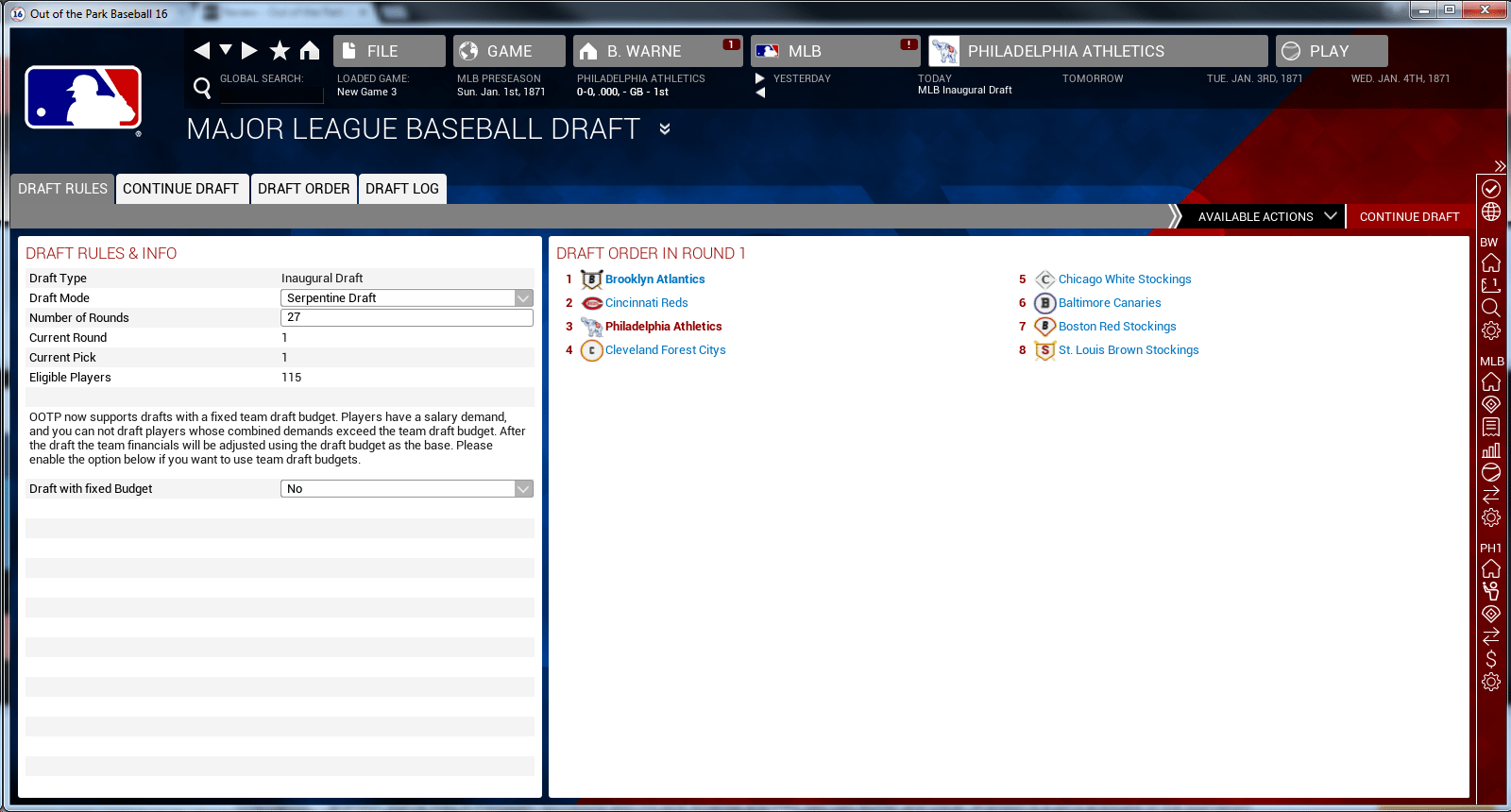 The names available are some of the greatest names in baseball history, like Cap Anson and Al Spalding. Interestingly, and coinciding with the era, pitchers have minimal stuff (like 10 or 11 out of 100) with phenomenal movement and control (90-100). Considering that pitchers like Cherokee Fisher — the first overall pick — could lead the league with fewer than two strikeouts per nine innings, this seems very era specific and well done. The same thing goes for power, as this was in a deadball era and some of the great hitters had power ratings of 20 out of 100. Truly amazing. Also, as you would expect, finances are era-specific, with a team budget for player payroll set for $2,188.
Ultimately, this is a fun way to compare the game across eras, and see just how much the game has evolved. If you want to do something a little different, I would strongly suggest this.