We all have the dates we eagerly anticipate every year when it comes to baseball. Maybe it's when the pitchers and catchers report to spring training. Maybe it's when they finally start playing games in Grapefruit and Cactus League action.
Perhaps you can't wait for Opening Day, or the home opener. Or maybe you're like me, and can't wait to bog down with baseball video games such as OOTP 19, which is available for all the platforms you've grown accustomed to (Linux, Windows, Steam).
It's hard to know how they keep improving on perfection, but here we are again. In the settings and advanced tabs of your league, you can get your cake and eat it too by tailoring how accurate the scouting reports are that you get, and how often you want to get them.
One thing that stands out is Challenge Mode, where you can face unique challenges when trying to build your dynasty.
These are the differences the game lists:
Commissioner mode and the player editor are disabled

Certain league rules are setting adjustments are also disabled

Certain AI team control settings are also disabled

Long-term simulation ("Auto-play until…") is only available during the offseason

New in-game achievements can be unlocked while playing games out

Your achievements and season scores will be tracked in your personal OOTP online profile (as long as you're logged in), which will allow you to compare your career and accolades with those of OOTP players around the world
Who doesn't love a challenge? So I absolutely checked that button when starting my career.
Right out of the gate, I'm reminded of the amazing interface of this game. Almost everything you could want to look at is a clickable link. Jose Berrios is from Bayamon, Puerto Rico. Click that link and it takes you to a list of cities in Puerto Rico, sorted by population, latitude and longitude. It lists the quality of baseball in Puerto Rico — excellent, by the way — and the number of active professional players.
And if I'm not mistaken, these menus move faster, too. There is very little load time once the game is up and running, which is a nice feature.
The beginning of the season has all the accurate information. Who are the team's top prospects? For the Twins, they have Royce Lewis, Stephen Gonsalves, Nick Gordon and Brent Rooker atop the list. All of the injuries line up with realistic timelines. The 25-man roster is nearly player-for-player perfect.
In a vacuum each of these might not seem like much, but they make for the total package when combined.
The "Meet the Team" tab is awesome, showing the team's top players with their salaries — which are accurate — as well as the reputations for each of the team's key front office and on-field personnel. Pitching coach Garvin Alston? His reputation is unknown, and that makes sense — it's his first year on the job.
The Opening Day salary figure for the Twins on the game is $129,132,425 — within $500,000 of what's listed on Cot's Contracts ($128,713,226). Maybe it's just because I've seen so many things that have a national slant miss the mark with the Twins — a team from flyover country — but again, I have a huge respect and appreciation for the accuracy shown here.
Another interesting thing is the Team Chemistry tab, which lists the rapport each player has with the bench coach as well as what types of players are on the team. Joe Mauer and Jason Castro are listed as the captains.
One interesting one is Miguel Sano is listed as "selfish" which, if nothing else, is at least interesting to see.
Another cool option is to look at a player's baseball card, which automatically updates with their season stats from your game. I think that resonates with some fans my age, who grew up in the mid-90s collecting the Topps, Donruss, Fleer and Upper Deck sets to trade with friends or proudly display in our three-ring binders.
Anyway, onto the gameplay. Before opening the season, I get an email from owner Jim Pohlad. Among other things, it says to make the playoffs, upgrade at catcher, sign Brian Dozier to an extension and reach the World Series in the next five years.
Again, that's pretty much perfect.
The gameplay is a little different. Check out the rendering of Orioles Park at Camden Yards: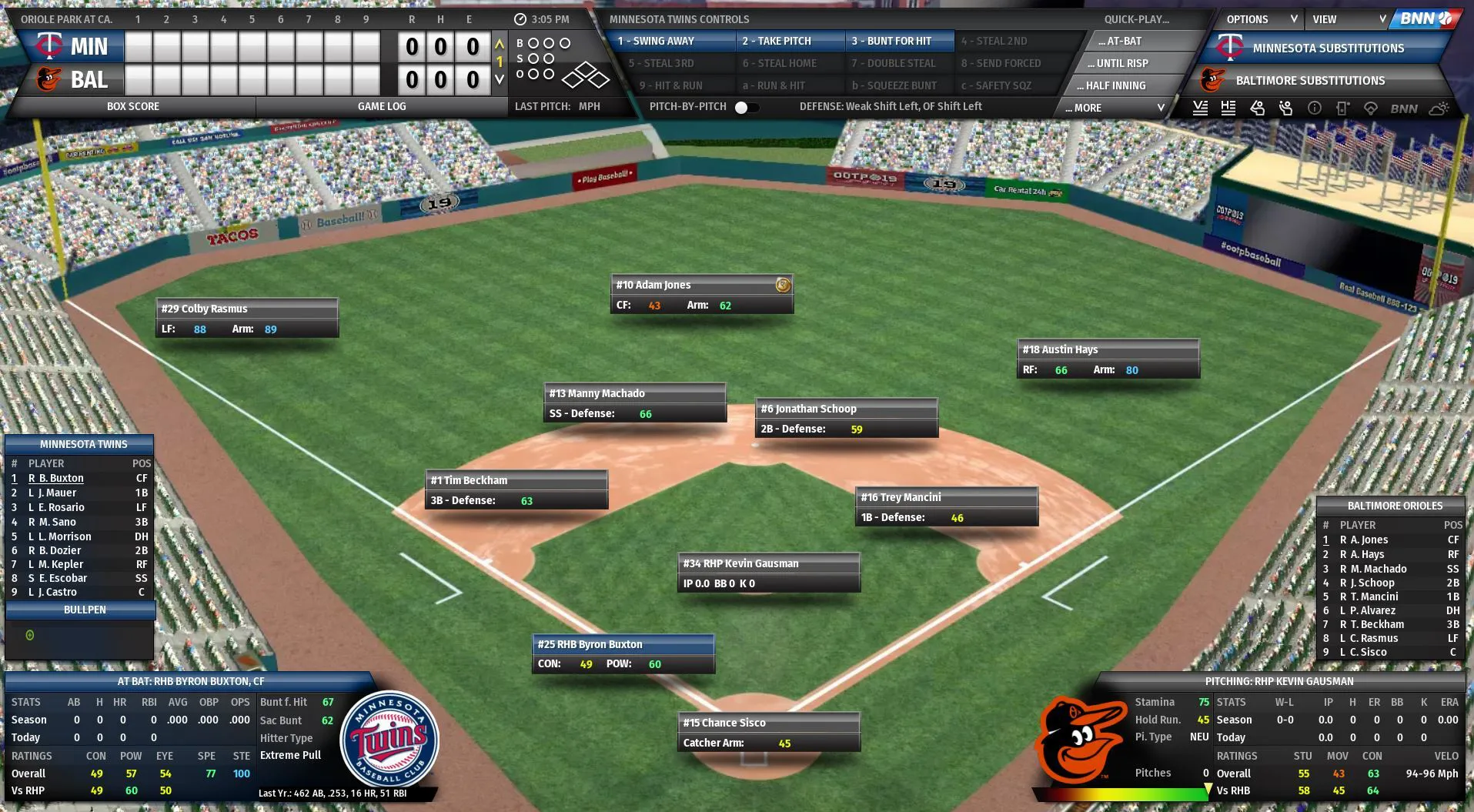 That's a pretty cool, and perhaps most importantly accurate render of the park in Baltimore. In addition to the nice rendering, there is a ball graphic that shows where it is hit — field specific — for a little added realism. The feature is still developing a bit, however, as outfield flies don't go all the way to the players who catch them, and it's still a little choppy.
But the crowd and bat crack sounds are a nice touch. So too is the clock on the scoreboard in the top left. Oh, and if you're ever wondering how to get back to the home screen? Simply click the home plate icon at the top of the menu. Pretty clever!
The end of game screen is pretty cool, as each game has a unique ID and it even shows the win probability graph that fans might find on Fangraphs or wherever they like to get their baseball information.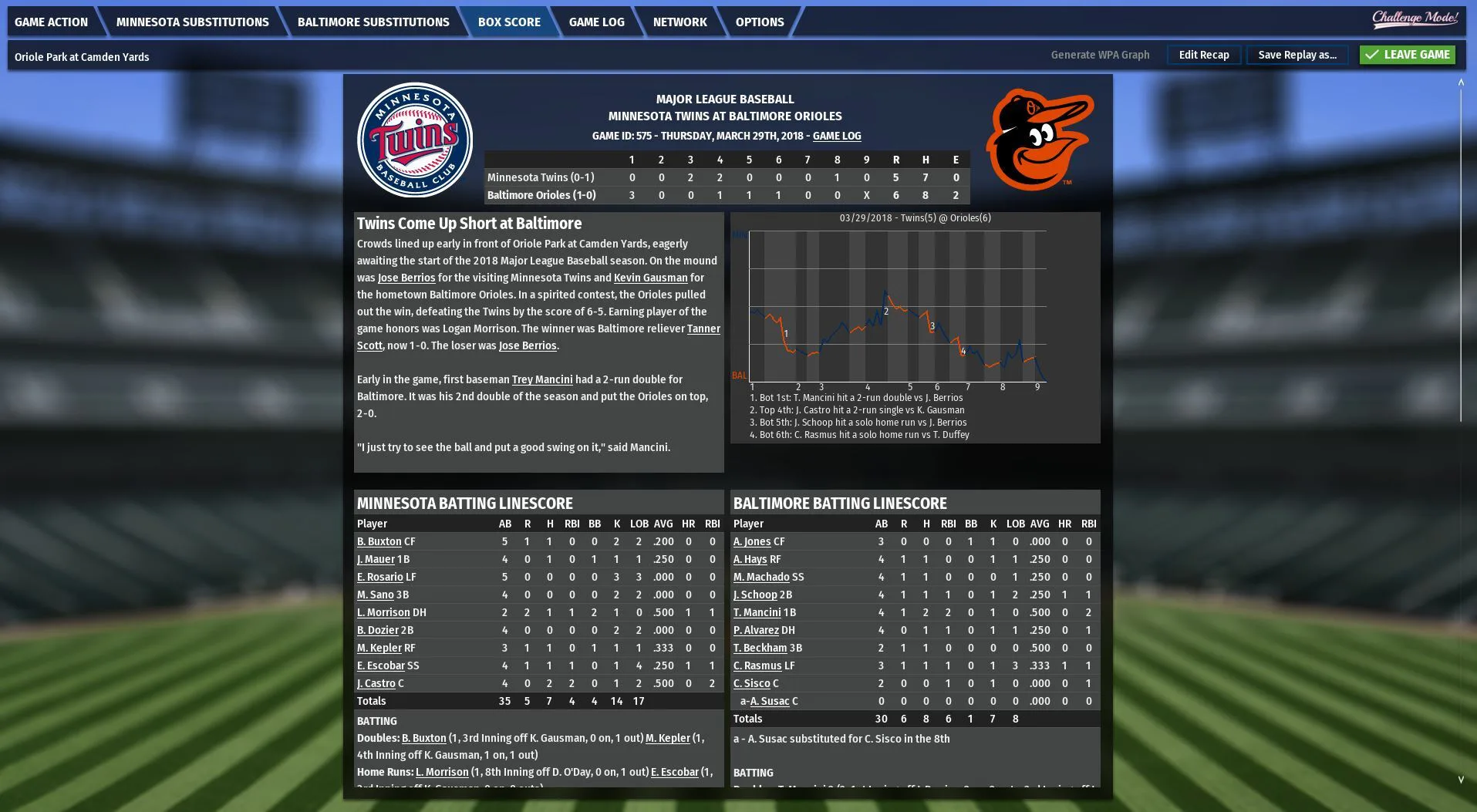 Also there's an automatically generated post-game quick clip including a quote from Trey Mancini, who hit a two-run double in the first inning. In the interest of fair disclosure, as a sportswriter it makes me a little uncomfortable how good this paragraph was for something that was automatically generated.
An early-season injury to Adalberto Mejia also gave me occasion to look down to the minors, which again are perfectly stocked with actual Twins prospects. I also looked at the international tab, and it has players the Twins have signed there working at the international complex as well. For instance, Kai-Wei Teng is listed on the team. He was actually signed by a friend of mine, former Twins scout Cary Broder.
Again, this bit of realism — no matter how minute — is not lost on me.
A week in, and my team is 3-5. My screen tells me where I'm at in the power rankings, what my attendance is like — including per-game average and percentage of previous year change — and the upcoming schedule is mapped out for the next week with probable pitchers to be faced.
I cannot emphasize enough that the details in this game are absolutely incredible, and it's why I can't recommend the game enough. The game even saves and indexes highlights like a video system if a player wants to go back and see how a play panned out. As of now, it's not the most useful feature since the ball graphics aren't perfect, but it's still a wildly cool idea that I think will be improved upon in future years.
Also back are all your favorite other features, like playing a historical or custom game, or even importing your OOTP 18 franchise if it's one you're truly enamored with. Considering how much time can be spent checking out and tweaking all the minor details, it's easy to see this being a possibility.
But if you want to go back and re-play the 1987 season — the first Twins World Series winner — you can do that as well. The game is smart in this respect, as you can have the player ratings calculated based on the stats they put up in real life, or how the season progresses in the game. It's up to you.
But looking back at some of the names I grew up watching — the Kent Hrbeks and Kirby Pucketts — in this game is just the icing on what was already a wonderful cake.
Look at this screen of beauty, complete with the correct division — pre-1994 realignment — and those lovely, lovely 1987 logos: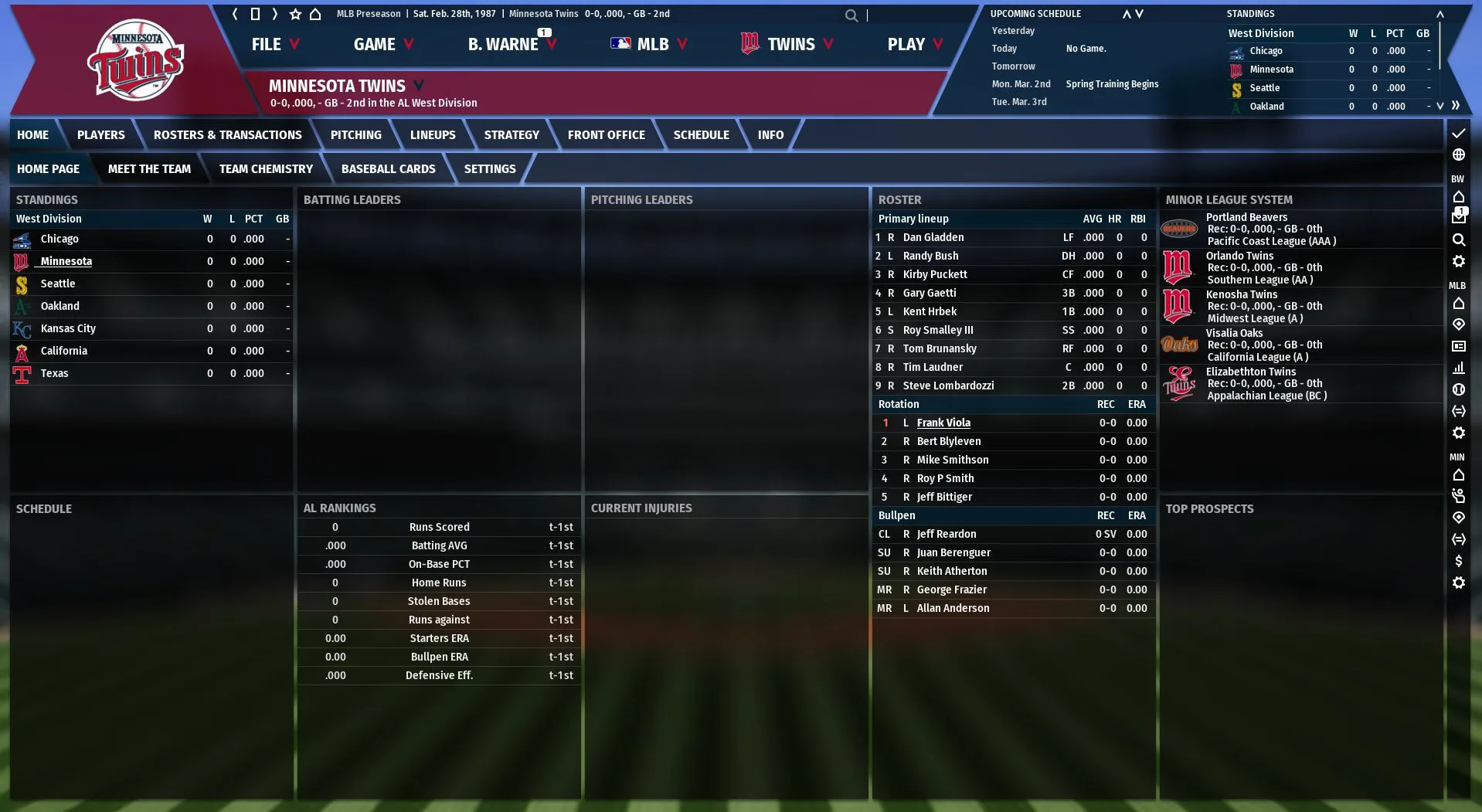 This game has something for everyone. That's what makes it great; that's what also makes it dangerous.
I'll leave you with this. One of my favorite things about the loading screens is that the game posts interesting facts and anecdotes. This was my favorite one:
"Marylou Cunningham Bines died after giving cancer the finger for 25 years. She was also a Mets fan, and surprisingly it wasn't that which killed her."
Details, details, details. When the big things are good, a game sets itself apart with the little things. They didn't miss any with this game.