I think I've got one.
I've been putting Wolverine Sports' Draft Day Sports: College Basketball '22 through its paces for this review. When you do a review for a game, it's difficult…because you don't exactly have a lot of time to get totally in-depth. This compromises the way I like to play, as I think it would for anyone who indulges in this sim community (can you even really call it a text-sim community anymore?).
I've run through a season as the Providence coach, one that was absolutely underwhelming. I had a raw roster, and got overzealous with my scheduling. That put us in a hole that we could not get out of, even with a late surge in the Big East (sweeping Villanova, who would go onto the Elite Eight, in the process). 
A loss to St. John's in the first round of the Big East tournament ended our year at 14-17, and a pretty perturbed board. The only redeeming bit of the year is that I managed to land a five-star point guard recruit. (One of my other recruits, though, appears to be a total bust.)
After that, we had four players transfer out; we struggled to restock the cupboard, as we enter (currently) our second go at recruiting.
And…well, I think I've got one.
For the moment, though, I'll digress. We should get people up to speed on this year's offering by Gary Gorski and Wolverine Studios first.
Those who are diehards in the community know the company, and this title, well. Gorski has been making basketball games under his parent company since 2005. The game got mainstream exposure thanks to the pandemic, when people (including the Worldwide Leader) turned to Wolverine to find out what could have been in the 2020 NCAA Tournament.
Gorski believes in building a program through effective cohesion, culture and coaching, rather than  a ratings grab. It's an approach that, as a basketball player and coach, I wholeheartedly admire. I won't profess to understand much about coding and the difficulty that comes with creating a dynamic universe that causes you to constantly make choices that directly affect your standing among your players and board of directors; I think it's something Gorski pulls off quite well, and continues to improve as the game churns out version after version.
This year's version focuses heavily on improving the transfer portal, something that has had a growing impact in all of college sports, but is magnified in basketball, due to the smaller roster numbers, and an obscene number of D1 teams. This is a timely focus; according to this Sportico piece, D1 transfers went from 534 in 2012, to 942 in 2020. That number skyrocketed to 1,464 a year ago, due to the one-time rule (where players don't have to sit out a year the first time they transfer)..
I'll get to other improvements as this review progresses. If you want a quick list, click here. (Just, you know, open it in a new tab.)
Graphics/Interface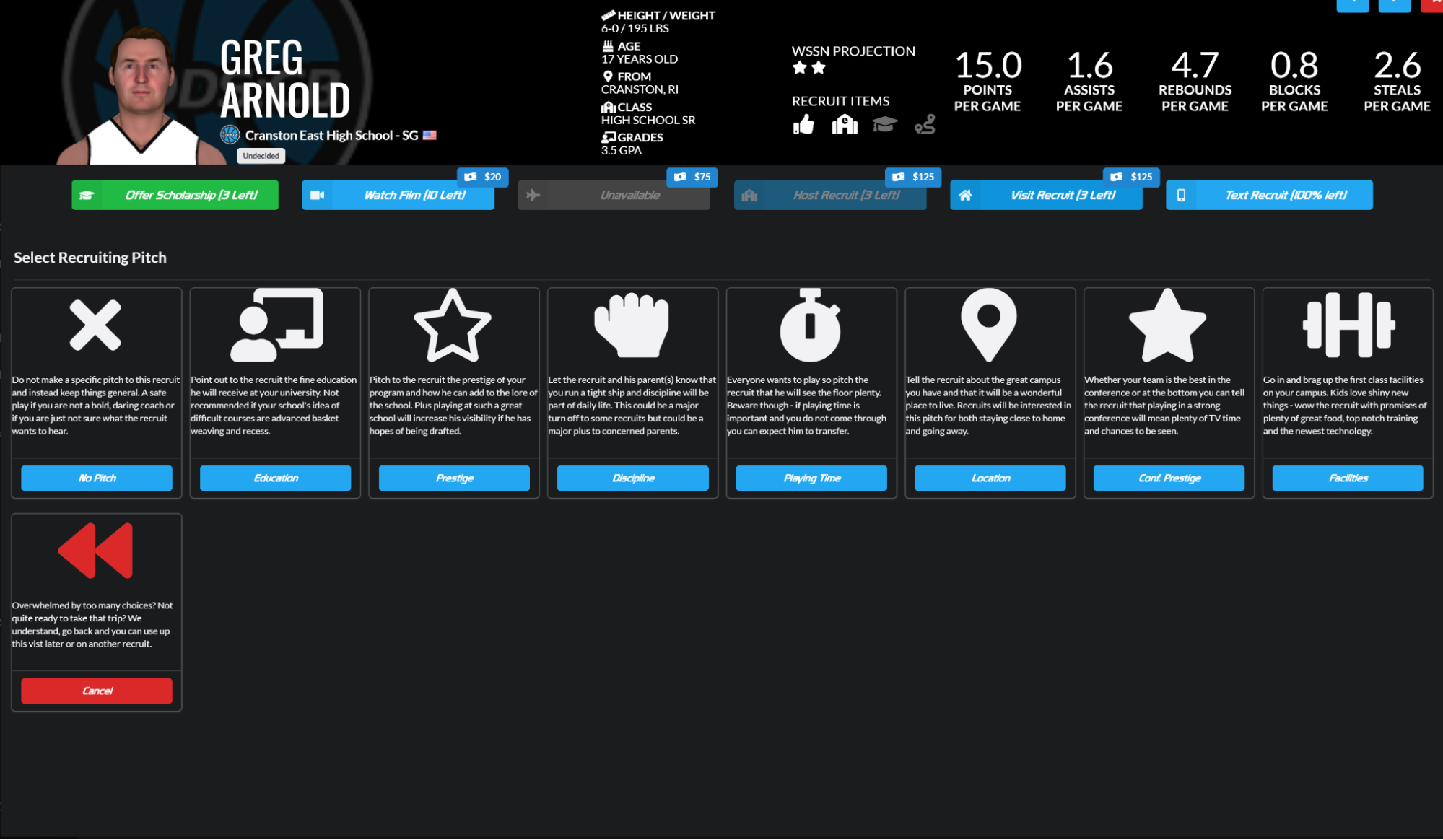 Wolverine Studios has used the Au interface for its games for a few years now, so those who have played previous versions will be used to the layout at this point.
If you have not played this game before, the interface is clean, well-designed, and easy to navigate. The information available to you is easy to digest.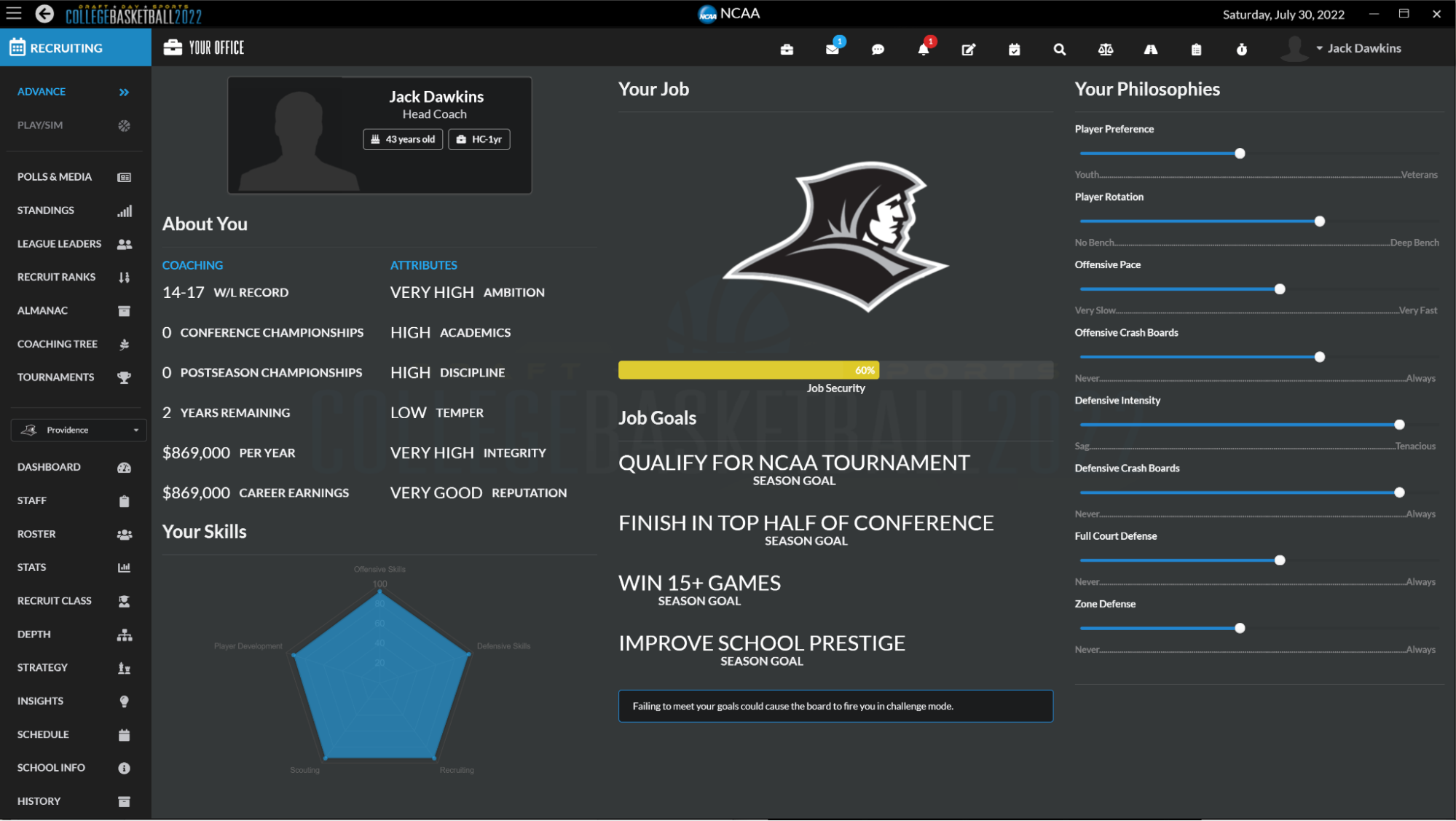 One area I will always highlight is the Insights section. It's a wonderful place for information; I wanted to draw attention to the Team Sheet, a DDSCB21 addition that needs more love. It's a beautiful screen, both in its visual appeal, as well as in its practicality.
The Team Sheet, simply put, breaks up your record into quadrant wins and losses. Again, I know this was in last year's game, but this is the kind of stuff that makes me love this game so much, it is deserving of extra attention.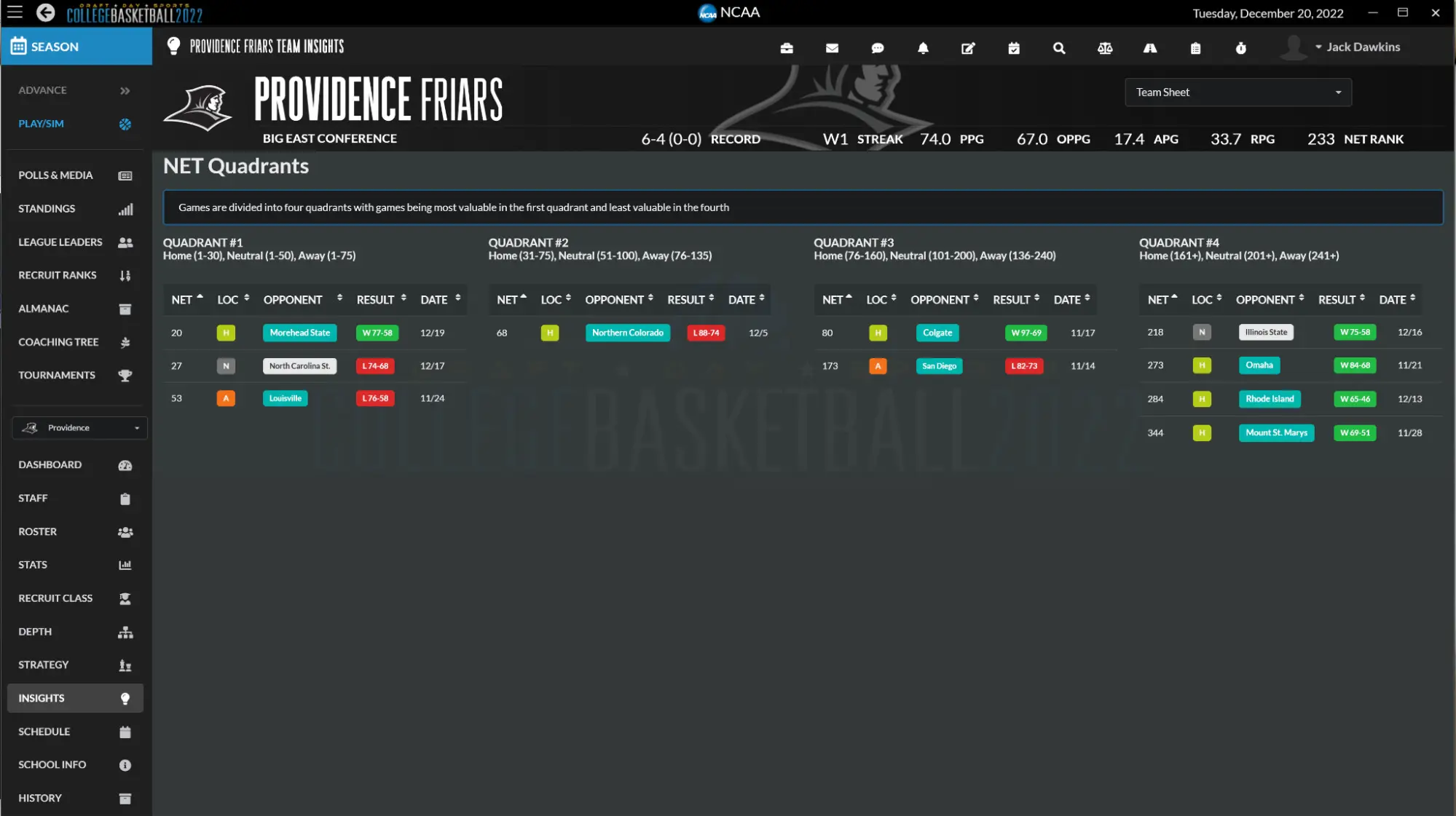 One thing, though…some other screens could use better highlighting. The efficiency screens, for instance, when using Providence…they don't come out so well.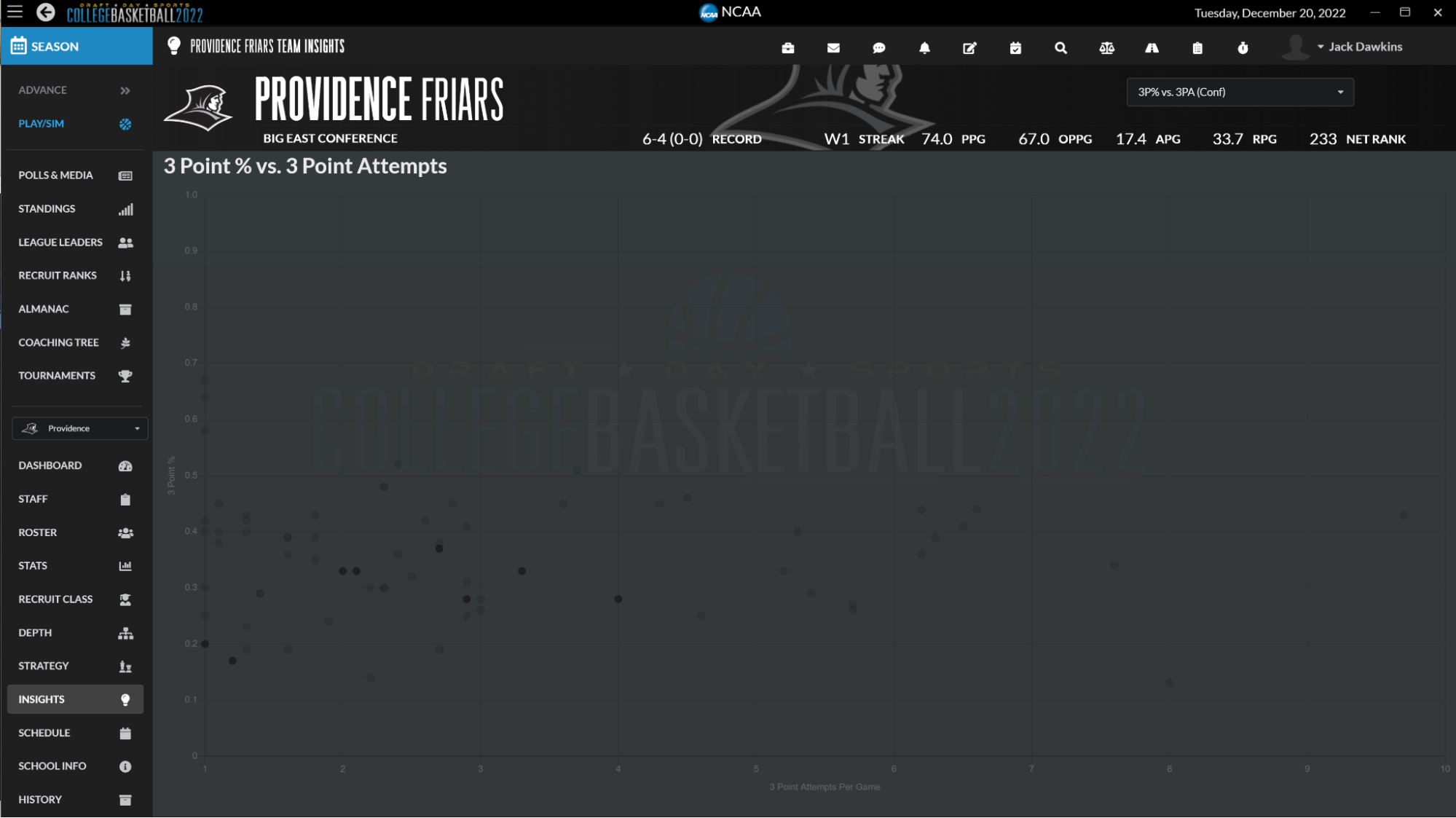 Another screen that deserves special attention is the rankings screen. It's a brilliant screen.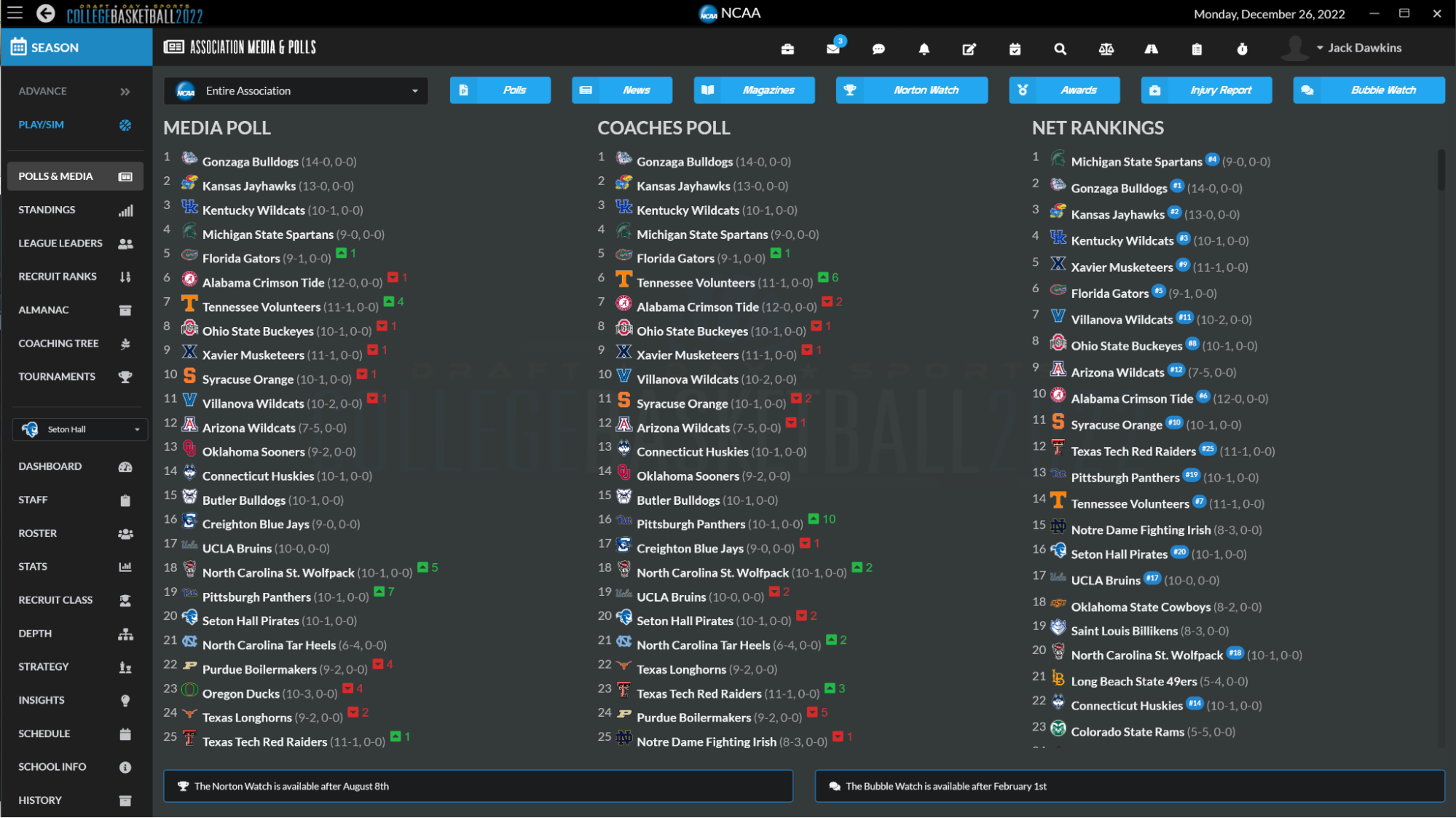 I've said this in previous reviews, but I really want to get individual lineup statistics (or the option to see what different combinations of individual players do together, or without another player. I hope that can make it into the next round of basketball games. When trying to build a cohesive program or franchise, figuring out the winning combinations of players, or figuring out what is NOT working, would go a long way towards building a more immersive environment.
Another addition that deserves mention is the Recruiting Class Rankings. This gives you a visual representation of recruiting across the nation…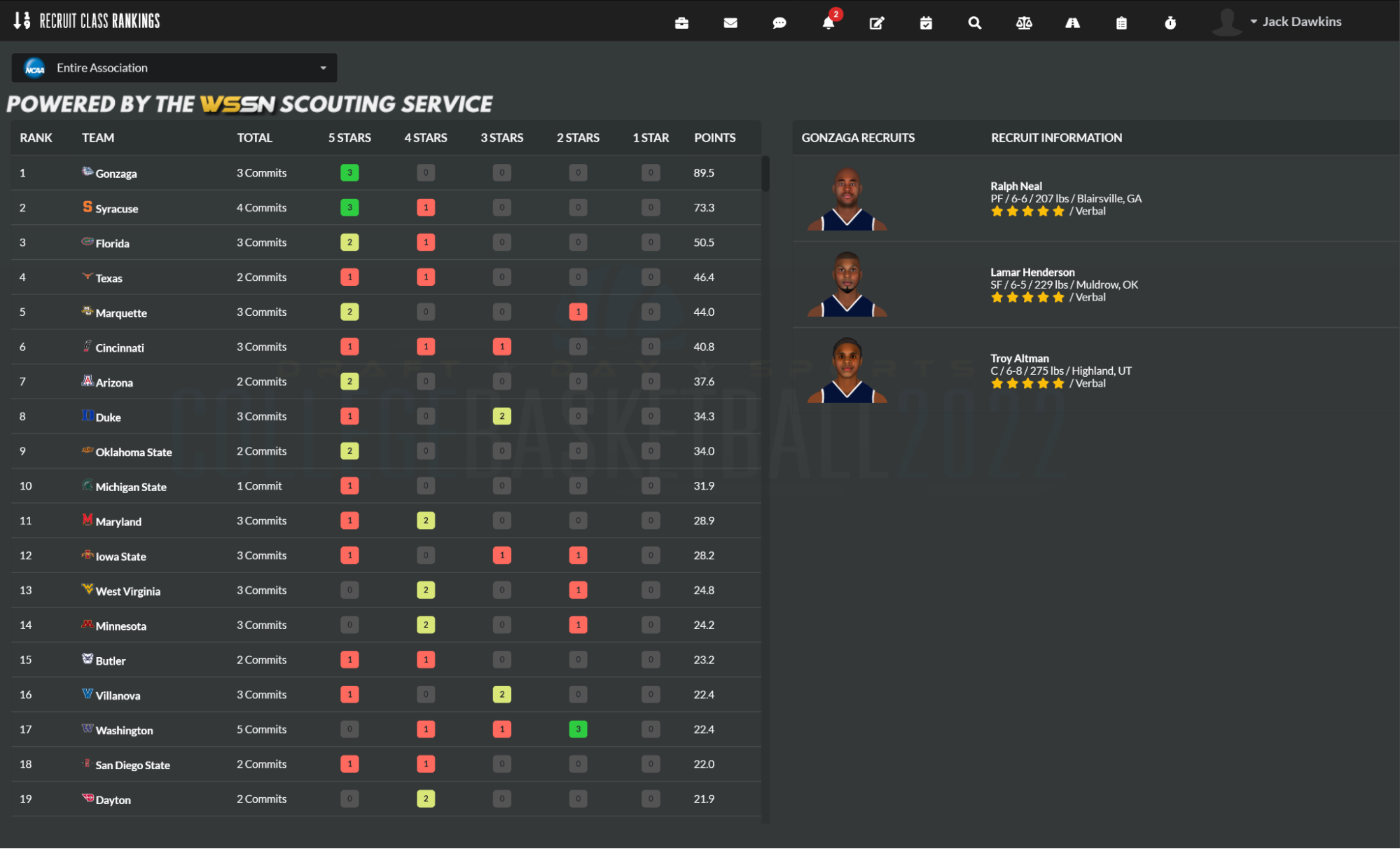 …or within your conference.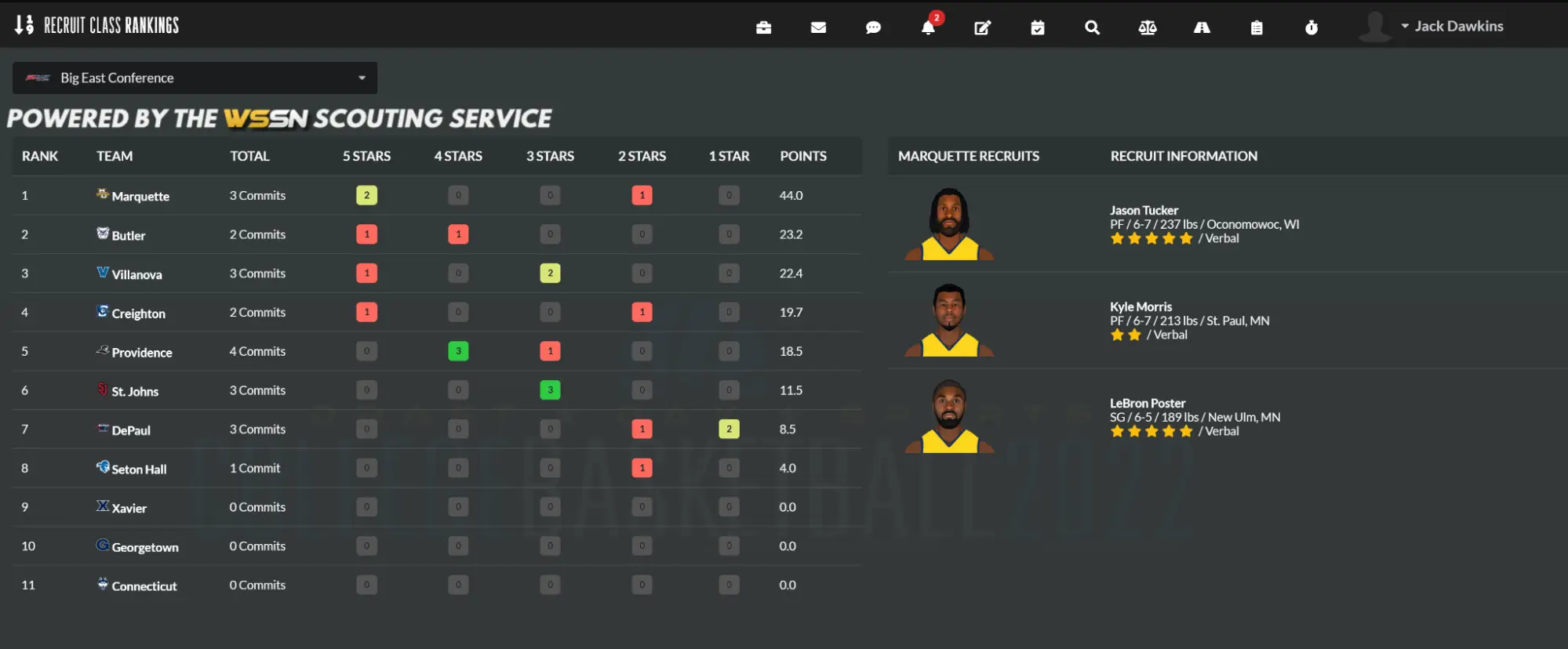 Five things on this:
Make sure you click to the right of the team name to see the recruits for that program.

Players are clickable to their profile! This is excellent.

The recruit's ranking should be next to their stars; I know their ranking is a fluid situation, but this is one way to make this screen more complete.

Gonzaga's coming off a 38-0 season, and signed the #2, #5, and #8 players in the nation.
MARQUETTE SIGNED LEBRON POSTER. Holy crap. I tried contacting him; he told me to lose his number. I don't care. This is my new favorite player in this universe, outside of the kid I'm going to talk about in a bit.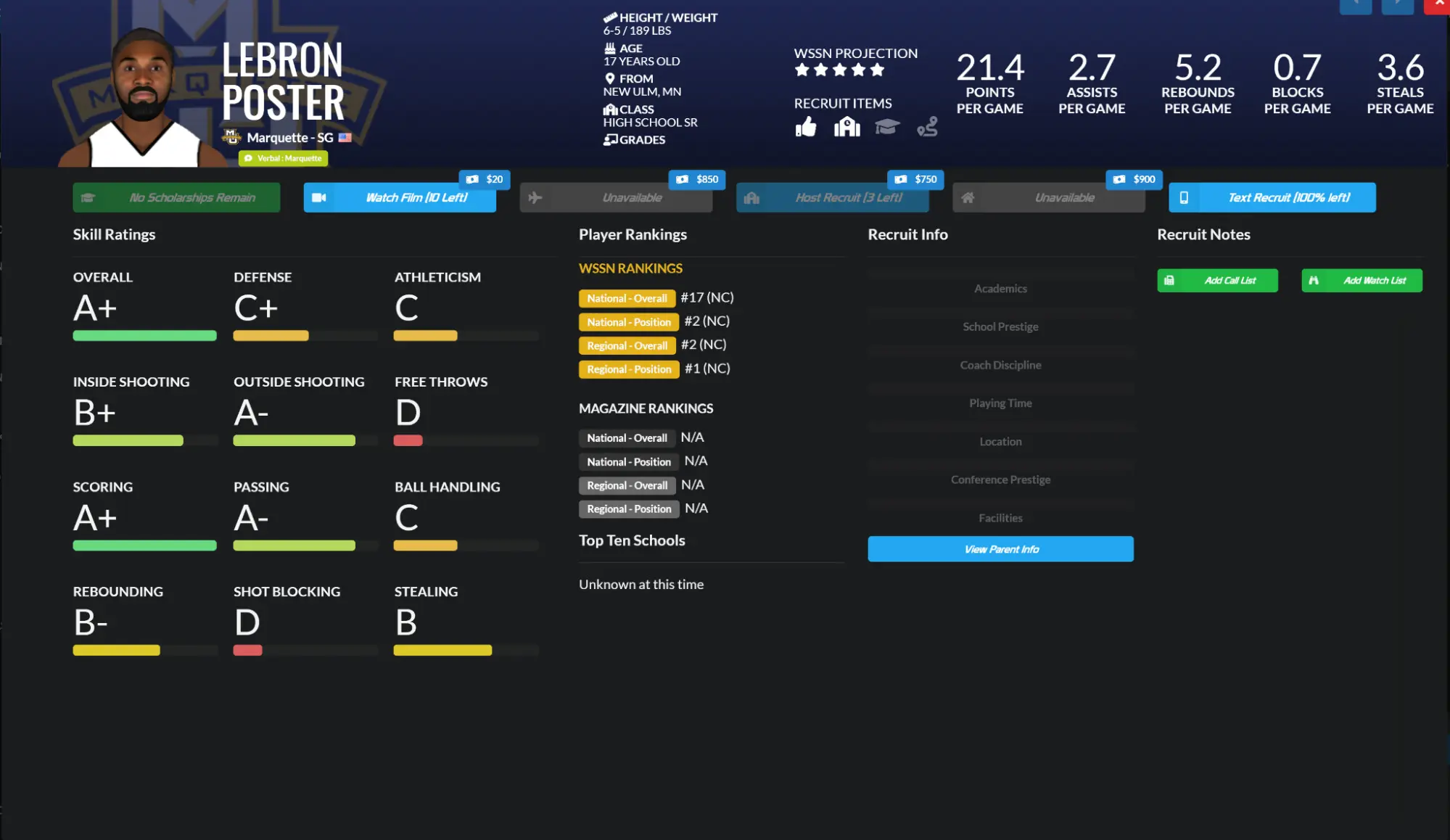 There is also a recruiting summary found in your team menu, which I like.
The only quibble I can make is the same one I made in my Draft Day Sports: Pro Basketball '22 review, which makes it a bit unfair here. So I'll be brief. I think the space can be better utilized on some screens, so that you can get more information on one screen. (And, in total fairness to Gorski, he and I have discussed ways to improve this on some screens, something I have dropped the ball on; I plead guilty but ask for mercy, due to being a middle school teacher and coach and, therefore, being a bit delirious nine months out of the year.)

Grade: 10. The interface is sharp and consistent. The screens are dynamic and vibrant. While there are a few areas of the game that could stand to display more information, or streamline the presentation, it's nothing that detracts from the experience whatsoever. Wolverine nailed this layout.
Customization
Customization has always been an interesting aspect of this game; some things are hardcoded (such as the number of teams); however, there are more options for customizing your world this year.
The major customization additions include recruiting difficulty (there's a brutal option, which I may do when I want to hate myself and all the choices I've made in my life), job pressure (you can start with low, normal, or high…again, if you're a gaming masochist, have at it), as well as illegal recruiting activities.
At some point, I'll probably run a dynasty where I'm nothing but shady and illegal. I find it interesting that I don't seem to have the courage to do it now.
One holdover, and something I wish would make its way to the pro game, is promotion/relegation. It's something I'd greatly enjoy at the pro level. I did it in the college game when it was first presented, and may return to it in this version. It's a fun changeup.
One thing I would like to see in a future version is more dynamic scheduling, especially when it comes to rivalries. I would love to be able to schedule rivalry games that develop as your game plays out…perhaps even hardcode them into the schedule. I know the game doesn't ship with the actual NCAA teams (there is an amazing mod that takes care of this, and then some)…but Philly without the Big 5 scheduled breaks my brain.
I did notice, in running Providence, that URI is on my schedule yearly. That's great; I'd just like the opportunity, and perhaps this comes with the AD (or perhaps in having the ability to contact another school), to set up rivalries as the game plays out. You could build a rivalry with another school over a couple of years, but there's never a guarantee that they'll be available for you the next season.
Grade: 10. There are a bunch of ways you can play this game, whether it be formats or adjustments you make in the difficulty or options. Sure, there are some things I'd love to see (an easier way to customize things like conferences or individual schools, for example…or a way to port out into a spreadsheet, then port back in)…but for a game with such a large landscape, the options available to the user are quite solid. The additions this year only enhance it.
Gameplay/Sim Engine
The biggest additions to this year's game are as follows:
1) Transfer Portal: As stated before, the transfer portal has become much more of a dynamic variable to the real life game. The same exists here, as players no longer need to sit out a year if they transfer.
This is a double-edged sword. On one hand, you could lose players for a variety of reasons, even if you do everything right. Playing time/roles and issues with the coaching staff appear to be the two biggest factors. Gorski highlights some of the playing time in a post on the Wolverine Studios forums, where he says this:


This was the case when I lost four players (my starting and backup PGs, and two deep reserves)  to the portal…all apparently due to issues with me.
Welp. On the plus side, I could improve my program, right?
Maybe. There are a multitude of factors that play into a player transferring in, I'm sure…stuff like playing time, recent success, roster makeup, etc. There's also a disconnect at the beginning of the transfer session that I'll discuss below.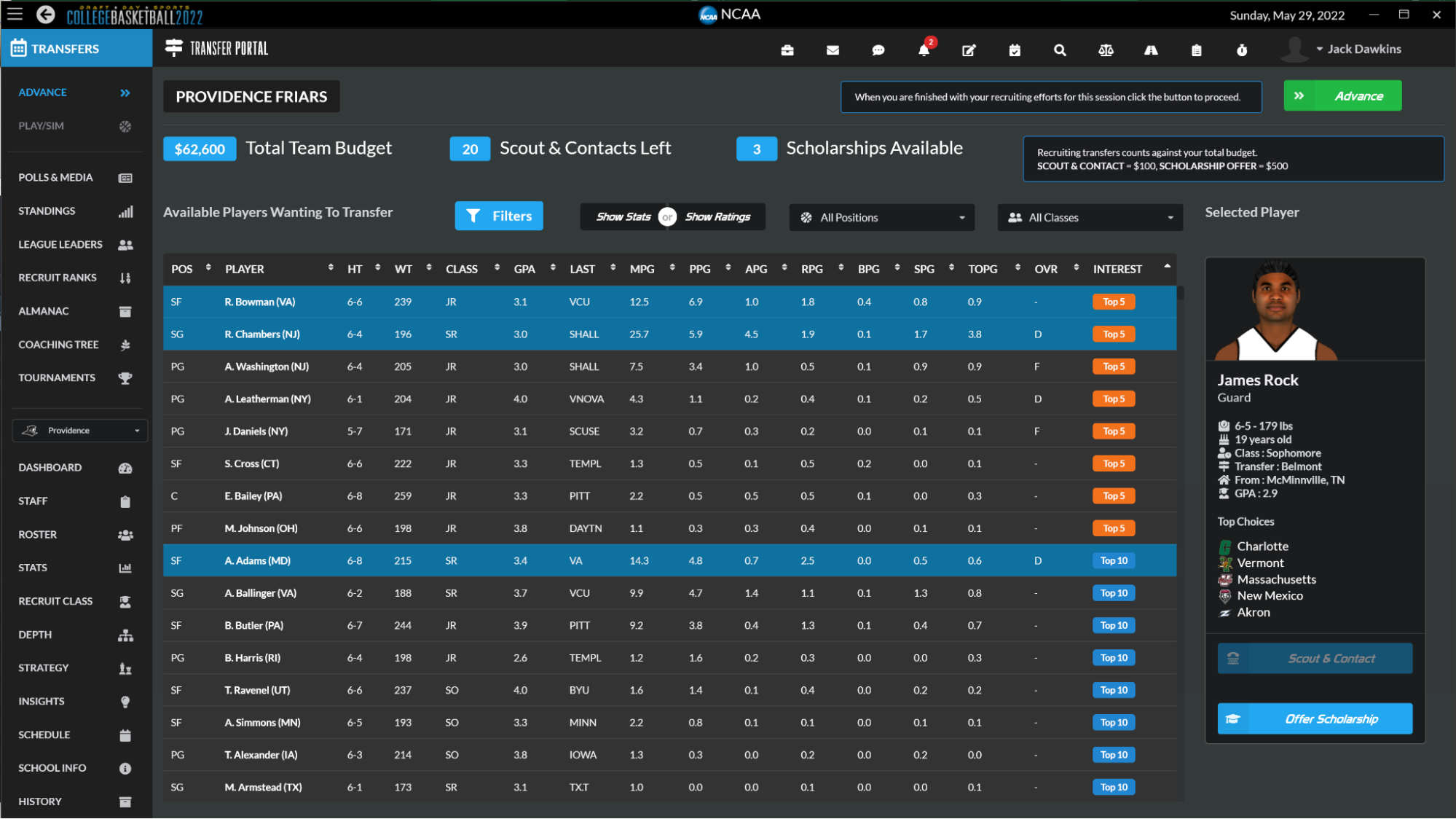 The portal moves quickly, of course. Players are transferring right out of the jump, which means you better have your gameplan and act quickly…otherwise, you can and will miss out on players who could be solid contributors to your program. My initial strategy to this was to go after players who had experience at positions of need (for me, this was in the backcourt). I also scouted a bunch of guys who had size I was looking for, in hopes that their scouting reports would come back positive enough for me to pursue…if they weren't snatched up, of course.

(That happened to me a few times.)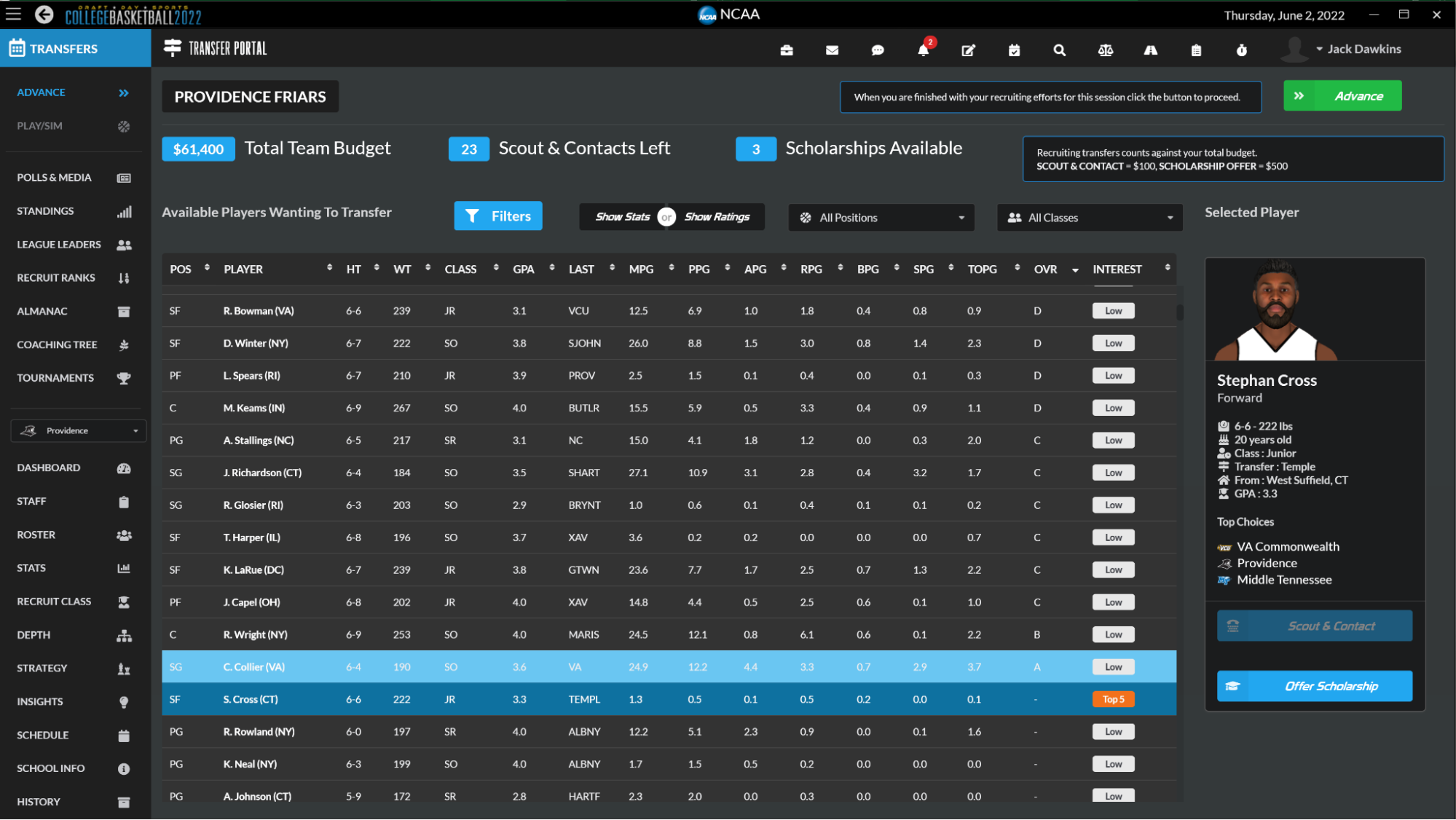 Overall, I like it. It feels like controlled chaos to me, which is probably how it should feel. I think,  for most players, this is a solid addition. The mechanics to it are solid, I think (apart from the one disconnect I talk about at length below), and Gorski is, in my view, the best developer around when it comes to workshopping parts of his game with the community. Even if he isn't on board with an idea (and he's not been on board with more than a few of my ideas over the years), he's more than happy to discuss it with you, and come to a true conclusion.
The one part I wish existed for this, and this is because I'm a niche player of this game, is the ability to set parameters for the volume of transfers. Historically, I go super old-school with my play…I turn off early declarations and go for legacy players. (I also know I'm in the severe minority for this.) I like having super teams and rivalries that are built on continued battles by teams who could see the same core for multiple years. 
So, for me, the ability to toggle how much this happens would be beneficial. (Of course, I also see it as a way to add a new wrinkle in my own setup, as players who get blocked by stars at their position could have an opportunity to have a career, as well as to spite the program that didn't give them a chance. So, I could easily warm to this concept.)
(You can toggle it off entirely, which I do appreciate, though I'm inclined to keep it on.)
2) Coaching Advice: I'll be honest…historically, when it comes to coaching in DDSCB, I've generally subscribed to the "set it and ignore it" rule. It seemed like something that was there simply because it had to.
In DDSCB22, you can get more from your coaches, based on the role they have. This is good, practical design, aided by the understanding that the quality of information you receive is based on how good your assistants are.
My guess is, based on the assistants I have below, I'm…yeah, this isn't looking good for me. (Good thing I'm a damn savant.)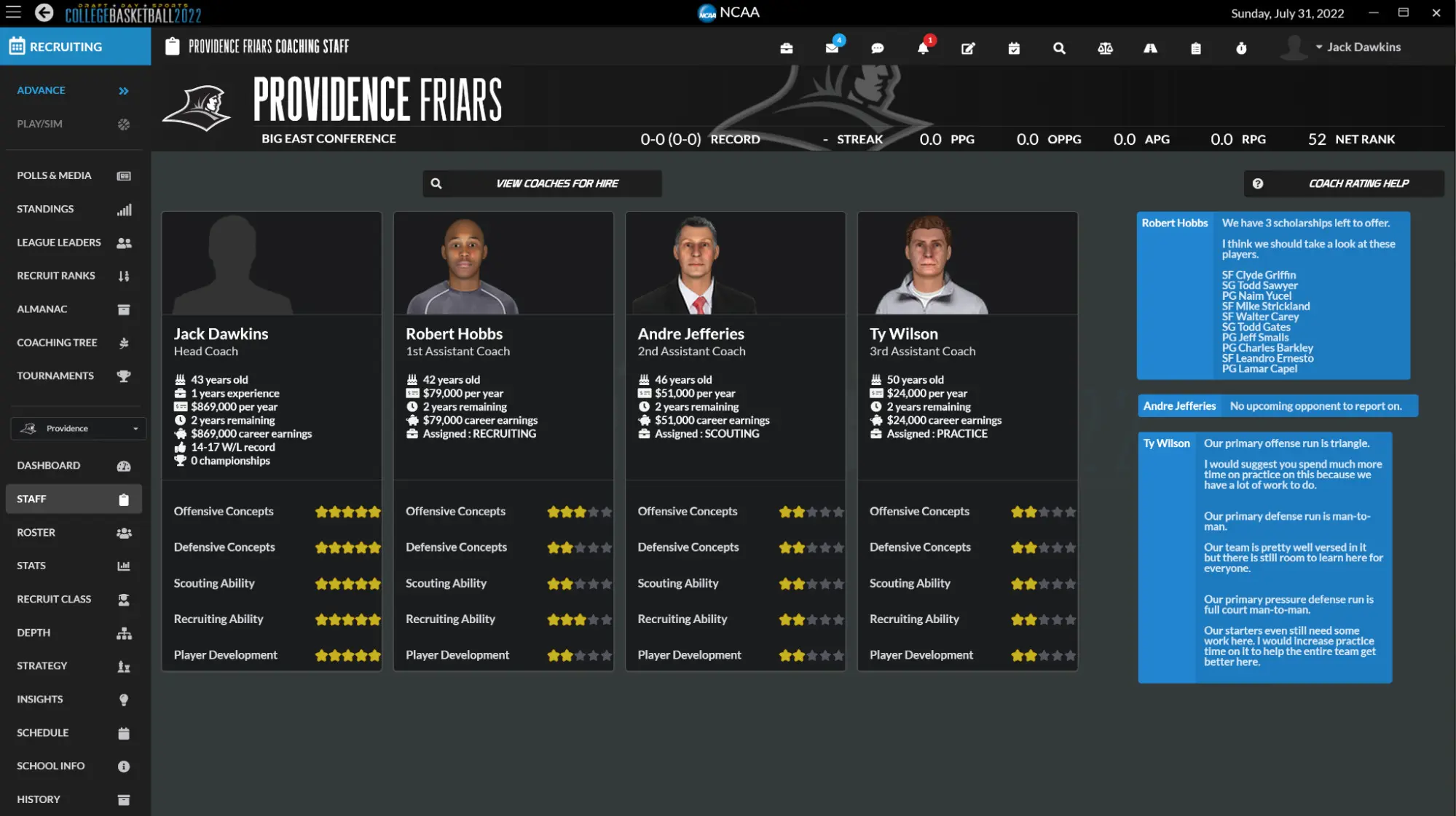 Other adjustments to this year's gameplay, according to Wolverine, are below. I'm greatly intrigued by the defensive intensity and steals logic, and to see how this can negatively impact you if you either aren't good at coaching defense, or don't have a roster that can deal with the variables of tight refereeing.

I realized I haven't even gotten to the in-game screens yet. That's how impressed I am with this year's version. The in-game screen is as it has been: well-designed, putting the emphasis on the on-court action. Here's a clip: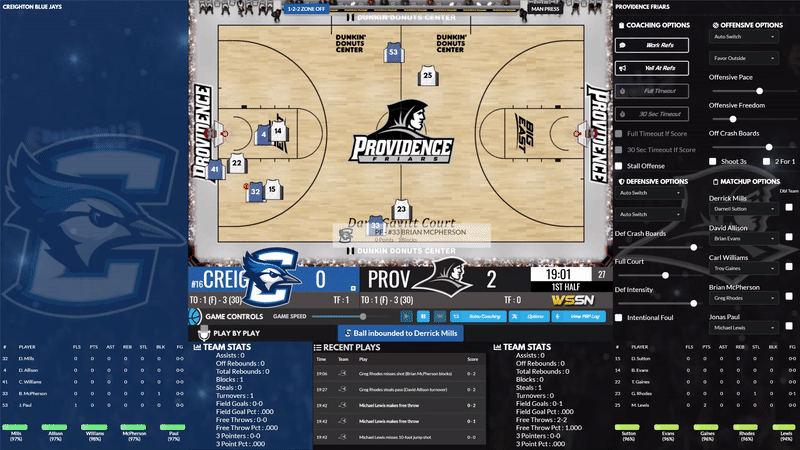 Of course, there are some aspects to gameplay that can be improved upon and added. One thing I think needs to be added is that you should be aware when other schools have offered a recruit you're after. This shouldn't require you signing up for better service; we all live with the internet and a 24/7 news cycle, with multiple sites (Rivals, 247, MaxPreps, etc) that are devoted to this. I lost out on a recruit I was interested in, because he gave Texas Tech a verbal before I ever offered him; this was in early September, mind you.
Getting blindsided by that doesn't make any sense to me.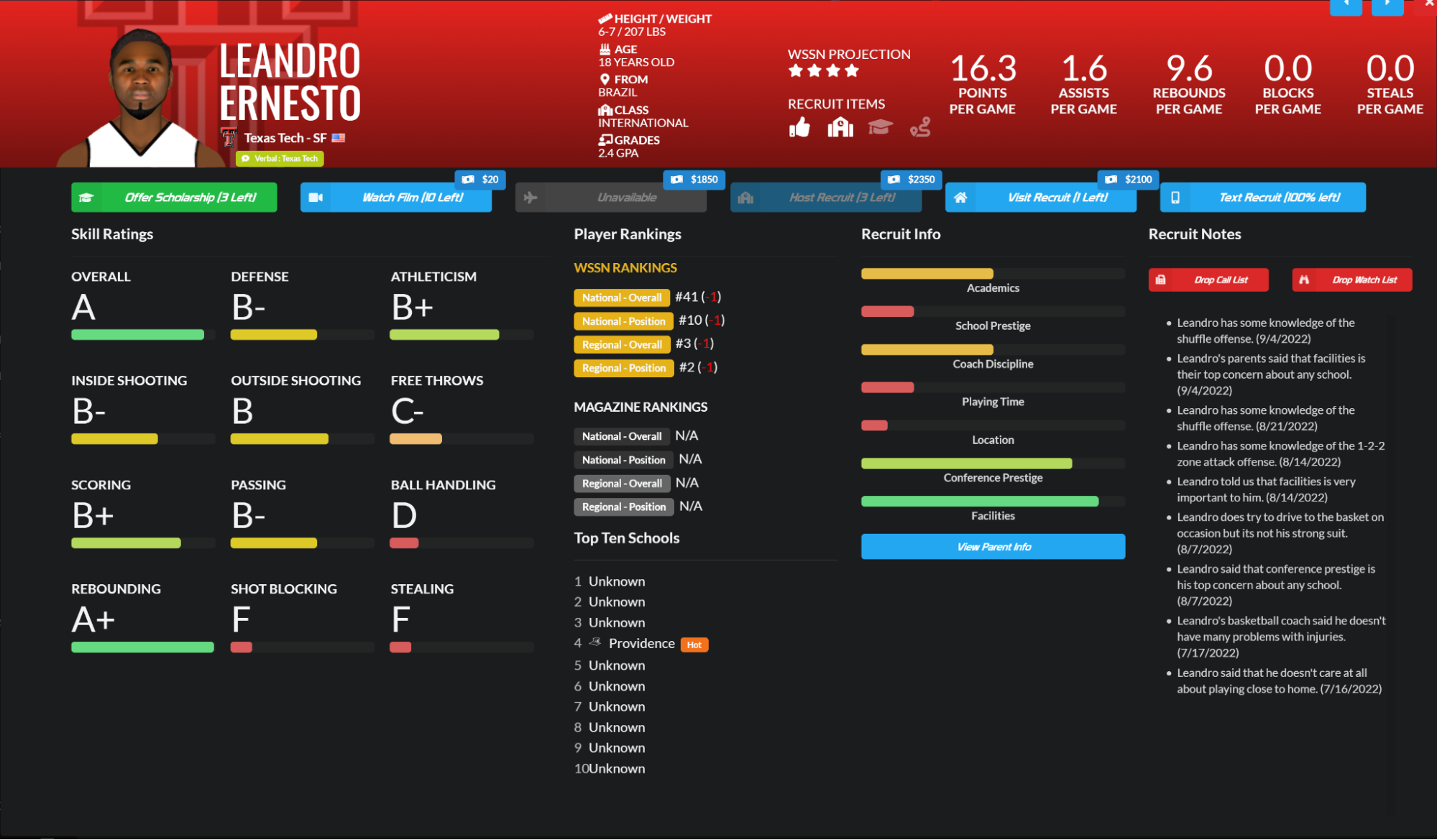 One other thing that should be in: you should have a basic scouting report on everyone. I want to be able to go look at teams I don't play and see the standouts on their teams; not being able to kind of damages the immersion to me. 
(This is also the issue I alluded to in the transfer portal section. There is a Transfer Preview magazine issue in the media section; I forgot about that, though I also wonder how much it would have helped me in my own situation.)
I don't know the reasoning behind this (I can and will be asking Gorski about this, but I'm also on a deadline); my speculation is that it's due to your staff resources.
If so, that's understandable…to a point. But there's too much that doesn't make sense. Take Seton Hall, for example. They're in the Big East with Providence. I have the scouting reports that my staff accumulated on last year's team. That's all well and good.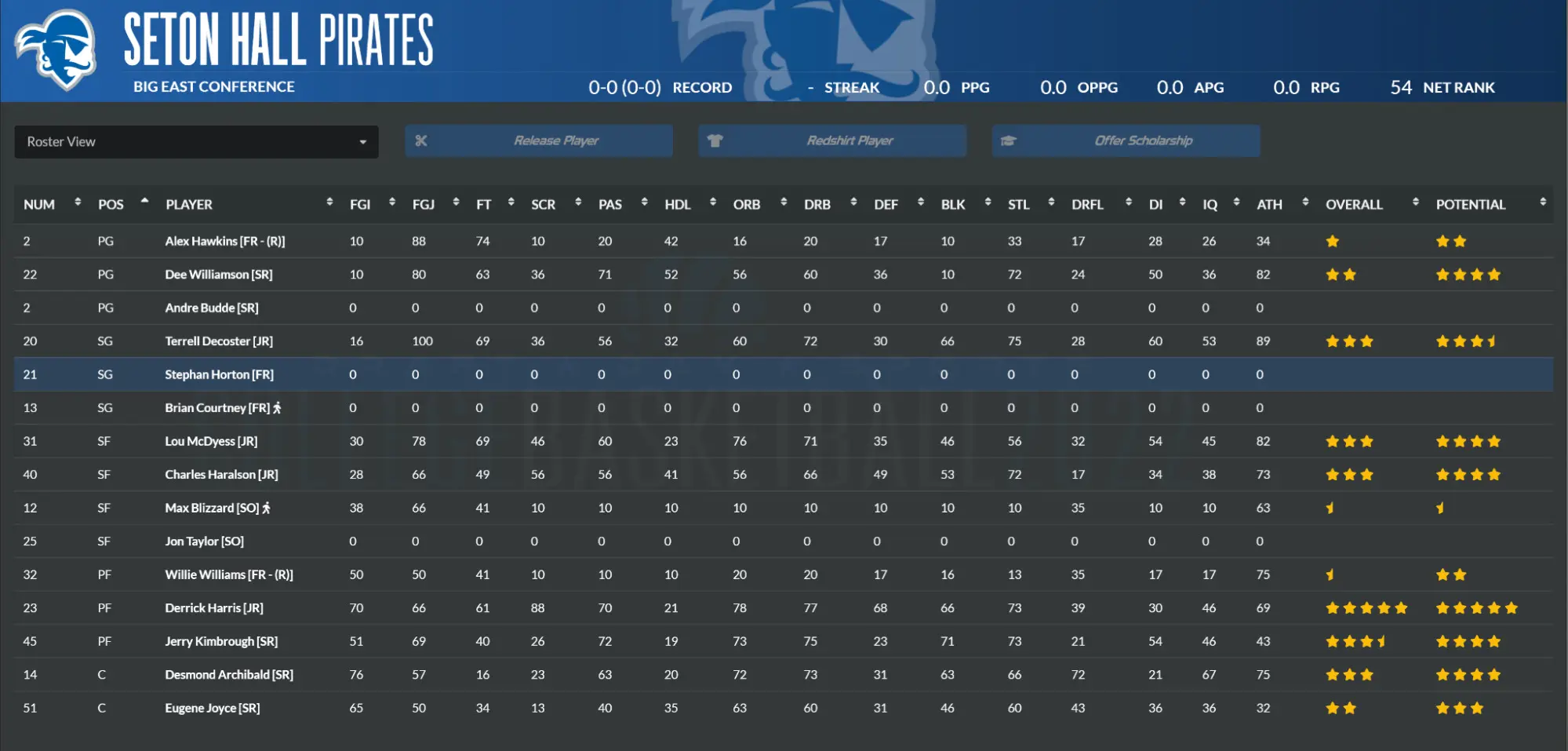 However, I don't have their freshmen's scouting reports. This fails to make sense; we're in the same region, recruiting the same players. For instance, they have Stephan Horton, a 6'1 guard from Winsted, CT. He was rated 508th overall in last year's class. 
The very first thing I did when I entered recruiting was to go into every New England state and scout all recruits 3* and up, and some 2*. In addition, Horton would have ended up at some camps in the northeast, no? My staff were at those camps. So why don't we have at least a basic report on him?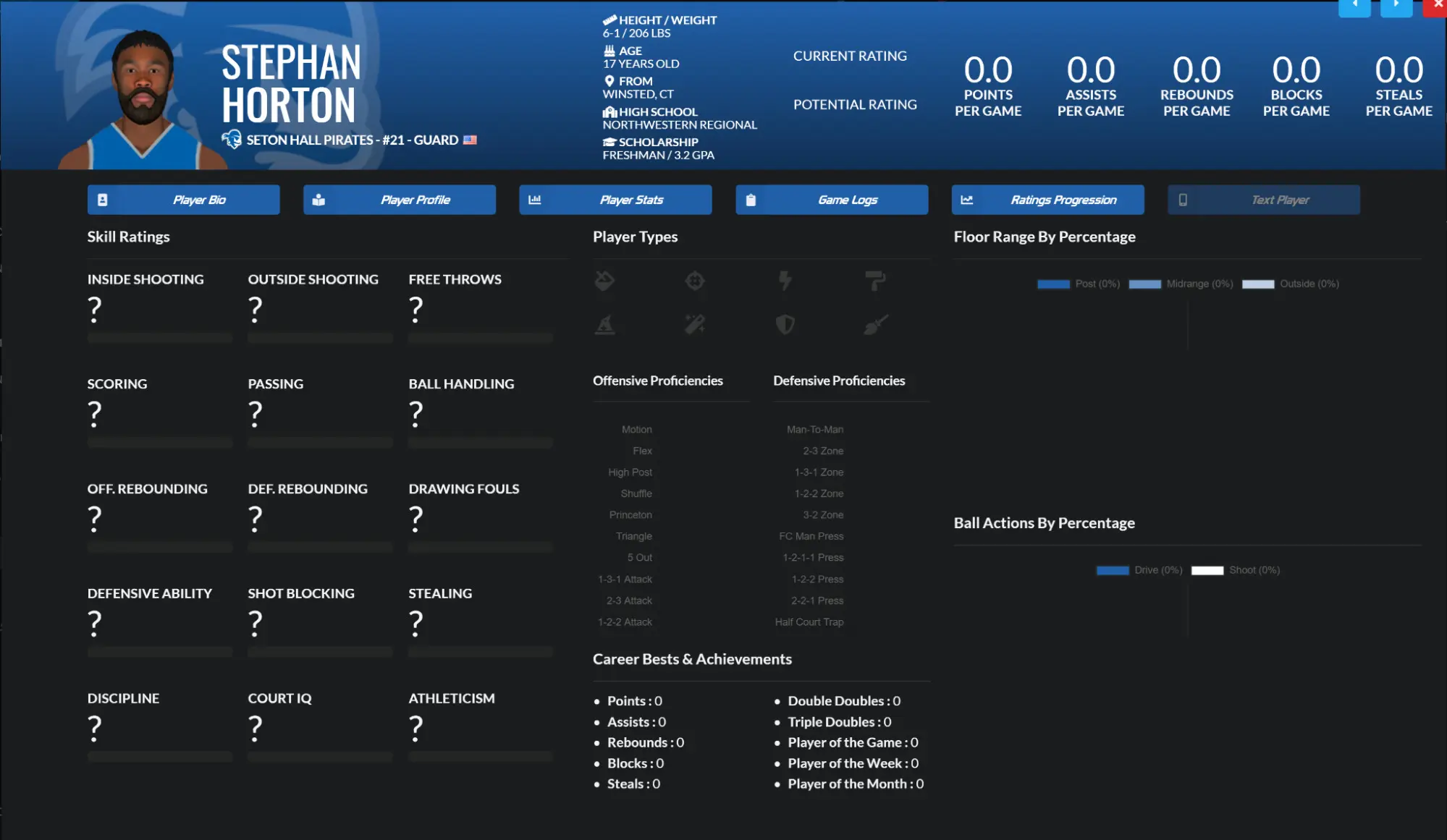 To me, this system of hidden information, even at its basic level, is misplaced in an age of information. It doesn't have to be ACCURATE information; I'm totally okay with my staff having inaccurate or dated reports, because we haven't seen a player in a while (or because my staff is inept). In fact, that helps with the immersion (and I think would create a great importance to scouting roles on a staff). But to have nothing…that wouldn't play well in even a game from 1992.
Why does it play now? I'm sure there's a logical reason; I'm just struggling to find it.
Lastly, and this came to me as I was writing up my section on the kid I'll talk about in the Fun section…maybe there should be three different recruiting rankings; this could reflect the different systems we have now, and, once again, add to the immersion, and the difficulty, that comes with recruiting.)
Also, since the thought hit me (can you tell my writing structure, and my general structure in life, is not to be the most planned out?)…my dream would be to see the ability to design plays and inbound sets. Granted, I'm also a coach, and I do admit to having spent copious amounts of time in the past designing inbounds sets and sequences…but man, this would be the dream (outside of head-to-head coaching, which…I still have bitter feelings about OOTP6 and H2H, so I'll steer clear).
Grade: 10. I think my questions on the incomplete information are valid, and it's a conversation I'll look to have in the future.. But it doesn't take away from the gameplay, which is stellar, and has been for a long time.. I am looking forward to studying the defensive adjustments Gorski has made to the engine, and see where that goes.
Online Modes
One area where this franchise has lacked over the years is with online leagues. Having a strong, consistent basketball community is difficult; having been a part of a few, I know. This was something Gorski didn't put a lot of energy into in the early years, choosing to focus on the gameplay and aim things towards the solo enthusiast.
That worked out, but it has caused the online component to stagnate.
In recent versions, there has been work done to attempt to reach out to online players. To help on the DDSCB end, there are now prompts and pop-ups that help commissioners know when to adjust things in the college game, so that it stays aligned with the pro game.
When it comes to leagues, I know they're out there. Hell, the overload of the very site you are reading this one runs one. You can check it out here. It looks very in-depth, honestly; I'm very likely to join it.
(This league, like pretty much all of them out there, utilize DDSCB21; expect leagues to transition to DDSCB22 within the next couple of months. Also, you can check for new leagues by going to the Wolverine Studios message board; however, currently, the only one advertised on the regular is the one linked above.)
Grade: 9. Adding in the prompts and checkpoints is a major addition for this area of the game. That's good enough to nab the highest grade I've ever given out in this section of either the college or pro basketball games.
Replay & Fun Factor
Okay, back to my original premise to this piece.
I think I found one.
That is…I think I found a diamond in the rough.
Early on in the second season of recruiting, I was looking at my email on the national camps..and I was handed this little interesting nugget.

A Rhode Island kid (from Cranston, one town over! Look, in Rhode Island, not all the towns are one town over (which I know is a very New England thing to say; I've lived here 15 years now…I'm a New Englander). Some towns are two towns over). However, I didn't recall a Rhody kid being a top recruit this year. There was just one 4* recruit (PG Larry Worthing).
So…who is this kid?
At the time, he was a 3* recruit, 395th in the class. But when scouted…well, he looked pretty decent. He's undersized, but there's a lot he does well…including my biggest thing: two-way ability. 
So, I kept tabs on him. Then, I got the Big Apple Showcase report.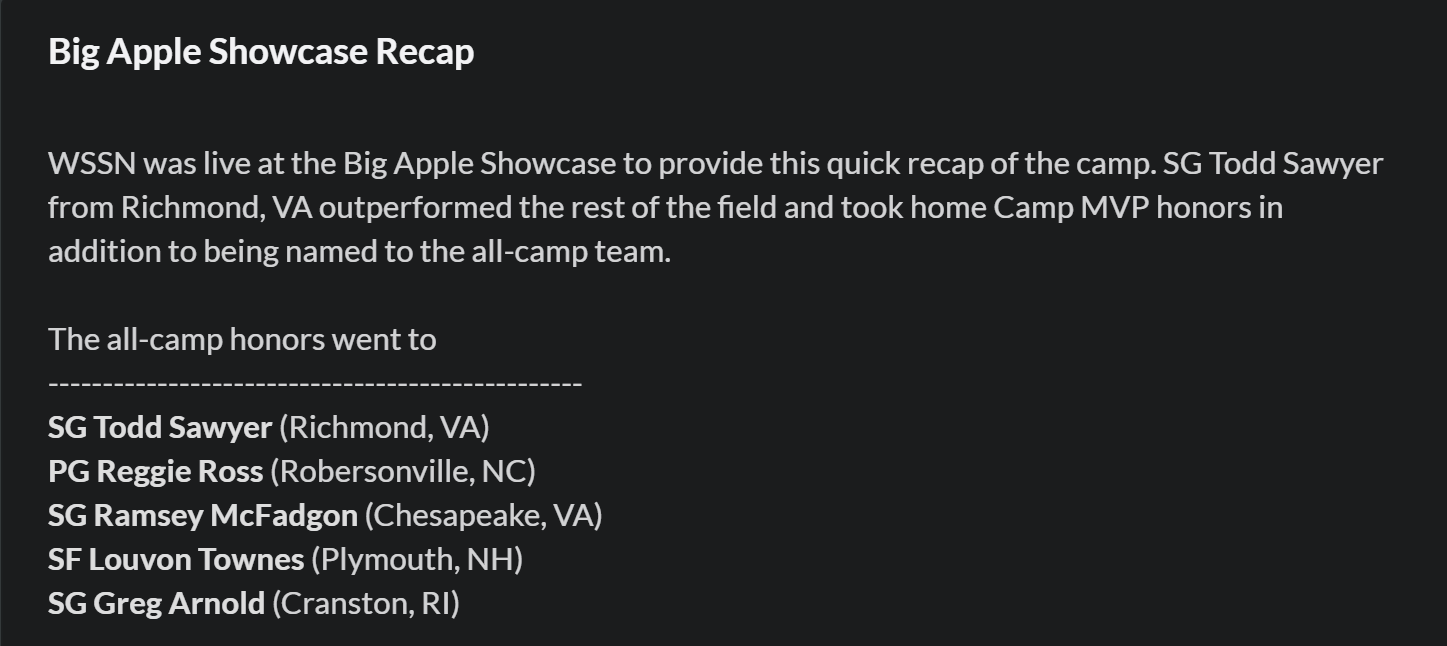 Let me get this straight: An undersized guard from Cranston was the MVP at the Georgia Superstar Camp…then turns around and is named to the All-Big Apple team?
It gets more interesting; you'd think his star would rise due to this. It went totally the other way: as of September 25th (where the game is as I write this), he's ranked 527th. He lost a star, according to WSSN.
Here he is, early on in recruiting:

And here he is in September: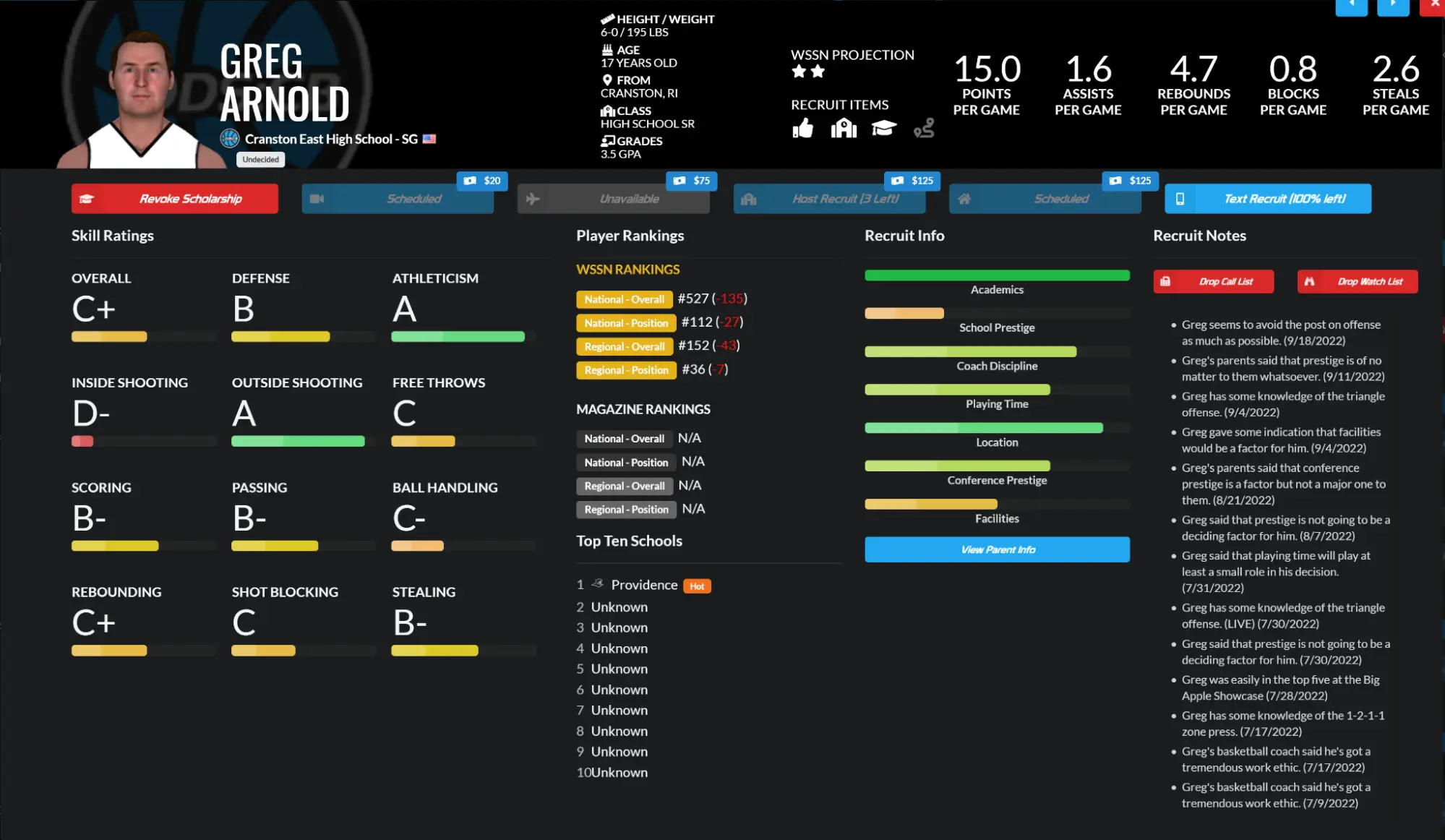 Now, you can say, this isn't realistic. This kid should have shot up. You can be right about that; there are likely some weird dice rolls that took place that caused this kid to fall. This is also where you have to suspend reality, or remember that this game, like all games in this genre, is really predicated on dice rolls and probability.
(You could also say that is the result of additional scouting and film watched; maybe, though why would his national ranking fall? I would think the narrative would be that this kid is unheralded and skyrocketing up the rankings.)
(Postscript: After he signed with me, he went back up to a 3*, and is now ranked 304th in the class. Interesting, especially given that a couple of his grades actually got mildly worse.)
(PostPostscript: By Christmas, he got up to 217th. Of course, the big man I recruited has fallen in the rankings. I've been having slight buyer's remorse because I'm looking at the shiny center who sits 61st nationally, has me at the top of their rankings, and…yeah, I should stop. This is already 20+ pages.)
Of course, I do have a few suggestions, all related to improving immersion. The biggest method, I think, towards that end is to  improve the recruiting history section. Okay, add a recruiting history section. There isn't one. Recruiting is a HUGE part of the game; I'd say it's 40-50% of the game…higher if you don't get too in-depth on in-game coaching. This should be reflected in the almanac by the following:
Yearly national recruiting rankings by team

Yearly national recruiting rankings by player

Team summaries for recruiting by star rating

Conference summaries for recruiting by star rating

Players who have gone pro for each program (might as well throw that in this section)
This is, in my opinion, the single biggest thing missing from the current game. I'm writing this without verifying it (sacrilege, I know), but I recall this being in Fast Break College Basketball, which hasn't had a release in, what, a decade?
(I also believe the almanac should keep every team's roster and stats by season. I know this may be a conscious choice to keep the files and load times from going too long…but technology has likely outkicked the coverage on this one. I think the majority of players would rather have too much immersion than too little. In capturing a league's history, there is currently too little immersion ability to me.
Grade: 10. All of this, of course, highlights the simple fact that this game is *fun*. The ways it can be played are seemingly endless. Want a challenge? Go to a small school and build a legacy, or go to a big school and raise the difficulty level. Want to set up an old school environment? You're set there. Want something totally different and go with pro/rel? You're set there, too.
With the Universe mode, you can even set up multiple coaches in one universe, so that you could run both a small school and a large program…or set up shop in a mid-major conference with some friends. 
Closing: If you're a basketball fan, you should already have this. If you're new to it, though…be careful. I missed this year's Selection Show because I was too busy studying Greg Arnold and deciding if the small forwards I recruited could play other positions.
Draft Day Sports: College Basketball '22 should be a part of your library. It should also be pinned to your taskbar, so you can access it more easily.
(Final Postscript: I got fired from Providence after two seasons. I mean, it was earned…but still. Bah.)
Official Download for Draft Day Sports: College Basketball 2022
Leave a comment for John or GM Games on reddit…