I have a problem.
(Okay, I have a lot of problems. This is just about the one I'm telling you about.)
I have a problem with my Boston Irish roster. We have the league's defending MVP in C David Banta (35.8/12/1/6.3). We have another player, guard Andre Askew, who made All-League 2nd Team. As we head into the offseason, both are under contract for at least another year.
That's the good news. Sort of. More on that in a second.
The bad news is all the rest. We have a 38-year-old guard, Austin Yearwood, who performed well last year (15.8/5.0/7.6). But the 16-year vet makes over $28m, and I have an owner who refuses to pay into the luxury tax. This hurts when three players take up $94m worth of cap (we have $120m committed, it appears).
That leads to the other problem, which isn't really a problem…but it is.
(I know, I know: I didn't mention this second problem at the beginning of this piece. Hopefully, your trust in me as a reviewer is not shaken. Honestly, this problem didn't really come about until I looked more at Banta's scouting report…that's when I realized I had another problem.)
I don't like David Banta.
Specifically, I don't like how poor he is defensively. We were fifth in offensive rating, per the insights screen (more on this to come), but 27th in DRtg. We were 4th in PPG, but 30th in oPPG. We were 22nd in blocks per game, and last in rebounds per game.
It's hard to fault someone whose fourth in the league in rebounding, but my point remains.
It is through these problems, and finding their solutions, that I humbly submit to you this review of Draft Day Sports: Pro Basketball 2022, the latest installment by Wolverine Studios and developer Gary Gorski.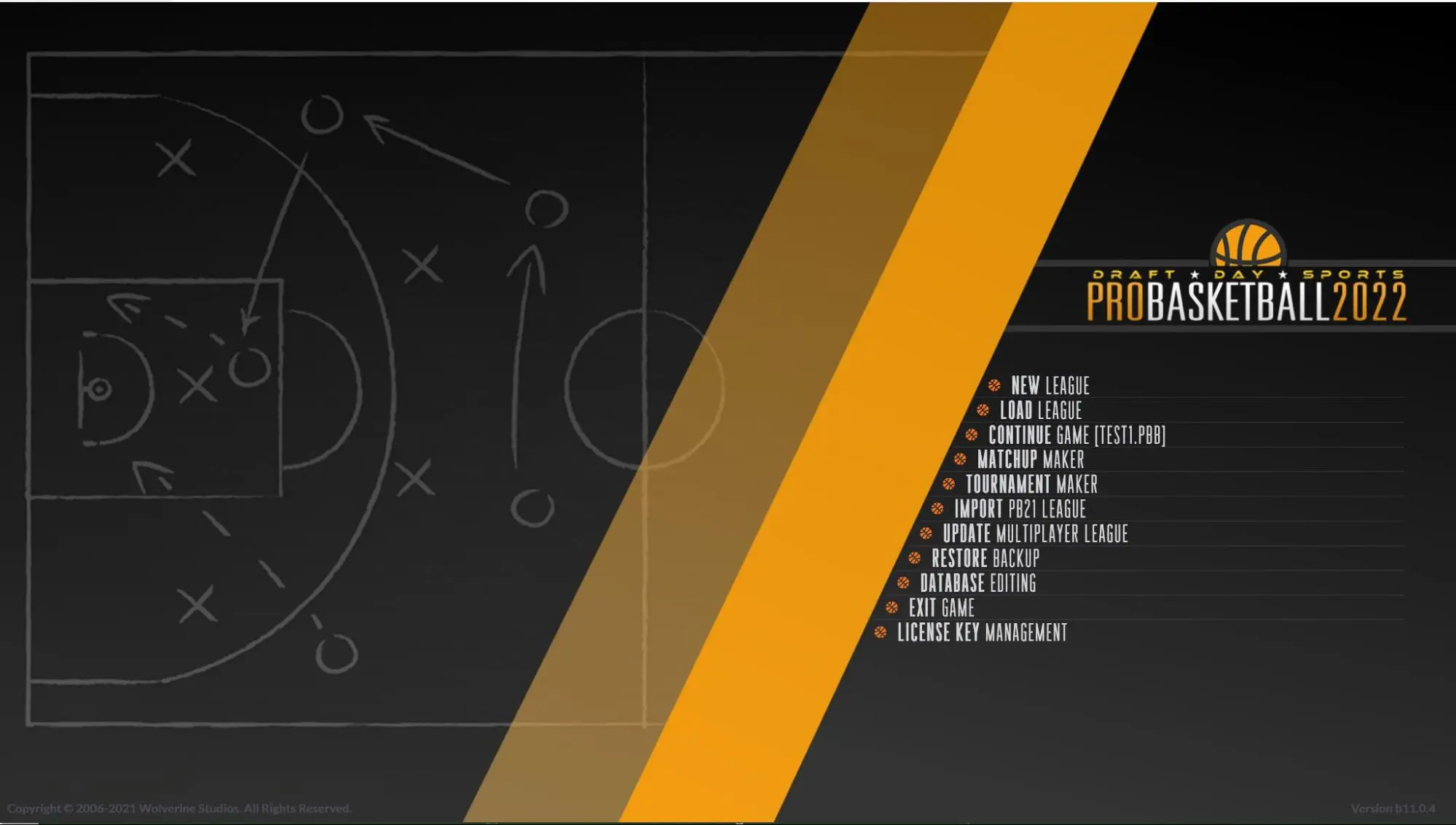 Before we continue, I do need to do what I normally do when I write these reviews, which I last did in 2018. I should disclose the fact that Gary Gorski and I have been friends for nearly twenty years at this point, and that we both worked for .400 Software Studios together. (Okay, I was the intern; but I was still in an official position, and did actual work for the company.) Despite this relationship, I promise you–as I've promised him back when I started doing these many years ago–that I will remain unbiased and honest in my assessment of this latest installment. I'm on the side of everyone in this community, I believe: I want to see games continue to improve. It does no sides of this content triangle–you as the player, Gorski as the developer, nor me as the reviewer–any justice if I provide anything less.
With that out of the way, let's move forward with my problems.
Graphics/Interface
The Draft Day Sports franchise received a much-needed UI reboot in 2020. That UI remains here. It's not a clickfest in the way previous games with Wolverine were; you can easily get to any screen you want from any other screen. The information you need to play is laid out in easily digestible pieces. As I said when I wrote about Draft Day Sports: College Basketball 2020, it's clean, easy to navigate, and full of information.
Also as I wrote in 2020, there are still improvements to be made. This is specific to the Insights section (which, as I noted in the link above, I did have a hand in developing). More specifically, this is specific to the way information can be parsed with this screen. The lineups screen, one of the most valuable in a game reliant on on-court relationships, is too cluttered…not with information, but in presentation. The lineups should be settled into five static columns; this would make it easier to see specific positions, and not overwhelm the player visually. When I look at that page, it feels like all the information in my brain.
The best comparison I can give to THAT monstrosity is akin to a middle schooler's closet (specifically, my closet as a middle schooler). It overwhelms with its tenuous setup. Cleaning this screen up to create positional columns, in my opinion, would be a subtle gamechanger, and make this particular screen go from good to totally indispensable.
Outside of that, this has all of the highlights of every other version of this game: A fantastically immersive draft show experience, complete with analysis, predictions…in this genre, you'll be hard-pressed to find any single aspect of any game that is better than this. Gorski has long understood the need and appeal for immersion and that text-based simulations still need to have visual appeal to them, in order to help the player separate themselves from the reality that they are still playing a numbers-crunching application. 
The way Gorski and Wolverine have built their brand on this ideal, even on subtle changes, such as adding logos to uniforms during games, are reasoned, practical, and executed well. I hope for some fine-tuning in how the more immersive information gets presented, but as Gorski has done for nearly a dozen versions of this game, the graphics are a major asset to the final product.
Customization
Look, with virtually every text-based simulation, customization is commonplace. Not everyone plays the game the same way. Heck, not everyone plays the game the same way through the yearly cycle of said game.
As .400SS is a relic forgotten to all but just the oldest of heads, a little history should be discussed. The company was based around the following people: Markus Heinsohn, the man behind Out of the Park, which is customizable to a fault (and there are diehards who hold OOTP's customization against it, and him); Arlie Rahn, who created the brilliant Bowl Bound College Football and Total Pro Football, and Gary Gorski, who was then very much a rookie on the scene (and creating Total Pro Basketball and Total College Basketball). Customization in games was a tenet of .400SS.
In all the lessons Gorski took along with the .400SS experience, customization may have been the most important one. It's actually fair to wonder if Gorski learned from OOTP's experience, and tempered down the customizations of his games as a result.
It's with that in mind that I think it's time for change.
In DDSPB, as with all recent iterations of the game, you can play in five modes:
Quick Start (all defaults; this is new this year)

Challenge Mode (with ownership demands involved, simulating the most realistic environment)

Sandbox (wide open world, no risk of being fired)

Multiplayer Mode (online league)

Universe Mode (God mode, or operating multiple teams in one league, and being able to more easily toggle between them)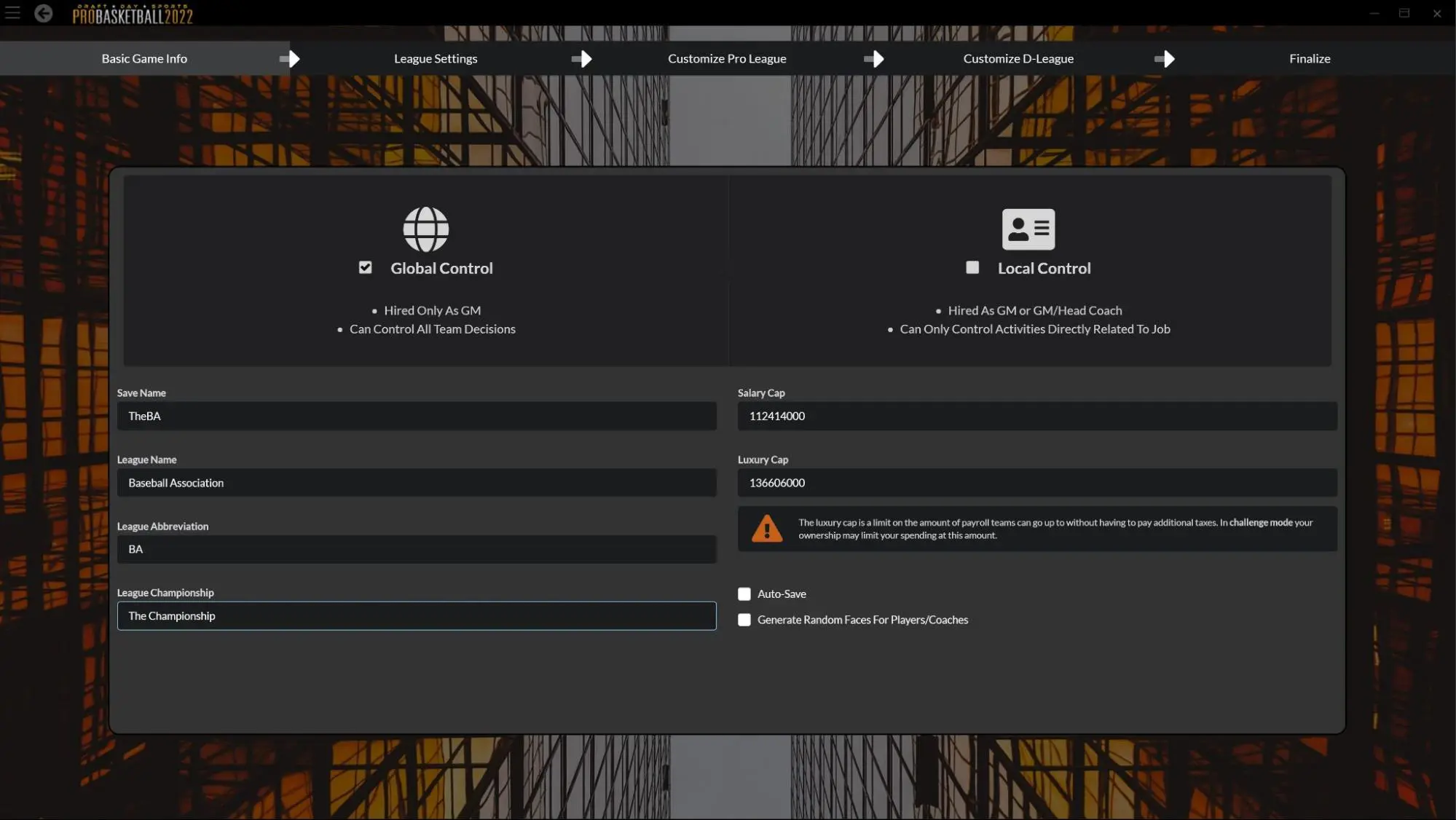 Within those modes, you can import historical seasons, going all the way back to 1976. You have a plethora of options:
Three different lottery options (current rules. Old rules, flat chance)

Randomization of intangibles (owner characteristics, player potentials and traits)

The opportunity to disable player interactions

High School Draft Entry

Foreign Draft Entry
Beyond that, you can customize the size of your league; however, you are limited to all NBA formats. On one hand, that's great, if you want to have something resembling something in American basketball.
On the other hand, Euro leagues used to be a thing in this game. Why did they go, exactly?
(My memory wasn't as hazy as I thought; they were in the game. However, it was removed, due to lack of interest in the community at the time.)
I think they need to return; I also think building on that is the next logical step in the game's development.  I have zero idea where Gorski plans to take the game next (he is always taking suggestions, and is quite responsive on the forums). But, if I'm Gorski, I think there has to be a move towards the global game.
Basketball is the second most-popular sport in the world, behind football (soccer). There is a whole untapped world (and market) for Wolverine to explore here. (I did a search for text sim euroleague games; the top result was an article about CSKA offering Courtney Sims a tryout). I won't pretend to know the finer details about coding, but I do believe that Gorski is running out of big-ticket items to add to this game. For any product that has a yearly release cycle, that's a problem.
For an unlicensed product, that's a nightmare.
The logical next avenue for Gorski, from where I sit, is to pursue is to follow the footsteps of Football Manager and Out of the Park, and go global. Could you imagine getting fired by your NBA team and the only opening available to you is in some league in Italy? Or doing some actual scouting (or coaching?!) at the World Cup? 
I totally understand the logistical issues that can come along with this, from the sheer amount of information needed to parse to the different rules in all the different countries. And Gorski may be reticent to go down that road.

But what if Gorski took it one continent at a time? Heck, what if he added just Europe and Australia?
Whoever does this right has the inside track to a game that would only have Football Manager as a rival, in terms of sales and fan base. As popular as OOTP is, baseball is a niche sport that has grown as far as it's going to.

(In full disclosure, I know of one developer who is building exactly this product, and is rather far along on this process. Just how long, or if/when the product would be available for public consumption, is unknown. But I know it's being developed. It's long overdue.)
To pull it back to the current product in review: Draft Day Sports: Pro Basketball 2022 continues to offer a wonderful, fully customizable and immersive version of American basketball. It stands alone on that front. But it can be more.
(Two other wishes: Non-NBA formats and scheduling, and promotion/relegation. It's been in DDSCB for years; it's time it shows up in the pro game.)
Gameplay/Sim Engine
There is something of an axiom to this genre:
In order to create a product, a developer needs to be able to replicate the sport.
In order to create a franchise, a developer needs to be able to replicate the game itself.
There are plenty of games that make players feel like they're running a NBA team. Those games offer signing players, making trades, drafts, etc. But how many can make you feel like you're coaching the game of basketball? How many games can make you feel like you're running an organization, and that any decision you make can make or break the outcome of your build?
Not many. And Wolverine Studios has upped the ante this year.
How? Well, let me sidebar for a moment. 
I've told people, and I firmly believe this, that pickup basketball is a symbol for how society should operate. It is the ideal for what society should look like.
This may seem ridiculous on its face. But consider the premise:

People show up at a court, forming groups with limited interaction prior to that formation. They have a singular goal in mind: Stay on the court. To do that, in most pickup environments, you need to win. So, these groups (at this point, I can probably call them teams) need to figure out a way to give them the best chance to achieve that goal. They have to figure out their strengths and weaknesses, teamwork, and make compromises, sacrifices, and understand that each member of their team has something to bring to it, accept whatever that is, and use it to the team's benefit.
If they don't, they'll lose. If someone strays from the singular goal (win, stay on the court), chances are, they'll lose. If someone can't deal with someone getting more shots, and starts skewing the offense away from it's most efficient, they'll lose. If someone decides to not play defense, chances are, they'll lose.
Even then, if the other team is better…there's a reasonable chance they'll lose.
Now, when these people continue to show up, and form more interaction, a community is formed. Still, within that community, people come and go. And that community needs to figure out how to adjust.
Pickup basketball–at least, the games and communities I've been a part of, and am a part of now–achieves this better than most communities I've seen. To see a healthy pickup community, like one I am a part of in Massachusetts, is art personified.
But it's always a balance, and it takes work and an understanding of personalities, and where there can be clashes, and how to minimize those clashes. Everyone who's played has had to deal with a clash totally derailing a run; in a run I played in a few years ago, I was the frequent peacemaker/de-escalator, especially with two guys who had combustible personalities. I used to tell one of the guys how pretty he was that day, and hug him and bring him away from whatever beef he was trying to start. It worked more often than not, but it took a long time of understanding him, and learning how to anticipate what could trigger those quick escalations, to get to that point.
(Basketball really is a beautiful game.)
This is what Draft Day Sports: Pro Basketball 2022 brings to the table this year. Gorski has implemented a new personality-driven system, integrating 23 different personality types, along with the intricacies of how those personality types mix (and don't) with each other, into the challenge of building a championship roster. You will now know, and have to consider, how players deal with other players on the roster, and whether or not certain players can coexist. 
Do you have two stars who can undoubtedly lead you to a title? You don't if they don't get along.
Do you have an inside track on the biggest free agent, the guy who you think is the missing piece to your parade puzzle? You don't if his arrival sets off three of your key rotation pieces.
I don't have enough experience with the game at this point to offer a definitive take on how this addition adds or detracts from the game. But I am extremely optimistic that this adds an intelligent, interesting, and challenging dimension to the game.
However, I tried to add a bit more depth to this end of the review, which brings us back to my problem(s) outlined in the introduction to this piece.
I still don't like David Banta, still reigning MVP. I still have a 38-year-old point guard in Austin Yearwood. And I don't like the current build of this Irish team, who did win 45 games and gain the fourth seed in the East a year ago.
Thankfully, one of the things DDSPB did implement this year is Shop-A-Player. Go to the trade screen, click on a player, then click on Shop Player.
Sometimes, you'll find no interest, and have to go and try to incept a trade.
In Yearwood's case, I have four teams interested before the combine; after that, and once we get into the draft, his market doubles. Dallas offers a pair of reserve SF, guys who look like they can be a solid part of a rotation. They also want my 1st in 2022. Detroit is offering SF Aubrey Bell, a rather solid player who shot 46.3% from 3; he also is 32, and makes $30m a year.
Indiana is offering a 23-year-old 6'7 guard, Nolan Spink. He's got potential, but he's poor defensively and in the final year of his rookie deal. It's something to consider, if I decide to tear down, rather than build around Banta.
Milwaukee offered two interesting point guards, Bobby Howard and Stephen Taylor. Taylor rates as 100 in handling (!!!), and both rate as +70 in defense. Basically, they're sending me a PG rotation. They want my first-rounder, and a 2nd in 2024. This is an interesting offer, though. I have the 19th pick; I can't count on drafting something useful there.
The LA Waves offered SF Mark Murdock, a scoring machine and average defender. I wonder if that's a personality issue. It's curious, because they also have Elton Taylor, a 32-year-old PG who is making $35m, $37m, and with a $40m player option over the next three years.
Memphis has offered a center, Danya Swanson, for Yearwood and two firsts. Swanson has the appeal of being a big who can defend and rebound; I'm not sure I want to commit this much capital to the post, though.
Feeling a bit underwhelmed…or, at least, uncertain…about the return on Yearwood with regards to helping the current build, I turn to Banta. One thing I have noticed, and I wonder if this is a bug or not, is that teams' interest in players ebbs and flows, even within just a couple of minutes. I had no teams interested in Banta before; now, Minnesota did.
So, I looked at their offer.
They offered me PG David Hein, a 6'6 PG, C Cory Menser, a 6'9, 284-pound beast who posted 24.3 and 11.9 a year ago, and their first-rounder, 10th overall, along with a reserve C and a second-rounder.
I decided to up the ante a bit; I asked for their 1st in 2024, and Ericson Paige, a 6'7 off-guard with solid handle and looks like he can play three spots. I kicked in my 2nd in '24, and SG Jasper Purnell (who I may regret moving, he looks to be the goods).
I then turned around and moved Yearwood, the 19th overall, and a 2nd to the LA Commodores, in exchange for 25-year-old SF Johnny Penders.
One thing I wish this screen had was the ability to click into scouting reports. I wanted to be able to see what my coaches thought of their fit within the build (even though that is evolving as I'm moving players), and how the personalities fit. I do worry that I've taken on some abrasive personalities, and that my locker room may be problematic as a result.
But, that's for future me to worry about.
The Atlanta Eagles took a shocker at #1, drafting Jin-song Wang, a center from China. He went ahead of projected #1 Tommy Duty, a center from LSU. Duty falls to #3, where I try like hell to pry the pick from Brooklyn.

I can't, and they take him.
That's okay, though. I'm thrilled when 6'6 guard Larry Keeter falls to us at #10; he was projected to go fourth overall. My staff suggests him and HS C Eryon Bradley, the projected 17th pick. They rate him as five stars, and Keeter at 4. Still, I like Keeter's report and makeup.
Turns out, the analysts like it, too.
Bradley goes two picks later.
With Keeter in tow, I shop Askew again. This time, Phoenix comes calling once more. When I call, they throw me a curveball; Askew and my 2nd for PF Curtis Fisher, who went 4th overall. I guess they lost out on their top guys, and decided to make use of their expansive cap space to rebuild quickly.
We jump at it, and now have a rebuilt team that looks more in my chosen method of play: more athletic and versatile, more able defensively, and with good two-way guards. We'll be worse short-term, though still competitive (I hope).
We went from reigning MVP and defensive sieve, a 38-year-old point guard and a solid-but-uninspiring off-guard, to new starters at every position, as well as a small bit of the rotation on the wing. It's a start; I haven't even gotten to free agency yet, where another addition–player meetings–to the game looks to enhance that facet.
Player meetings are interesting; I do find them informative, and so far, the only place to find out where players don't get along with other players. I also find myself way out of my element here, as the financial system is very abstract to me. I do poorly with this in generally all games; I've now gotten the hang of it in Super Mega Baseball 3.
This is where I need the most in-game help, and where a suggestion below would really come in handy.
That said, I really like the free agency additions, and feel like they add to the realistic immersion that Gorski has been building, and continues to build, for years.
In terms of my actual predicament, well…after renounced salaries and such, I find myself about $9.5m in cap space. This doesn't feel like a heck of a lot, especially when I need a backup point guard, a combo guard, and another big man.
I think I have another problem.
Now, I went through all of that to tell you this: If you want to try your hand at ACTUAL roster-building, rather than attempting to get the highest ratings…this is where you go.
I do think the additions this year are a good, if not great, start, rather than the endgame to what Gorski wants to do. There are already ways the personality system can improve. As GM/coach, you are trying to set up a system and build a roster through that system. It would be helpful if you knew which offensive systems the players are proficient (or not) at. Maybe that makes it too easy; I don't believe it does. You still have to worry about locker room fit, as well as on-court fit. 
I also think having some access to staff grades on things like leadership, work ethic, and toughness will help the user figure out the personality types more. Right now, those attributes are hidden. I don't think they should be, especially if you're looking to make personality traits an integral part of your in-game experience.
There should be fog, yes. And maybe the fog dissipates more as you get more experience with your build. That would be a logical conclusion. However, with no place to view any attributes, and only receiving incident reports from your staff (and seemingly no negative relationship information anywhere else), you're forced to be reactive over proactive. That can be frustrating, especially if you're learning (and DDSPB offers a learning curve that, while engaging many, can be steep and daunting as well).
Gorski rebuilt the gameplay system in 2018; this is the next logical step. But it is what I think to be the second step in a series of a few, in order to get this down to where it not only makes DDSPB a gold standard of any game in this community, but impacts the entire Wolverine family. Could you imagine DDSPF with this sort of engine, where you have issues between your QB1 and your star wideout? 
Oh man.
(I already can't wait to see this in DDSCB.)
I do have some other suggestions, which are below. As has been the case for years, though, Gorski has made this part of the game shine.

(For a list of other additions made to the game, check this out.)
Make Emails Printable (to a text file or browser): I received this free agency evaluation email. It appears to be very useful, especially when it comes to this new personality system. But not having the ability to access this outside the game becomes a detriment. It forces the user back into a clickfest if they want to use this information. Sure, one option is to screenshot it. However, I would be creating 4-5 screenshots with just this information. Allow for this information to be exported somehow.

The user gets information on favorable relationships. But I've yet to see anything on relationships that are detrimental to players and, thus, the current build. This is pertinent information, and won't make the game any easier from a strategy standpoint. It will help you from botching your build, due to incomplete information. Any GM should know if players don't get along; it should never be something sprung on you during the season (through incident reports). If anything, this does make the game feel less realistic.
I think an Assistant GM, one who can offer help during FA, maybe even trade suggestions, is one needed addition for the future. I don't play

DDSPB

nearly as much as I should because I'm not good at the financial stuff. I know you can limit the financials, but it's really just that the system exists, and that I have to exist within it, that causes me to stray. I know, you can toggle things to have the AI run offseason tasks; however, I want to do all things draft. If I forget to toggle that off before I run the draft, I'm shut out of the draft. (I am; I've tried, and can't do anything.) The Assistant GM can offer this deeper fine-tuning of delegation, much like

Out of the Park

does it.

Please, PLEASE add personal lineup stats, along with the ability to see how certain combinations of players do, according to the lineup stats. I admit, I was spoiled by an online league I was in once. This is a useful thing, and would go a long way towards making all of this information useful and more efficient.
Online Modes
Well, it exists. This is, and always has been, the least-utilized part of the game. I know leagues are out there. I don't know where. I'm not as connected to this end of the community as I once was. I have an idea for a league, though it's more of a draft project than an online league.
Gorski has revamped this (at least since I last looked at this end of the game; looking at last year's GMGames review didn't add anything, which tells me neither did Wolverine).
I'm pretty sure I've said this before, but the lack of online traction is and is not the fault of Wolverine. The online sim basketball community is an odd one; they seem to be more nomads, coming from whothehellknowswhere to participate in things. These groups of supernerds, of which I am proud to be one, don't seem to congregate in any one place for any lengthy amount of time. It's not like baseball, where people have been with OOTP, Baseball Mogul, Diamond Mind, etc. for decades now. Even Front Office Football's dwindling audience is still devoted as ever to the product; FOFC has been around for a long time.
The basketball community, though, has not achieved this bit of resonance, outside of the gated JBL community. And that doesn't even have a tangible game you can play yourself (yet).
So why hasn't Wolverine been able to command a majority share of this community? This is pure speculation, but basketball is much more of a tactile game than, say, baseball. There's a reason why thousands play on 2k playgrounds, yet a fraction play in this community. Basketball also tends to skew younger than other communities, especially baseball (which, again, perpetuates the 2k argument).
More users want to be players than coaches.
Maybe, and I have no idea how Gorski would ever make this work, the answer is in actually being coaches. Maybe the answer, and maybe the next step isn't rebuilding the global aspects of the game (yet), but maybe in head-to-head coaching ability, or in creating your own plays/playbook, akin to what DDSPF/CF allow. This could allow for a slippery slope of game exploits and nerfing, sure. And H2H is Markus Heinsohn's white whale (him never getting that to work for OOTP might have saved any semblance of a social life I had in my 20s and 30s); I would think it's easier now than in 2005, but I don't know any more about coding than I did earlier in this review.
Years ago, Gorski admitted he wasn't sure what direction he wanted to go with online, or how to implement it effectively. There have been massive improvements on that side, but Gorski has also made the conscious choice to focus on the single-user side of the game. That's been a mostly wise decision, though I can't help but wonder what, other than the two big-picture ideas I've suggested above (global landscape, H2H/coach-created playbooks), would bring this area of the game to life.
Replay & Fun Factor
To really help you understand the replay and fun factor of this game, I invite you to go back and reread this review. (Okay, that's not fair; do go back and read the intro and gameplay sections, though.)
Now, imagine that with a DDSCB link added to your universe.
Then imagine that link with you coaching at a small school in DDSCB and playing in challenge mode, taking over a til-now terrible team, with all the dysfunctions and locker room issues you could ever hope for.
Then think of all the ways you can build both to success.
The replay value of this game, like all the games at the core of this community, is through the roof. There's a reason Gorski has been making this game, in some form of fashion, for nearly twenty years and a dozen versions (the first version came out with Total Pro Basketball 2003, and the yearly version began at Wolverine in 2016).
Really, though, the biggest reason Gorski has built the community he has is because he's a basketball fan. And he's building a game he thinks basketball fans want.
Overall, he's been right.
Here's to hoping his game, and community, continue to grow. More people need to see and play this game. If you or someone you know is a basketball fan, and have yet to try it, do so today
Official Download for Draft Day Sports: Pro Basketball 2022
Grades
Graphics/Interface: 9.5/10. It's a barometer for how games should look. It's clean, intuitive, and easy to navigate. There are minor quibbles (again, PLEASE reorganize the lineups page, and add an individual lineup data screen), but overall, the game looks great. The FA page (screenshot is up there somewhere) is the embodiment of what I'm talking about.
Customization: 8.5/10. There are limitations to the American basketball model, which does hurt the product overall in this category. However, when it comes to replicating the American model, the game does that flawlessly.
Gameplay/Sim Engine: 9.5/10. Gary continues to add, tinker, and improve on the engine. The new personality-driven system has the opportunity to drive this aspect of the game towards 10/10 territory. We just need to see it at work more. I also think there are ways to improve upon it (which I outlined above). The base engine has been a fantastic standard for years, but the newest additions have the opportunity to send the franchise to a completely new level.
Online Modes: 9/10. This is always the toughest aspect of the game to review, because it's the least-used aspect, by far, among its players. The improvements in the game on the whole should make online leagues more of a viable option now. Whether or not that happens is up to the community. But the opportunity is there. Hopefully people take it.
Replay/Fun Factor: 10/10. If I'm rating the rating categories, this and gameplay are tied for the top, followed by Graphics, Customization, and Online Modes. The game, through its engine, pull you into an immersive world. It drives the fun factory to elite territory. And there are plenty of scenarios–current, historical, and fictional–that should satisfy every variety of player.
Conclusion: If you like basketball, and this game isn't part of your library, you're missing the easiest layup possible. Get this game, and get after it.
Leave a comment for John or GM Games on reddit…