One of the hardest things I do every year is write a review for the latest edition of OOTP. I've written on a number of occasions that they just keep improving on what was already perfection, and that's again the case with this year's edition (OOTP 18), which is absolutely incredible after I took a year-long hiatus from writing reviews.
To that end, it has to be even more difficult creating a game year-in and year-out that continues to raise the bar. For that, you've got to give the developers credit.
One of the new features is challenge mode, which I tried as part of the new standard game. Challenge mode disables commissioner settings — and player editor — while other features are disabled. Playing out games is also incentivized with in-game achievements which can be unlocked, like for your first win, home run or save and other things like that. In all, it's a great feature.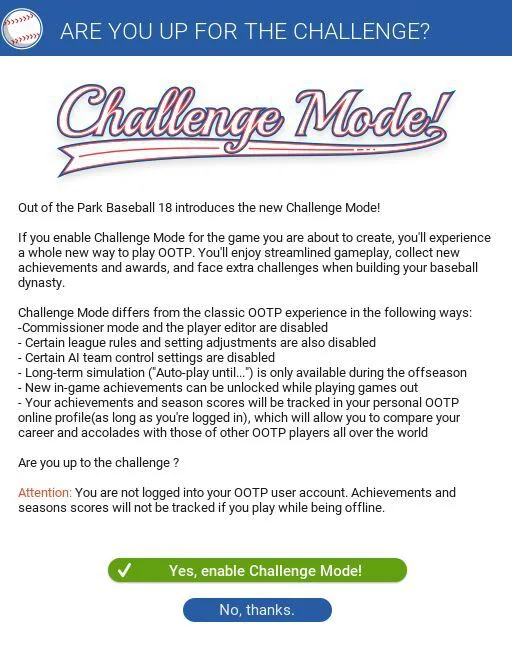 There are also a ton of leagues available which can be added to your league at the start. For the ease of simplicity, we'll just do MLB, but one can see the obvious depth of customization available here. You're limited only by your own imagination — and budget in terms of free time available. Early on, one small detraction is start-up time, as it takes the game quite a while to load team logos and get everything prepared for you to play the game. It's not a huge detractor, but in a game that's virtually flawless, nits are bound to be picked.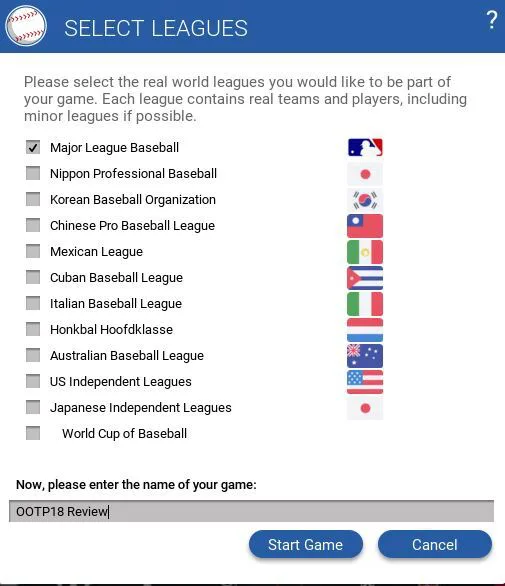 Once the game is finally loaded, it's remarkable how accurate everything is. The free-agent list is downright perfect, as the top free agents available are exactly who you'd imagine: Juan Uribe, Jake Peavy, Carl Crawford, Ryan Howard and others, with each having a listed "rumored demand" as far as what they're looking for to join your team.
As a person who writes about the Twins in their day-to-day work, I chose them as my team and went to work on seeing if free agency had much to offer me. One player I thought might make a good fit for the team this offseason was reliever Aaron Barrett, who was working his way back from Tommy John surgery and would not be available right away to start the season. Like in real life, Barrett is also shelved in the game, and the contract he's asking for is virtually identical to the one he signed with the Nationals in real life:
…right on down to where he gets a minor-league deal with big-league money if promoted by a certain day, just like a real-life contract would mandate. That's the kind of realism people like me crave in a game when they fire up a simulation like this. If you don't crave that, you can pare it down to your liking — it's that easy. I ultimately decide against signing Barrett for budgetary reasons and opt to head into the season with my roster intact as the game had it set.
The budget stuff is more in-depth than just player pay
roll, too. The game says I have a player payroll of just over $103 million and a budget of $130 million, but also says I'd be going over budget to have signed Barrett. What gives? Well, that's because I also have a staff payroll, scouting and development budget to stay within. As the season begins, those three things account for $25.5 million of the rest of my budget.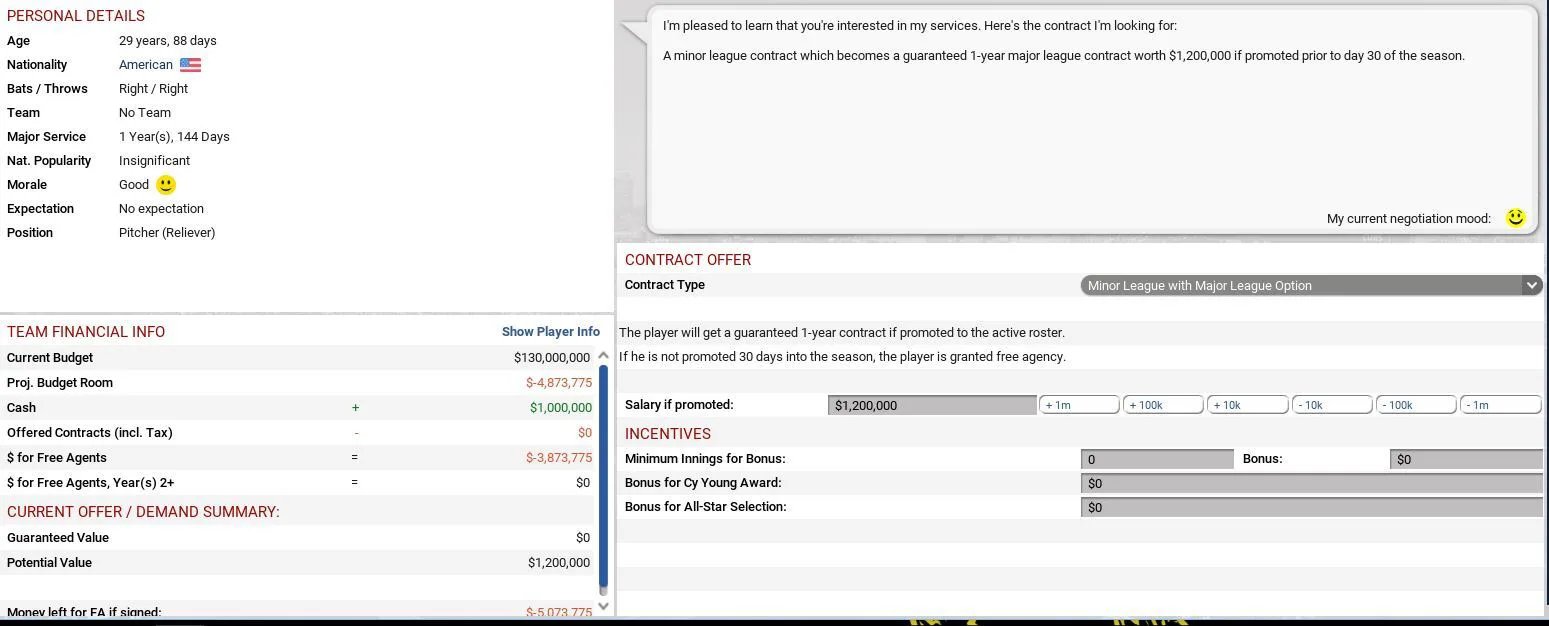 Ergo….I've got to sit tight for now. The rosters are more or less dead-on accurate, with the exception of a player here or there that are at the wrong level. Considering when the game was released, that's far from a critical issue and it's one easily fixed while playing, anyway. That level of detail is staggering, and quite frankly very impressive. With a couple quick click strokes, I have the exact 25-man roster the Twins had on Opening Day against the Royals. Heck, even the minor-league injuries — like Alex Kirilloff, Zack Jones and Andro Cutura — are even in the game.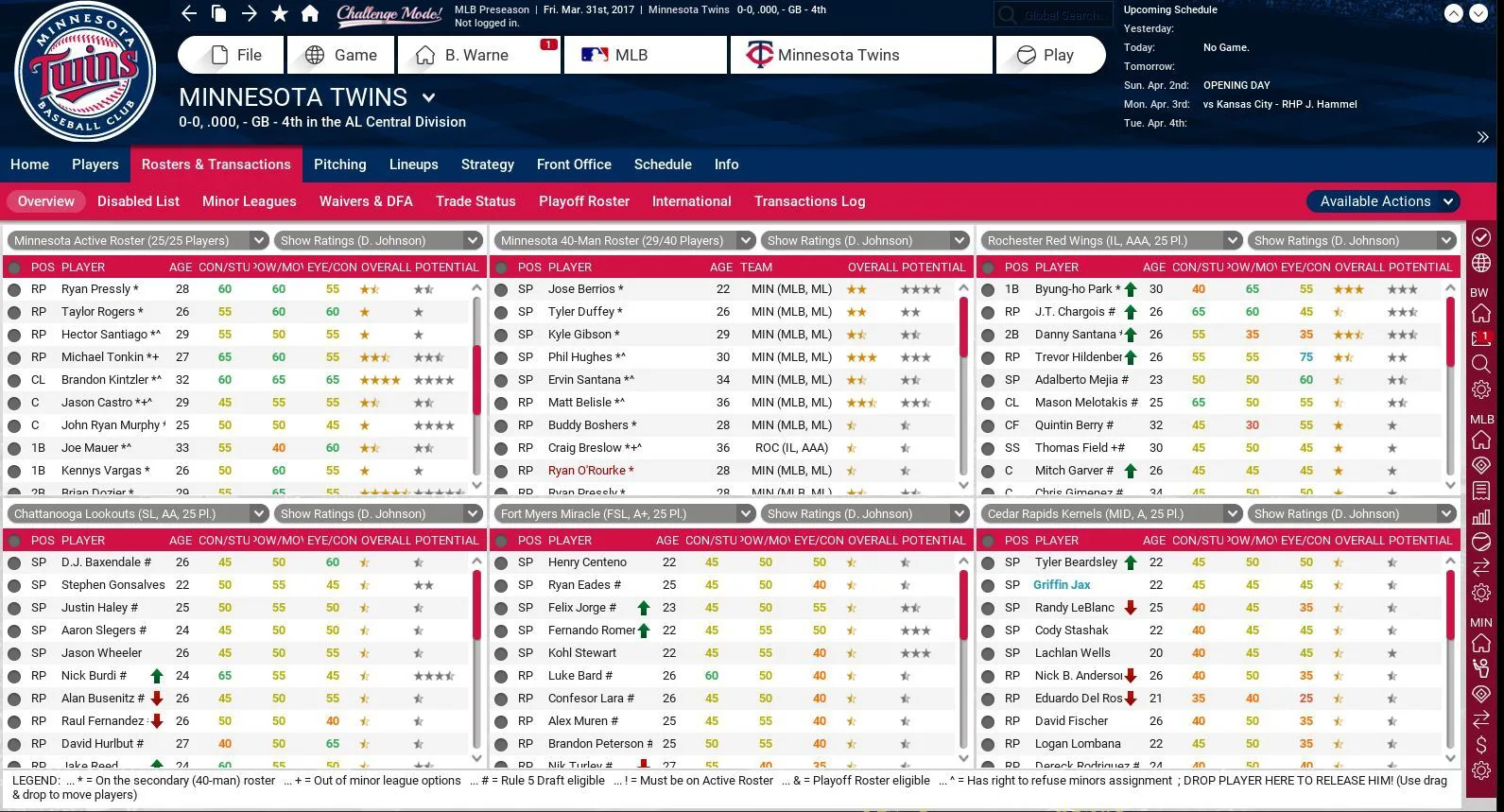 Another nice feature is the bullpen control, from where I can use guys as specialists, set-up men or pretty much any role you can dream up:

The simulation process isn't much different from previous year's editions. Challenge Mode only allows you to simulate a week at a time, and honestly that hardly seems like a negative at all considering the amount of things you have to manage day-to-day. With all that going on, you'd bound to have to make some sort of change — lineup/bullpen/disabled list — more often than that.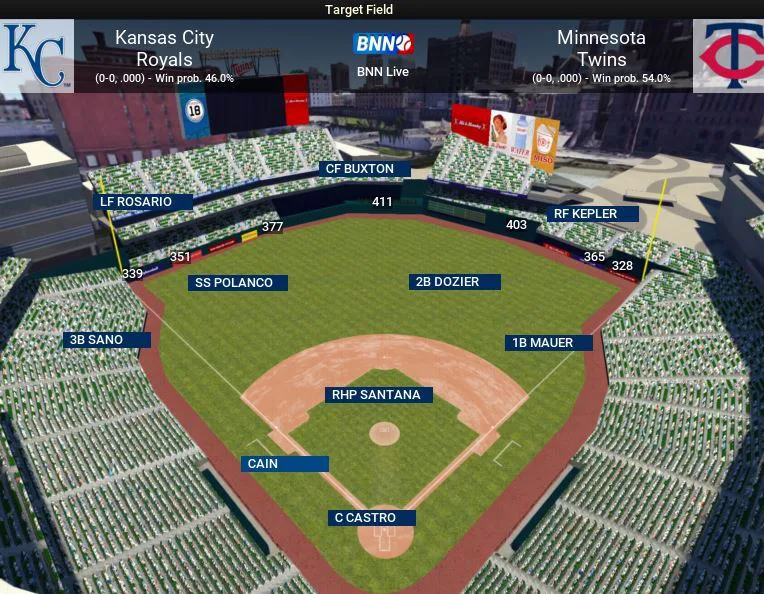 The historical exhibition game or series feature is also a lot of fun. Ever wonder if anyone could beat the 1927 Yankees? Or maybe the legendary 2001 Seattle Mariners which won a staggering 116 games? These are questions we'll obviously never get answered, but we can have some fun trying to find out.
According to the simulation, the 1927 Yanks would take that series in six games, with Lou Gehrig taking home MVP honors after hitting three home runs in the series.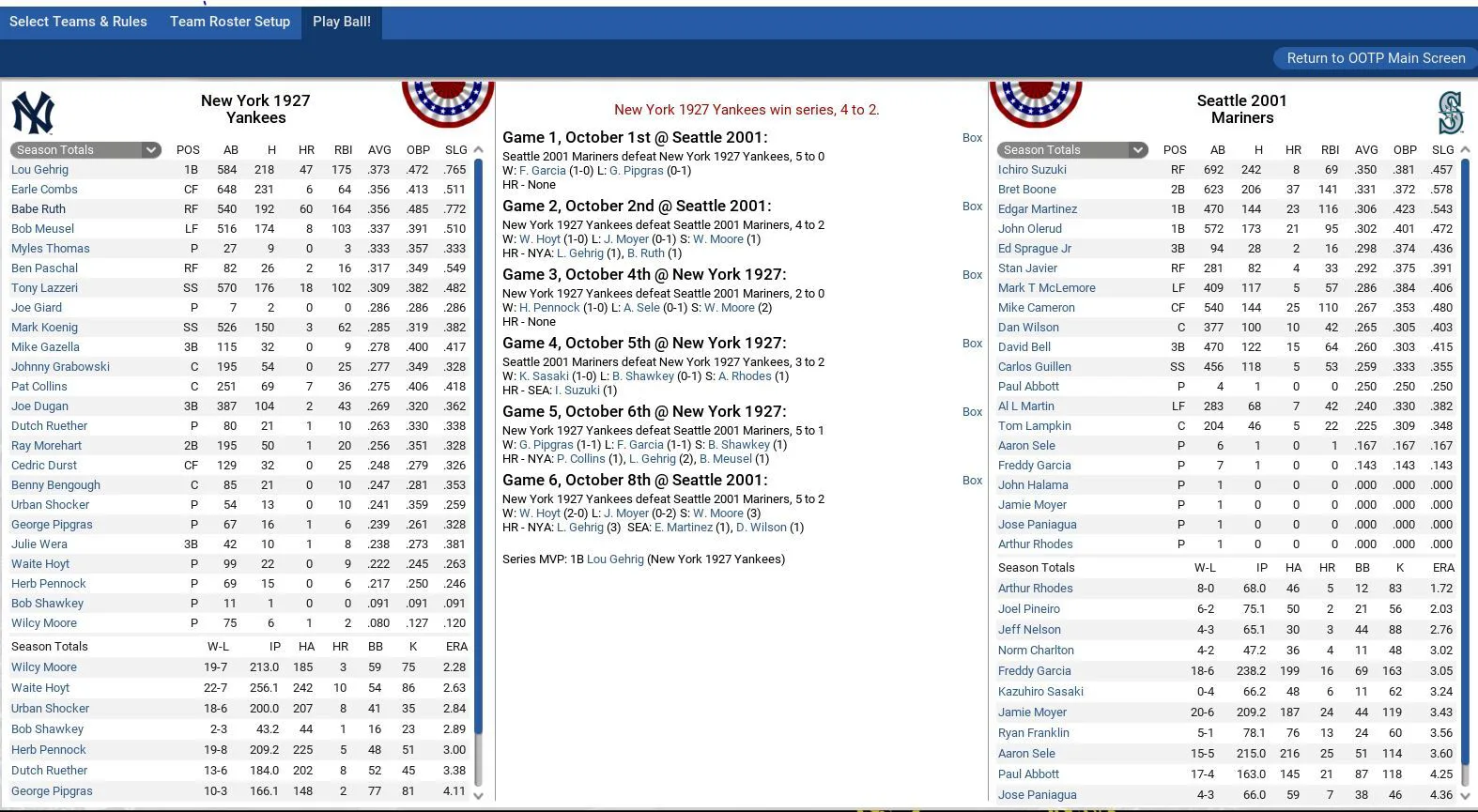 In case we missed anything, here's everything the pre-release press release promised in terms of additions (h/t to RockPaperShotgun.com):
2017 roster sets with all Opening Day MLB rosters, as well as the complete minor league system from Triple-A to rookie leagues as well as the Arizona Fall League. All major league (and over a thousand minor league) player ratings will be based on the popular ZiPS player projection system. The 8 international leagues, as well as independent minor leagues in the US, also return this year with accurate rosters.

Historical Negro League clubs, thanks to a partnership with OOTP's acclaimed historical database experts and Seamheads.com. This feature will allow baseball fans to explore the league's rich history, create compelling what-if scenarios, pit major league clubs against their Negro League counterparts, and much more.

Improvements to 3D mode, including: Even more ballpark detail; better on-field player models and enhanced on-field decisions; and the ability to save all 3D highlights and watch a highlight reel, whether the game was played out or simulated.

Custom and real world tournaments for all the teams included in the game. National and international tournaments are a breeze to create, as is the ability to import historical teams.

Extensive AI improvements, including roster management, trades, and in-game decision-making.

A redesigned injury system that features detailed injury histories for all players, little nagging and long-term injuries, and more.

Many more improvements, including:

– A beautiful new interface

– Improved game recaps

– An upgraded player morale/team chemistry system

– Enhanced play-by-play text and league news

– A sophisticated system for team relegation and promotion between leagues

– The ability to retain player salaries in trades

– The incorporation of many 2017 rule changes

– Faster import speeds of historical minor league seasons

– And more to be announced prior to release
Not only does it deliver on these promises, but it goes above and beyond anything you've seen in a baseball simulation. If you have family members, say your goodbyes now. You now officially belong to OOTP 18.